Cake Pops
This week on Scrappy Cooking… delicious, eye-catching, easy-to-eat VEGAN CAKE POPS! Best way ever to use up leftover cake.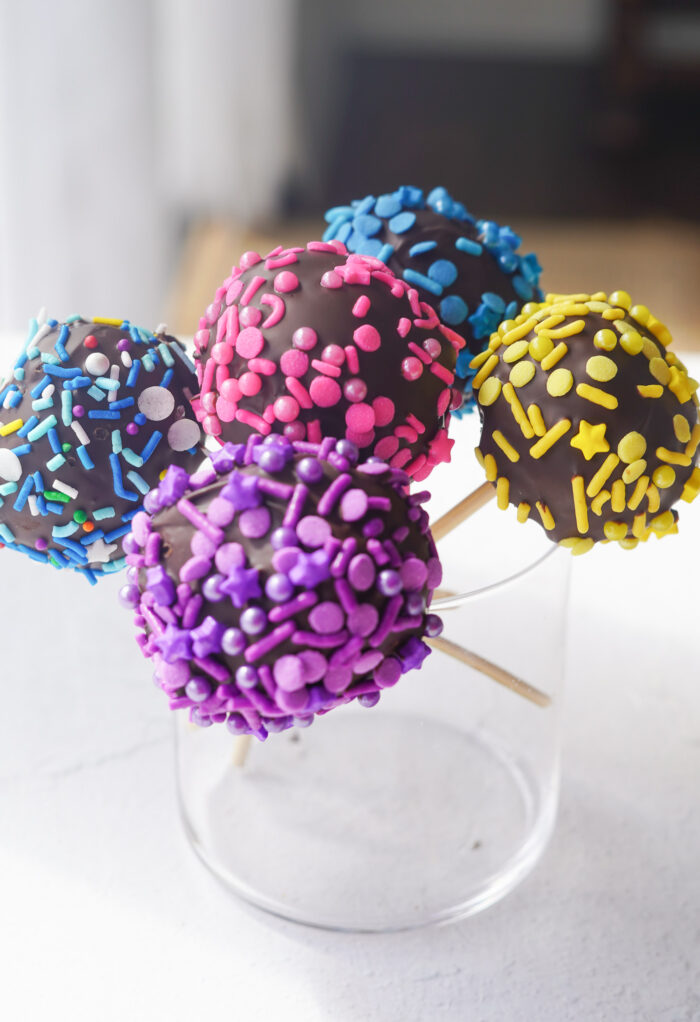 At the risk of sounding like an old lady, I remember the time when vegan cake was so hard to get! You had to order from a special bakery that could accommodate plant-based dietary requirements or make it yourself.
It's amazing how much progress has happened over the last few years in vegan food industry. I am certainly not complaining!
That being said, finishing an entire cake can be a challenge, short of serving it at a big party. Scrappy Cooking to the rescue!
Let's make delicious and fun vegan cake pops from leftover cake!
Why You'll Love This Recipe
Cake pops are infinitely easier to eat than the actual cake. I think we can all agree on this!
If you have kids, making these vegan cake pops can be a fun bonding activity for the whole family! Especially if you have some leftover birthday cake and you're trying to fight off post-birthday blues.
Rolling the cake into balls and dipping them in chocolate can be a creative and enjoyable process. This recipe is extremely easy to follow, even for beginner bakers.
You don't have to wait for leftovers to make cake pops! Vegan cake pops are a great party food, as they are easy to serve and can be customized to match the theme of the event. Plus, they look impressive and are sure to be a hit with guests.
How to Make This Recipe
First, you will need a mixing bowl and a potato masher or a fork. Add leftover cake to a bowl, and mash everything together, frosting as all, until you have a thick "dough".
Wet your hands in some water, and roll the sticky dough into balls. I would recommend making them no larger than the size of a golf ball.
This recipe should generate 7 to 9 cake pops. Space them out on a plate of a cutting board lined with baking parchment. Place them in the fridge for at least an hour to help them set.
While you wait, melt a couple of tablespoons of dark chocolate in a bowl. You can use a double boiler method, or do it in 10 second increments in the microwave.
Dip one end of each lollypop stick or skewer into the chocolate and insert them into the pops. The chocolate will help the sticks stay in place.
Place your cake balls back in the fridge for about half an hour.
Meanwhile, melt the rest of the dark chocolate, and pour it into a jar. You want a fairly narrow vessel: big enough to easily fit your cake pops, but narrow enough so that you can dip the entire ball in chocolate.
Next, prepare a station for your cake pops to stand up. You might rest them on a muffin cooling tray or stick them in an upside-down colander with a plate underneath to catch any rogue chocolate.
Remove your cake pops from the fridge, and carefully dip them into the melted chocolate. Cover with sprinkles and carefully rest your cake pops on your dripping station.
Finally, leave it in a cool place (like a fridge) for an additional half hour to set. Enjoy immediately, or keep in the fridge for up to four days.
Hack It!
If you have a gluten allergy, you are probably working with a gluten-free cake anyway.
If you have a nut allergy, make sure to check that your chocolate chips and sprinkles are nut-free.
For more colorful cake pops, you can use food coloring to dye the cake dough. And don't worry, there are plenty of natural pigments that could give your cake pops a little bit of color, like beet powder or turmeric.
If you can't find vegan cake at your local store, you can make your own by substituting eggs and dairy with vegan alternatives.
Frequently Asked Questions
Can I use white chocolate chips instead of dark chocolate? If you are lucky enough to find vegan white chocolate, that's a BIG YES!
Can I freeze the cake pops for later? If you're planning to freeze the cake pops, I would recommend doing it after you insert the lollipop sticks but before you coat it in chocolate and add sprinkles.
Can I skip the sprinkles or use a different type of decoration? You don't have to use sprinkles! Alternatively, you can opt for a different topping, like crushed nuts, coconut flakes, or cocoa powder instead.
How long does it take for the chocolate to set? This depends on how much you heated the chocolate in the first place, how long it took you to dip and decorate each cake pop, as well as the temperature setting of your fridge. I recommend half an hour to cover all bases!
Can I use a different type of stick or skewer instead of lollypop sticks or bamboo skewers? Absolutely! If you're looking for a more sustainable option, could use chopsticks or reusable metal skewers.
Can I use a different type of chocolate instead of chips? Truthfully, chocolate chips are better for melting than regular chocolate. However, you could also search your local store for vegan baking chocolate, specifically for melting.
Can I use a different type of coating instead of chocolate? 100%. Try this recipe with vegan caramel, melted Biscoff spread, or peanut butter.
Tips for Best Vegan Cake Pops
It only works with the right kind of cake. For the best texture and flavor, it's important to use a vegan cake that is not too moist or dense, yet has enough frosting to keep your cake pops intact. A fluffy vanilla or chocolate cake works well, but avoid cakes that are overly crumbly or oily.
Don't overwork the cake dough. When mixing the cake crumbs together to form the "dough," be careful not to overwork it, as this can make the cake pops tough. Use a light touch and stop as soon as the mixture holds together in a ball.
Chill the cake pops before dipping. It's essential to chill the cake balls for at least an hour before dipping them in chocolate, as this helps them hold their shape and prevents them from falling apart in the melted chocolate.
Create a sturdy base for dipping. To make it easier to coat the cake pops in chocolate, use a sturdy base like a colander or styrofoam block to hold them upright. This also helps prevent the chocolate from pooling at the bottom and ruining the shape of the pops.
Other Recipes You'll Love
If you enjoyed this vegan cake pops recipe, you'll find plenty more amazing recipes in the PlantYou Cookbook. The book is packed full of soups, salads, sandwiches, stews, and of course, desserts. Among the 140+ WFPB recipes, there's something delicious for every member of your household! The book also features some great cooking tips for novices and a helpful infographic for each recipe.
If you like to mix things up, check out the PlantYou Planner! It's an app designed to make plant-based living as easy as possible. As a result, it allows you to fully customize your meal plans, including the number of servings for each dish. Once you've selected your dishes, the planner generates a tailored shopping list you can take with you to the store. Well… what are you waiting for?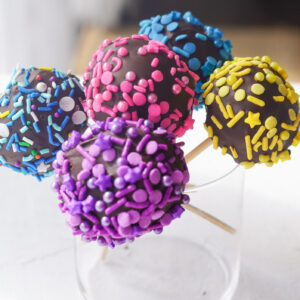 The Recipe: Cake Pops
Transform leftover vegan cake into delicious, eye-catching cake pops!
Ingredients
2½ cups vegan cake
1½ cups semi-sweet dark chocolate chips, vegan
¼ cup sprinkles
Equipment
Potato masher or fork

Plate or lined cutting board

Lollipop sticks or bamboo skewers

Colander or styrofoam

Jar for dipping
Instructions
Add the cake to a bowl, and using a potato masher, combine until a "dough" is formed. Then, using wet hands, roll the cake into balls, approximately the size of a golf ball. You should get around 7 to 9 cake pop balls.

Set in the fridge for at least an hour.

While those set, melt 2 tablespoons of the dark chocolate in a bowl. You can do this with a double broiler method, or by melting in 10 second increments in the microwave.

Stick the bottom of the lollypop sticks or bamboo skewers into the melted chocolate, then into the cake balls, and place back in the fridge for a half hour to set. 

In the meantime, melt the remaining dark chocolate, and place it in a jar. Prepare something to put the cake pops in to avoid smashing the sides, like a colander with a plate underneath or styrofoam.

Remove the cake pops from the fridge, and carefully dip them into the chocolate until covered. Pour on a bit of sprinkles to the top of the cake pops as your desire. Place on the colander or styrofoam, and then store in a cool place for an additional half hour to harden. Enjoy immediately, or keep in the fridge for up to four days.
Calories: 417.8kcal, Carbohydrates: 68.8g, Protein: 6.7g, Fat: 12.9g, Saturated Fat: 10.6g, Polyunsaturated Fat: 0.4g, Monounsaturated Fat: 0.9g, Cholesterol: 75.8mg, Sodium: 496.7mg, Potassium: 286.8mg, Fiber: 1.7g, Sugar: 43.2g, Vitamin A: 117.2IU, Vitamin C: 0.2mg, Calcium: 154mg, Iron: 2.4mg