Blueberry Chia Pudding
Blueberry Chia Pudding is going to be your new breakfast obsession. This is a breakfast recipe that checks all the boxes for a healthy start: high in protein, high in fiber, and of course – delicious!
Vegan yogurt topped with overnight chia pudding is officially my favorite breakfast item. It's so easy to make, and you can adapt the details like topping to your liking, or to whatever you have in your fridge!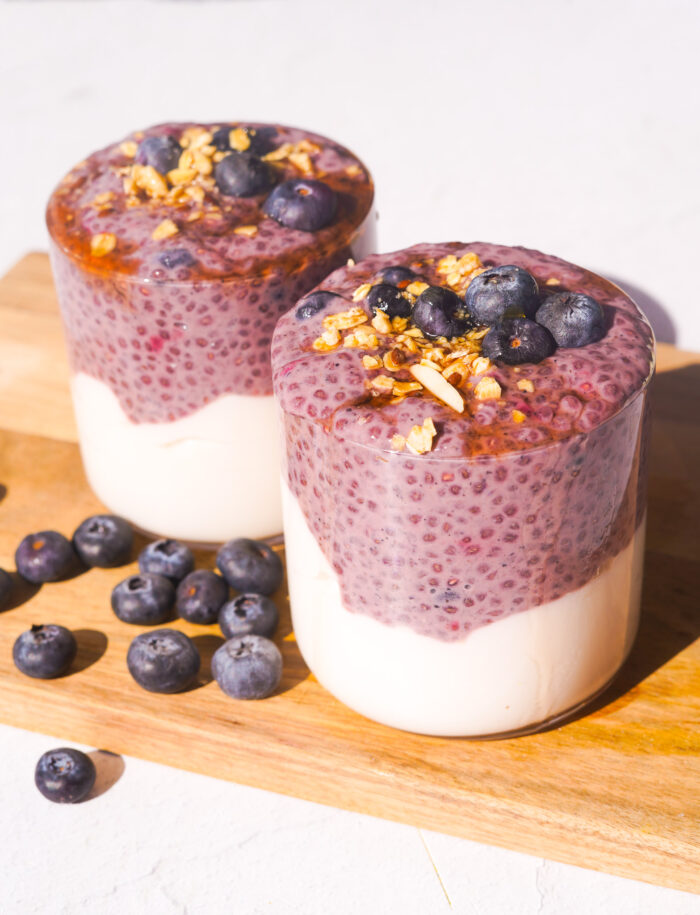 Why You'll Love This Recipe
This is one of the easiest and healthiest breakfast options. It takes about five minutes to prep, and it's more than worth it!
The best part about this blueberry chia pudding is that you make it the night before! No more early mornings in the kitchen, just grab a delicious breakfast and start your day on a high note.
Even better, when you make this recipe, you can make a batch enough for several days, saving you tons of time.
So easy to customize! You can add extra flavor notes, and play around with the toppings to keep your breakfast dynamic.
What are the benefits of chia seeds?
I'm not a big fan of the term superfood – but if we're going to be picking and choosing, CHIA SEEDS are the closest we can get. Here are some of the amazing benefits of chia seeds.
Rich in nutrients. Chia seeds are packed with important nutrients like fiber, protein, calcium, magnesium, and omega-3 fatty acids.
Good for digestion. The high fiber content in chia seeds helps to promote regular bowel movements. This can help keep your digestion healthy.
May help control blood sugar. Chia seeds have been shown to help stabilize blood sugar levels and reduce insulin resistance.
Can aid in weight loss. Chia seeds can help you feel fuller for longer periods of time. This can potentially aid in weight management.
Improved heart health. Chia seeds contain heart-healthy omega-3 fatty acids, which can help reduce inflammation and lower the risk of heart disease.
How to Make This Recipe
Making chia pudding could truly not be easier. All you have to do is combine 4 tablespoons of chia seeds with approximately 1 1/2 cups of liquid. This can include coconut milk, plant-based milk, or for this recipe, a quick homemade blueberry milk.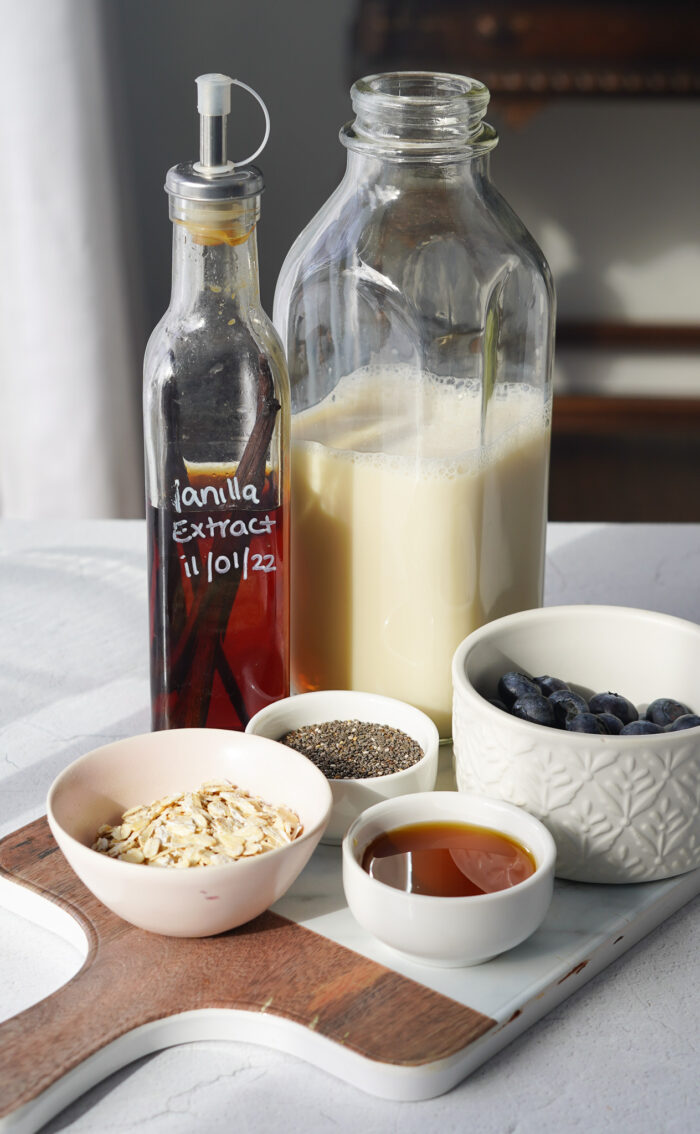 To make that blueberry milk, we just combine fresh blueberries with oats, maple syrup, vanilla and some plant-based milk to make it taste like your favorite breakfast muffin.
All that's left is to mix it with chia seeds and leave them to soak up the flavors.
How long should you soak chia seeds?
Chia seeds can be soaked in liquid for as little as 10 minutes or as long as overnight. When soaked in liquid, chia seeds absorb the liquid and become gel-like, creating a pudding-like texture. This process helps to unlock the nutrients in the chia seeds and makes them more easily digestible.
If you're in a rush, soaking chia seeds for 10-15 minutes is usually sufficient to achieve the desired consistency. However, if you have more time, you can soak chia seeds in the refrigerator overnight to create a thicker and creamier pudding.
When soaking chia seeds, it's important to stir them frequently to prevent clumping and ensure even absorption of the liquid. You can also experiment with different liquids to soak chia seeds. This includes nut milk, coconut milk, or fruit juice, to create different flavors and textures.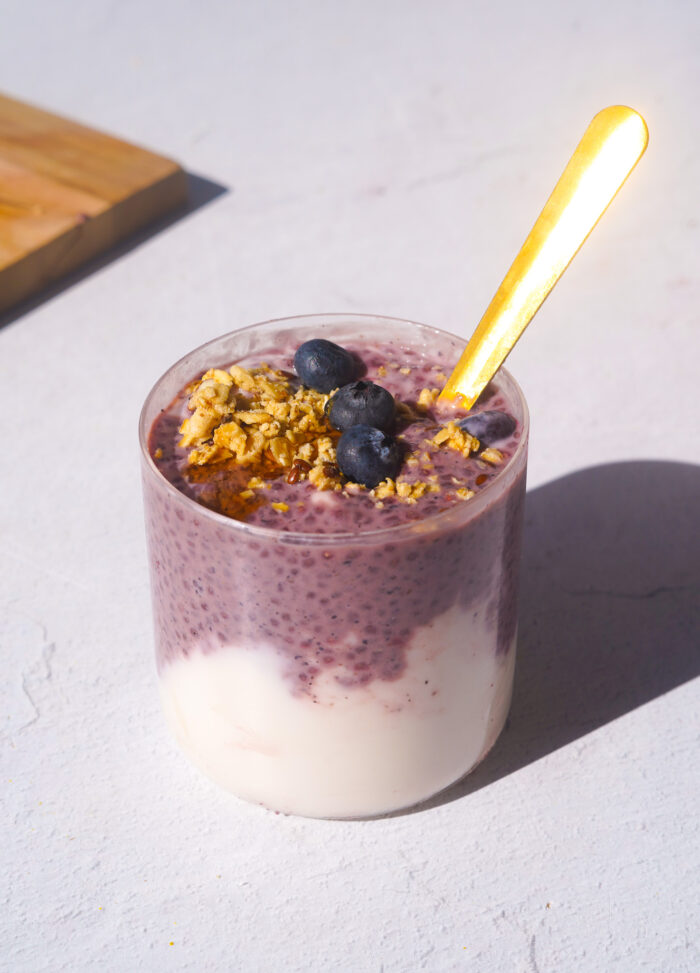 Can I make this recipe with another fruit other than blueberries?
This recipe is truly delicious with blueberries. With the addition of oats, maple syrup and vanilla extract, it tastes exactly like a blueberry muffing, but in chia pudding form!
With that said, you can totally make this recipe with other fruit. I love to use the same recipe and swap out the blueberries for raspberries (try my raspberry chia pudding here), mango and even bananas. The possibilities are truly endless. I even have a chocolate chia pudding recipe that is to die for. Can you tell I'm a huge fan of chia yet?!
Hack It!
In addition to playing with flavors of this chia pudding, you can add different toppings to keep things interesting. I enjoy this blueberry chia pudding with fresh berries, syrup and a little bit of granola, but you can add whatever your heart desires!
My favorite way to serve this is on top of some vegan yogurt. The combination is just to die for! However, you can also eat it as it comes, or as a lovely topping for oatmeal.
You can store this pudding for up to 3 days, so don't be afraid to make a bigger batch if you enjoyed it!
Flax seeds are similar to chia in a culinary sense, so you could try this recipe with ground flax instead of chia seeds.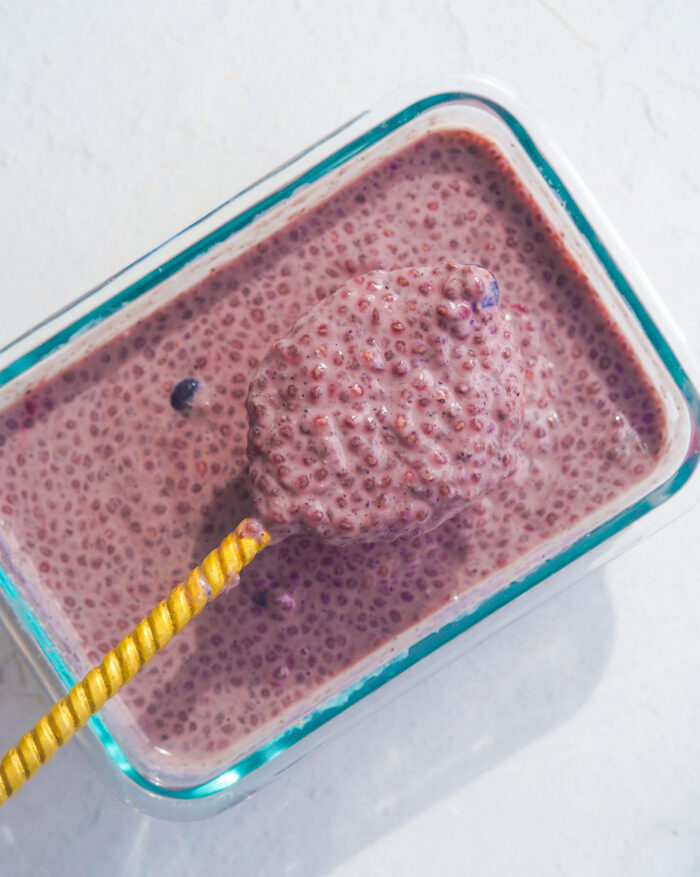 If you are a fan of simple, healthy recipes that use whole-food ingredients, you have got to check out the PlantYou Cookbook. This cookbook was truly a product of love and hard labor, which is reflected in every page. The book contains 140+ delicious vegan recipes for any taste and occasion. Each recipe is accompanied with a helpful infographic outlining the ingredients, making food shopping a breeze!
And if you prefer the more dynamic way to run your kitchen, you'll love the PlantYou Planner! The digital meal planner app allows you to browse over 600 WFPB recipes in its database to select your menu for the week. You can use one of the carefully curated meal plans and customize it to your taste, or create a meal plan entirely from scratch. The app even generates a shopping list to make it easier for you to plan your week. Plant-based living has never been easier!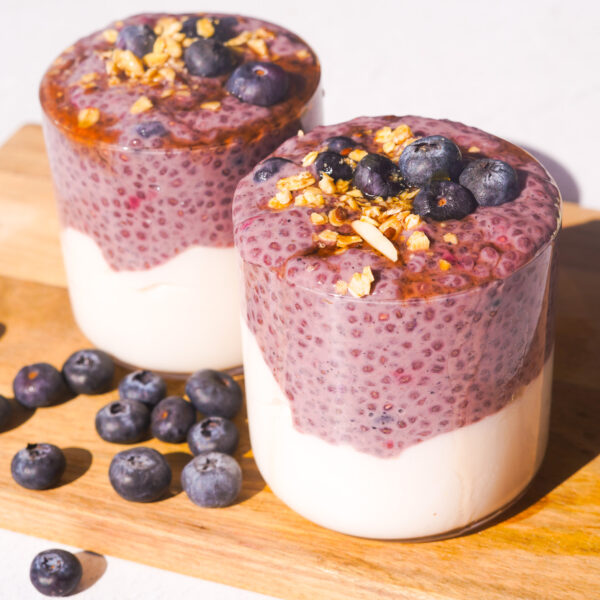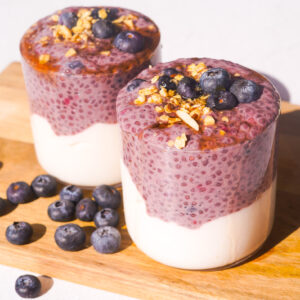 The Recipe: Blueberry Chia Pudding
A delicious chia pudding recipe that tastes like a blueberry muffin.
Ingredients
½ cup blueberries
3 tbsp rolled oats
2 tsp maple syrup
1 tsp vanilla extract
1 ¼ cup plant-based milk
4 tbsp chia seeds
Instructions
Combine the blueberries, maple syrup, vanilla oats and plant-based milk in a blender until smooth.

Transfer the berry milk to a bowl, and stir in the chia seeds. Allow to set in the fridge for at least 2 hours. Serve with vegan yogurt or as a delicious topping to oatmeal. Store in the fridge for up to 3 days.
Calories: 262.9kcal, Carbohydrates: 31.6g, Protein: 9.8g, Fat: 11g, Saturated Fat: 1.2g, Polyunsaturated Fat: 7.7g, Monounsaturated Fat: 1.4g, Trans Fat: 0.04g, Sodium: 79.3mg, Potassium: 385.4mg, Fiber: 10.6g, Sugar: 12g, Vitamin A: 612.6IU, Vitamin C: 14.6mg, Calcium: 372.7mg, Iron: 3.1mg