Whole Lemon Loaf
When life gives you lemons… You should make this delicious vegan whole lemon loaf! That's right, there will be no scraps left after you're done with this recipe.
If you love a sweet yet tart and zesty loaf cake, this is the perfect recipe for you. This cake is light, moist and super-easy to make.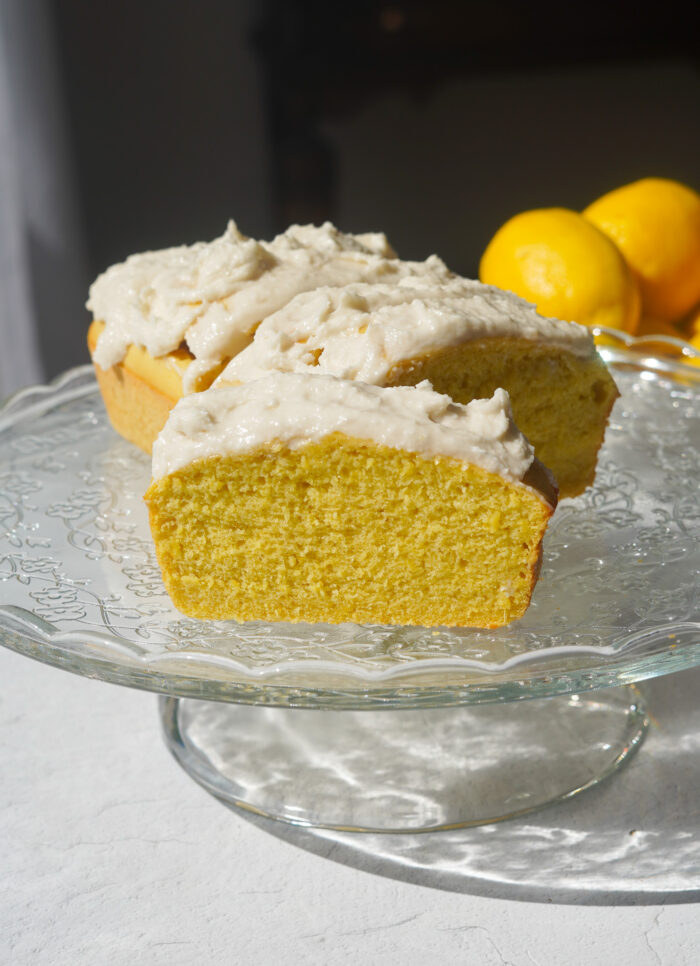 Why You'll Love This Recipe
This will be one of the easiest baked desserts you'll ever make. All you need are a blender and a loaf pan. Most of the actual cooking time is hands-off!
This recipe is practically impossible to mess up. On the other hand, there are different ways to enhance it even further!
As you've probably guessed from the name, this whole lemon loaf recipe uses a lemon in its entirely, including the peel! This gives the loaf a beautiful zesty quality, and ensures that no part of the lemon goes to waste.
Plant-based baking is just as accessible and fun as traditional dessert-making. And this whole lemon loaf is proof of that!
How to Make This Recipe
First, let's preheat the oven to 400F. Then, grease your loaf pan or line it with parchment paper.
Add all wet ingredients (yes including a whole lemon!) to a high speed blender and blend until you have a smooth mixture. Combine with the dry ingredients.
Pour the resulting mixture into a loaf pan, and bake for 40 minutes, and your cake rises and obtains a golden color on the top. You'll know it's ready when you can stick a toothpick into the center of the loaf and it comes out dry and clean.
At this point, remove your whole lemon loaf from the oven and set it on a cooling rack. Wait for it to completely cool down before icing or slicing your cake.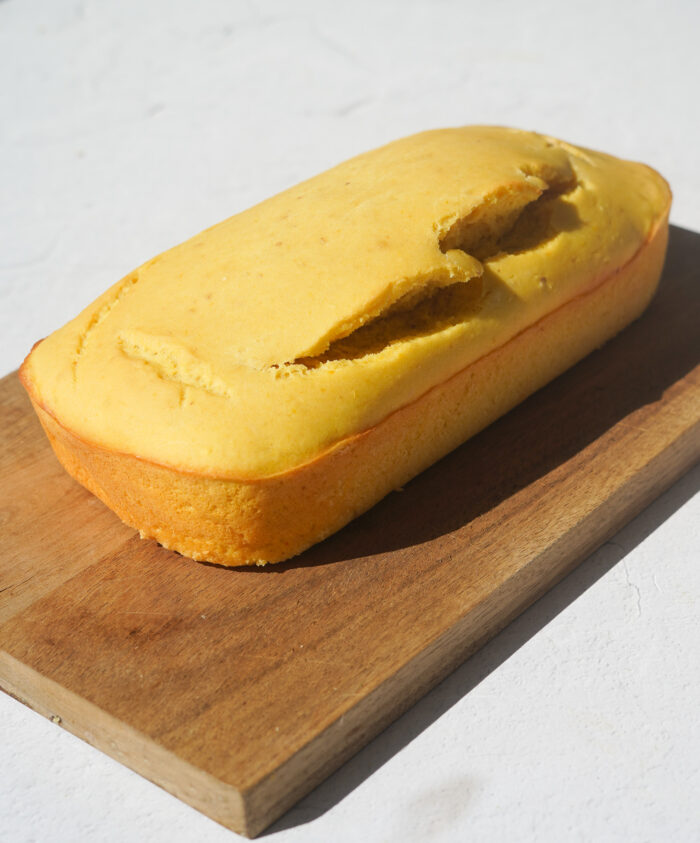 Hack It!
To keep your lemon loaf nice and fresh, store in a sealed container at room temperature. This way, you can enjoy it for up to 4 days.
Although this cake is enjoyable as it is, you can also enjoy with vanilla icing or powdered sugar glaze if desired.
Additionally, you can top the frosting or glaze with sprinkles, crushed nuts, or candied peels.
A great way to freshen up a lemon loaf is to toast the slices and serve it warm with some vegan butter.
Alternatively, you can make a delicious ice cream sandwich using lemon loaf as "bread". This dessert is so easy and versatile!
When Life Gives You Lemons…
Lemons are an invaluable ingredient in cooking and baking, thanks to a variety of vitamins and other macronutrients it contains.
High in vitamin C. Lemons are an excellent source of vitamin C, which plays a vital role in maintaining a healthy immune system, promoting healing, and helping the body absorb iron.
Antioxidant properties. Lemons contain antioxidants, which can help protect the body against free radicals that can damage cells and lead to poor health.
Aids digestion. Lemon juice contains citric acid, which can help stimulate the production of digestive enzymes and alleviate symptoms of indigestion and bloating.
More Ways to Use Lemon Peels
Zest. You can grate the outer yellow layer of the lemon peel with a zester or a fine grater to add flavor and aroma to your dishes. Use fresh zest in desserts, stir fry dishes, curries, soups or drinks. It is also commonly used in marinades and salad dressings.
Lemon peel powder. Another great way to stop the lemon peels from going to waste is to dehydrate them and grind them into powder. You can use it in a similar way to fresh zest, or mix it with salt for a fun twist on seasoning.
Infused water. You can use lemon peel instead of lemon slices to infuse some flavor into your water. You can even combine it with other fruits or herbs, like this refreshing summer drink recipe.
Candied lemon peels. You can candy the lemon peels by simmering them in a mixture of sugar and water until they become tender and translucent.
Cleaning agent. Lemon peels contain citric acid which can help remove stains and odors from various surfaces. You can use it to make a DIY cleaner for cutting boards, countertops, and other kitchen appliances.
Insect repellent. Many commercial insect repellents use citronella to keep insects away. The scent of lemon peels acts in a similar way. You can rub the peels on your skin or leave them in areas where insects are a problem, such as the kitchen or pantry.
Garbage disposal cleaner. If you have a garbage disposal in your kitchen, you can run a few lemon peels through the disposal to help clean and deodorize it.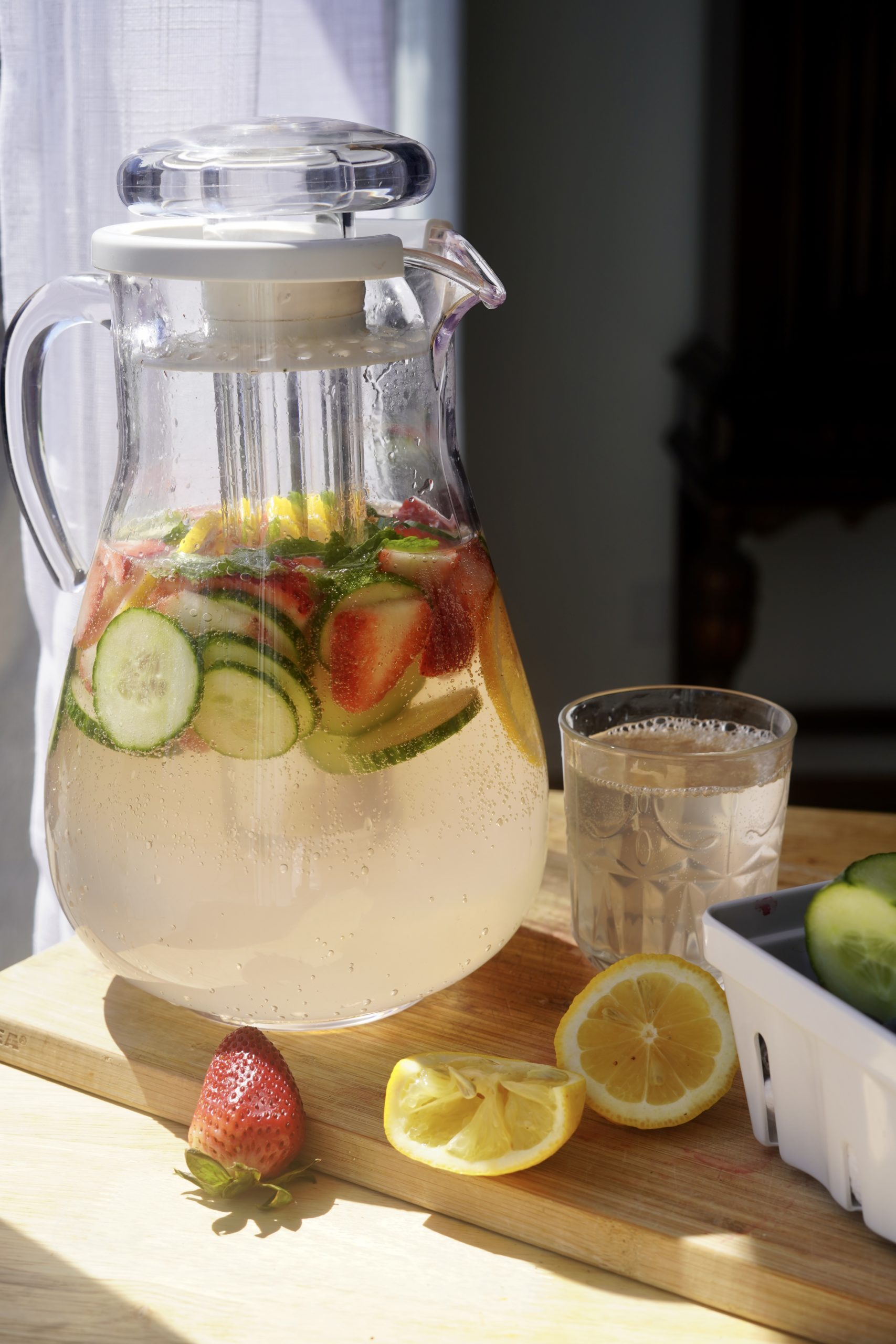 Other Recipes You'll Love
If you loved this recipe, I suggest you check out the PlantYou Planner! It's an interactive meal planner app that allows you to FULLY CUSTOMIZE your weekly menu. You can choose from over 600 delicious vegan recipes and set the number of servings for every single dish. Plant-based living has never been easier!
Another great way to diversify your weekly dishes is to get yourself a copy of the PlantYou Cookbook! It's full of vibrant, nutritious, and delicious meals for every taste and every occasion. Among 140+ WFPB recipes included in the book, you will find amazing meals for breakfast, lunch, dinner, and dessert!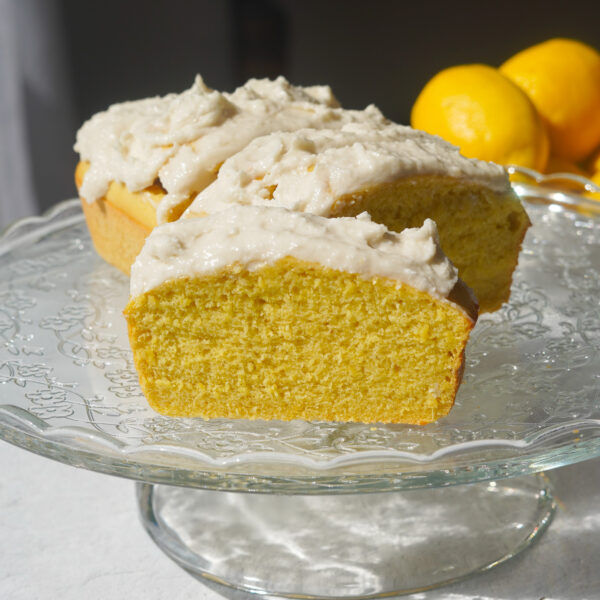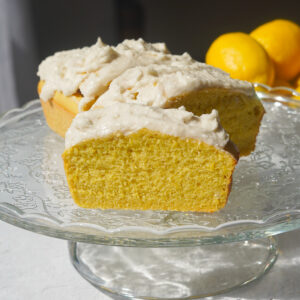 The Recipe: Whole Lemon Loaf
A sweet, zesty, aromatic dessert that is incredibly easy to make and serve in so many ways!
Ingredients
¾ cup maple syrup
1 lemon, whole, scrubbed clean, chopped, deseeded if desired, pith removed if desired
½ cup vegan yogurt, unsweetened
⅓ cup plant-based milk
¾ tsp vanilla extract
1 ⅝ cups all purpose flour, or 1¾ cups plus 2 tablespoons
2 tsp baking powder
¾ tsp baking soda
½ tsp salt
½ tsp turmeric
Instructions
People have had mixed results with the bitterness of this loaf, and it depends on the lemon you have. To avoid bitterness, first remove the pith from your lemon. Lay a section of rind down on the cutting board, surface side down. Carefully run the knife, facing away from you, as close to the surface as you can. Try to remove as much pith as possible, while leaving the remaining peel intact. The peels can now be used in the loaf.

Preheat the oven to 400F and grease or add parchment paper to a loaf pan.

If you have a high quality high speed blender, add all ingredients and blend just until a batter is formed. Do not over mix as the loaf will have difficulty rising.

Alternatively, add the lemon pieces, yogurt, milk, vanilla and maple syrup to a blender or food processor and combine until smooth. Pour into a large bowl.

In a separate bowl, combine the dry ingredients, including the flour, salt, turmeric, baking powder and baking soda. Pour the dry ingredients into the wet and slowly fold using a spatula until a smooth batter is formed. Do not overmix.

Transfer to a loaf pan, and bake for 40 minutes, until a toothpick comes out of the center clean. 

Remove and allow to cool before slicing. Enjoy with vanilla icing as desired. Store in a sealed container on the counter for up to 4 days. 
Calories: 195.9kcal, Carbohydrates: 43.3g, Protein: 3.6g, Fat: 0.8g, Saturated Fat: 0.1g, Polyunsaturated Fat: 0.3g, Monounsaturated Fat: 0.1g, Sodium: 366.7mg, Potassium: 138.5mg, Fiber: 1.2g, Sugar: 19.7g, Vitamin A: 60.9IU, Vitamin C: 10.1mg, Calcium: 138.7mg, Iron: 1.5mg