Cauliflower Salad
If you're on a hunt for a delicious vegan salad that is high in protein and fiber, this cauliflower salad will absolutely blow your mind!
I've said it before and I'll say it again: salads don't have to be boring! They can be creamy, crunchy, spicy, zesty, refreshing, filling, nutritious, and of course, BURSTING WITH FLAVORS.
This vibrant cauliflower salad is a great recipe to have in your rotation. It's super easy, delicious, and nutritionally balanced.
Why You'll Love This Recipe
One batch of this cauliflower salad makes several generous servings! Perfect for a family dinner, a potluck, or meal prep.
This meal strikes a great nutritional balance. It's high in protein and fiber, but it also features healthy plant-based sources of carbohydrates and fats.
Plant diversity is essential for gut health. Between cauliflower, sweet potato, chickpeas, spinach, avocado, cucumbers and onions, this salad features SEVEN different veggies, and that's not even including the dressing!
Speaking of the dressing, you will be completely blown away by this creamy tofu and fresh herb dressing!
In addition to being vegan, this dish is gluten-free, nut-free, and WFPB-compliant.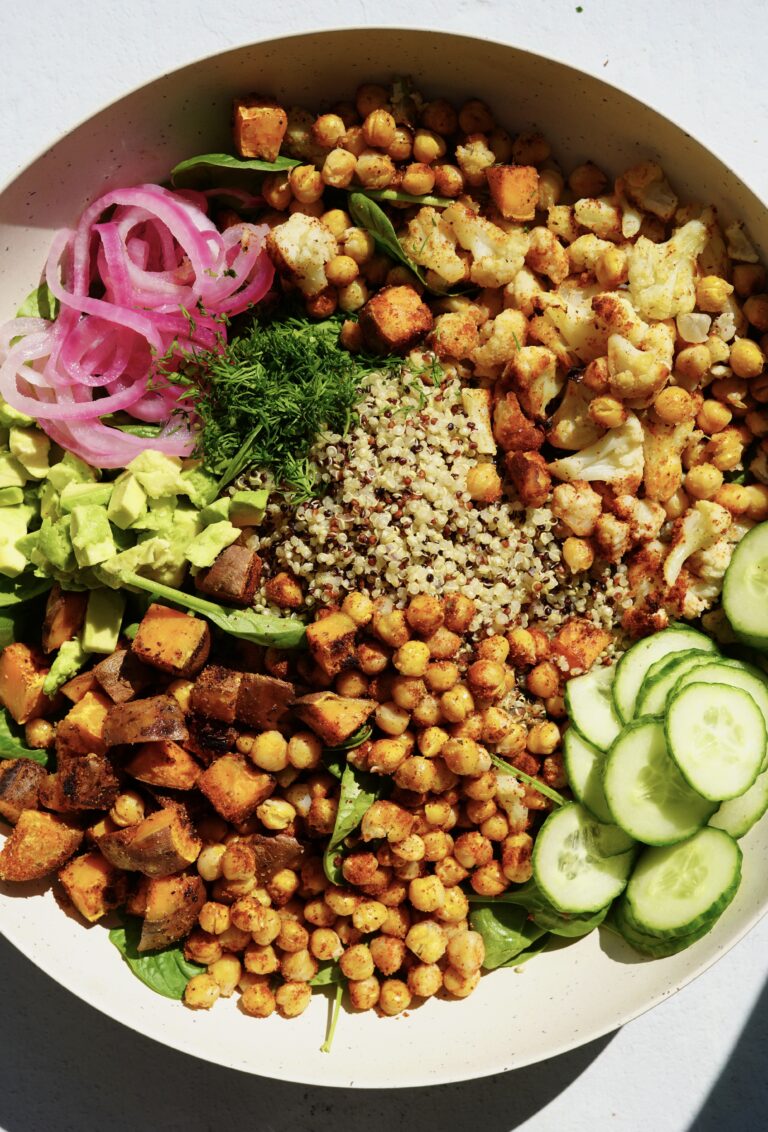 How to Make This Recipe
Start by preheating the oven to 400F and lining a baking sheet with parchment or silicone.
Next, cook the quinoa in accordance with package instructions. For 1 cup of cooked quinoa, you will typically need 1/3 cup of dry grain. Once it's cooked, allow it to cool off.
Spread the chickpeas, onions, cauliflower florets and cubed sweet potatoes on the lined sheet pan. Toss it with olive oil, paprika, cumin, garlic powder, and salt.
Bake in the preheated oven for 35 minutes, until the sweet potato and cauliflower have softened.
Meanwhile, let's make the tofu and herb dressing. Add tofu, parsley, dill, nutritional yeast, salt, lemon juice, garlic and water. Blend until smooth, adding extra water if you prefer a thinner consistency.
Once the vegetables are cooked, add spinach to a large bowl, and arrange the toppings as desired, topped with fresh avocado, cucumber, and the high-protein dressing. Enjoy!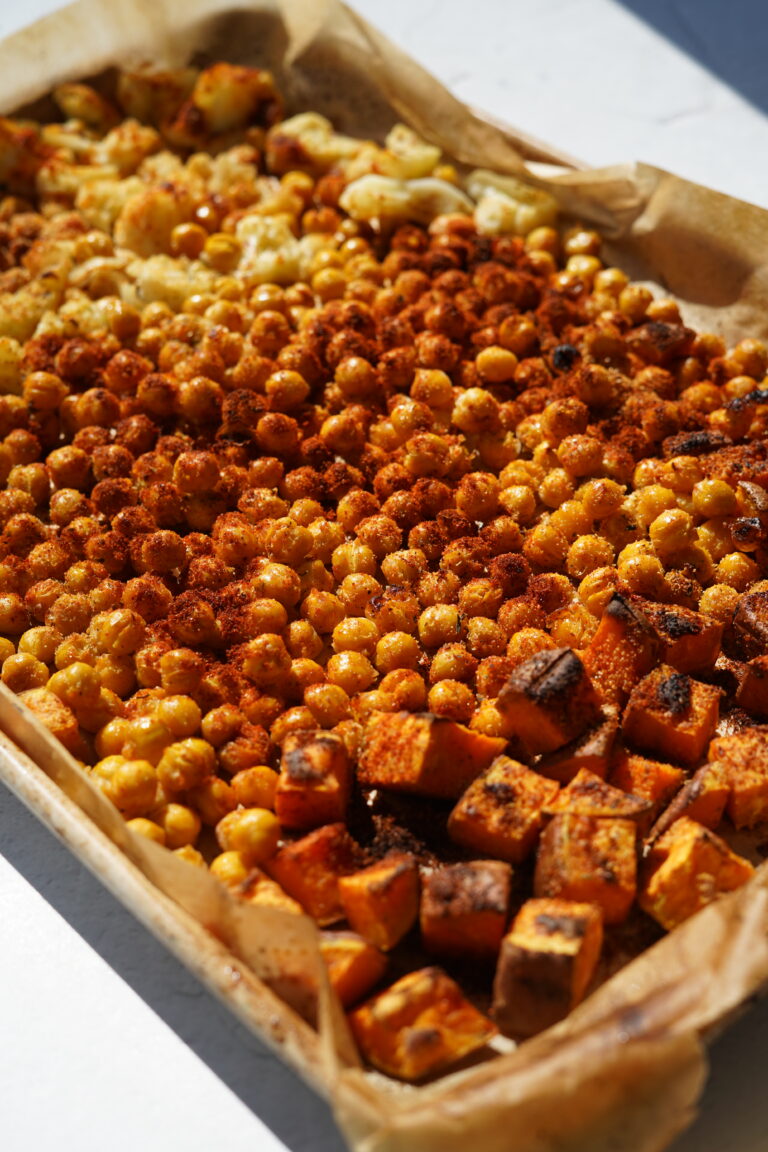 Hack It!
If you can't have soy, or want to try this cauliflower salad with a different dressing, try it with the goddess green dressing or one of our oil-free dressings, like the strawberry vinaigrette or vegan Caesar dressing.
You can add and swap ingredients depending on their availability and your preference. For example, you may use a different type of canned legume, rice instead of quinoa, kale or arugula instead of spinach… The possibilities are endless!
If you're making this cauliflower salad as part of your meal prep, you could roast the veggies and cook quinoa in advance. Store the dressing separately, arranging the ingredients and drizzling the dressing on top just before you serve the meal.
If you cook without oil, simply toss the veggies and chickpeas with the spices and a drizzle of water or broth.
This high-protein tofu dressing can double as a delicious dip for tortilla chips, pita bread, or vegetable crudités.
Other Recipes You'll Love
If you like delicious and nutritious plant-based recipes like this one, check out the PlantYou Planner! It's a fully plant-based meal planner app that allows you to organise your weekly menu with the power to customize it! You can toggle the number of servings, and enjoy the perks of a checkable shopping list generated based on your selection. The planner has a huge database of healthy, beginner-friendly vegan recipes, and once you sign up, you can FULL ACCESS to all recipes and past meal plans.
And if you like to have all of your favorite recipes in one place, I strongly recommend that you get your hands on the PlantYou Cookbook. The book features over 140 delicious plant-based recipes, including appetizers, mains, sides, desserts, and even dressings and dips! Whatever the occasion, you'll find an appropriate recipe in this cookbook!
The Recipe: Cauliflower Salad
A delicious high in protein cauliflower salad with a creamy tofu dressing.
Ingredients
1 head cauliflower, broken into florets
1 sweet potato, chopped
1½ cups chickpeas, approximately 1 can, drained and rinsed
1 tbsp extra virgin olive oil
2 tsp paprika
1 tsp cumin
½ tsp garlic powder
1½ tsp salt
1 cup quinoa, cooked
3 cups spinach
1 avocado, peeled, pitted and chopped
1 cup cucumber, sliced
½ cup pickled red onions, optional
3 tbsp fresh dill, optional
Tofu and Herb Dressing
1 cup extra firm tofu
1 handful parsley
1 handful fresh dill
1 tbsp nutritional yeast
1 tsp salt
1 lemon, juiced
1 clove garlic
¼ cup water, or more as needed
Equipment
Sheetpan

Parchment

Large salad bowl
Instructions
Preheat the oven to 400F and line a baking sheet with parchment. If you don't already have quinoa prepared, cook it according to package directions at this time. 1/3 a cup of dry quinoa will typically lend 1 cup cooked. 

Place the chickpeas, onion, cauliflower and sweet potato on the sheet pan, and drizzle with oil, and then the spices. You can do this in a bowl for easier preparation, if desired. Roast for 35 minutes, until the sweet potato and cauliflower are slightly soft.

While the vegetables roast, prepare your high protein dressing. In a blender, combine the tofu, parsley, dill, nutritional yeast, salt, lemon, garlic and water. Combine until smooth, adding more water as needed to reach a desired consistency.

When the vegetables are roasted, place a bed of spinach in a bowl, and disperse the toppings as desired, with fresh avocado and cucumber on top. If desired, add pickled onions and dill. Drizzle on the high protein dressing and enjoy. 
Calories: 516.7kcal, Carbohydrates: 74g, Protein: 23g, Fat: 17.1g, Saturated Fat: 2.4g, Polyunsaturated Fat: 4.2g, Monounsaturated Fat: 8.9g, Sodium: 1598.6mg, Potassium: 1654.7mg, Fiber: 17.8g, Sugar: 10.4g, Vitamin A: 10461.6IU, Vitamin C: 103.4mg, Calcium: 168.3mg, Iron: 7.1mg