Greek Pasta Salad
With the end of winter finally in sight, I am bringing back the salads! This Greek pasta salad is a perfect combination of filling, flavorful, and vibrant.
Living in Canada, I have to endure cold and snowy winters. As much as I love salads, they typically give way to soups, stews, and hot pasta dishes in the colder months of fall and winter.
Thankfully, winter doesn't last forever, and now that we are officially celebrating the arrival of spring, I have an excellent Greek pasta salad recipe for you.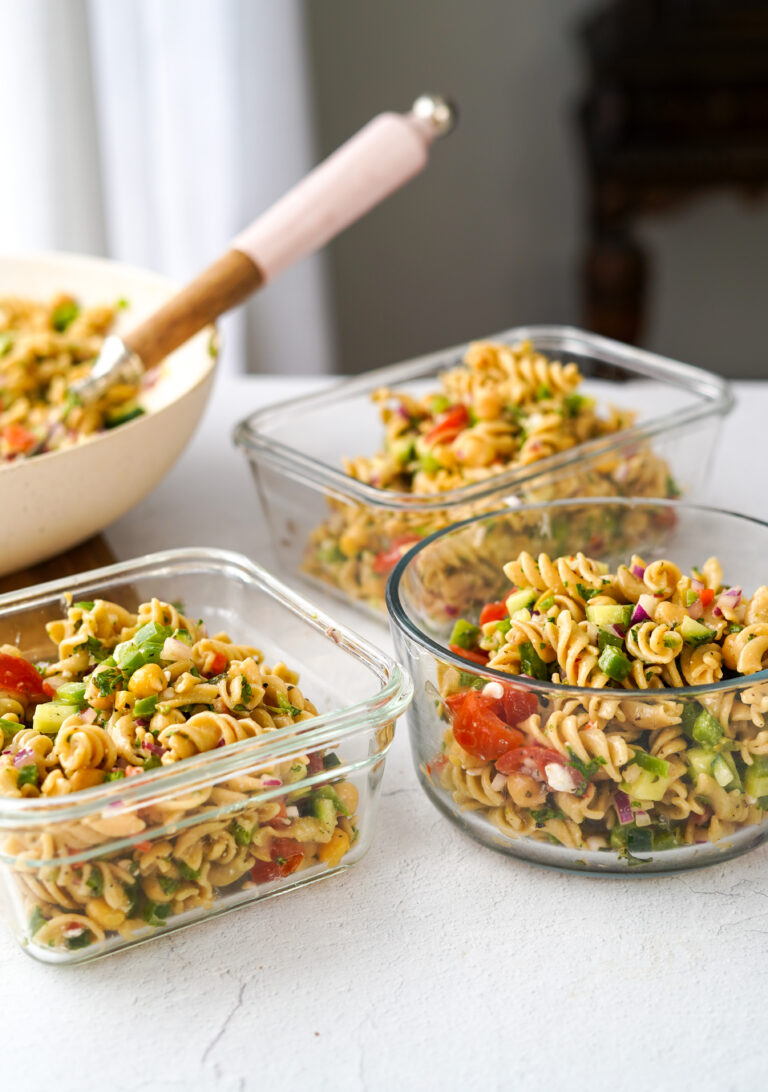 Why You'll Love This Recipe
Do you love pasta? Do you love crisp, fresh veggies? This salad is a perfect combination of both, along with a tangy herb and mustard vinaigrette. Yum!
This is a perfect meal prep recipe! Once your salad is ready, you can enjoy it for the next few days.
OH-SO-EASY! Just cook the pasta, chop up some vegetables, and whisk up the dressing. Voila!
One of the things I love about this salad is the sense of rapidly approaching summer it creates. So fresh, delicious, and colorful!
How to Make This Recipe
First, cook your pasta in accordance with the package instructions. This can be done in advance, since the pasta needs some time to cool down.
While the pasta is cooking, you could chop and dice your veggies.
To make the dressing, simply combine the vinaigrette ingredients together in a jar or a small bowl.
Once the pasta is cooked, drain the liquid and allow it to fully cool down.
Finally, combine pasta, fresh ingredients, and the dressing in a large mixing bowl. Enjoy!
Hack It!
If you're cooking the pasta in advance, you may want to drizzle some olive oil over it to stop the pasta from sticking together.
Alternatively, if you are cooking the pasta immediately before using it for the salad, you can speed up the cooling process by setting your pot outside or even rinsing the pasta with cold water.
If you're making this salad as a meal prep dish, you could store the vinaigrette separately and add it immediately before enjoying your meal.
For an oil-free version of this recipe, try it with one of my oil-free salad dressings!
Gluten-free? No problem! Just use your favorite brand of gluten-free fusilli or penne.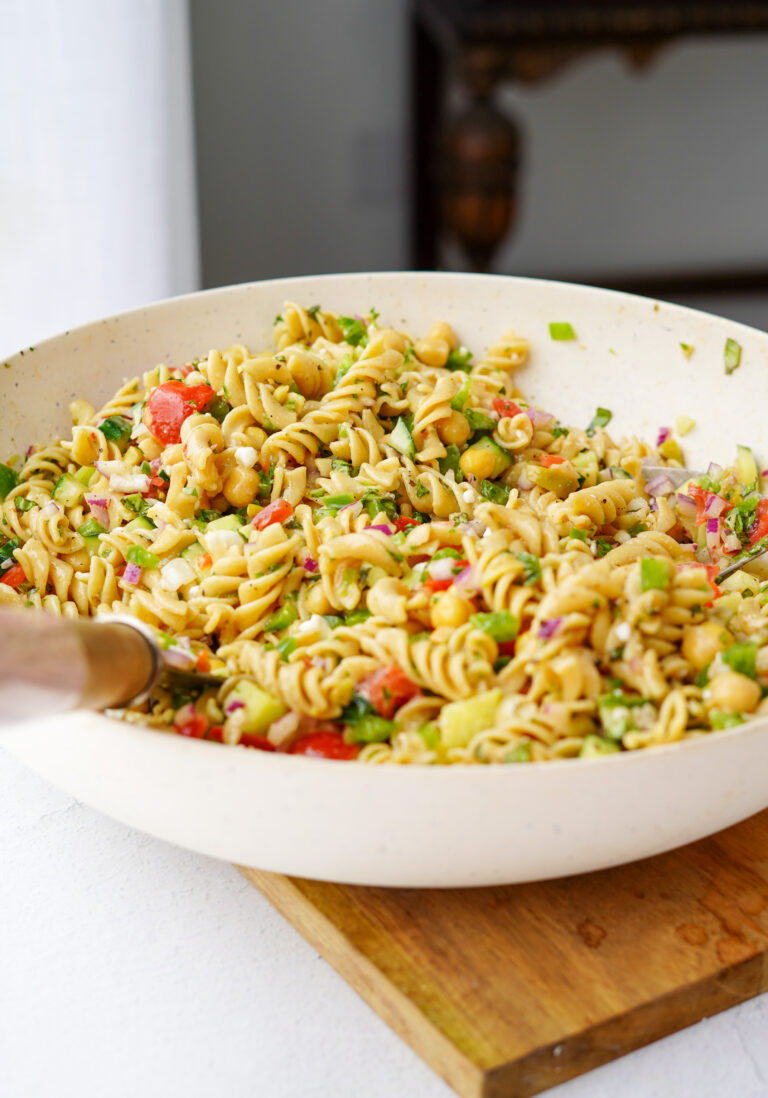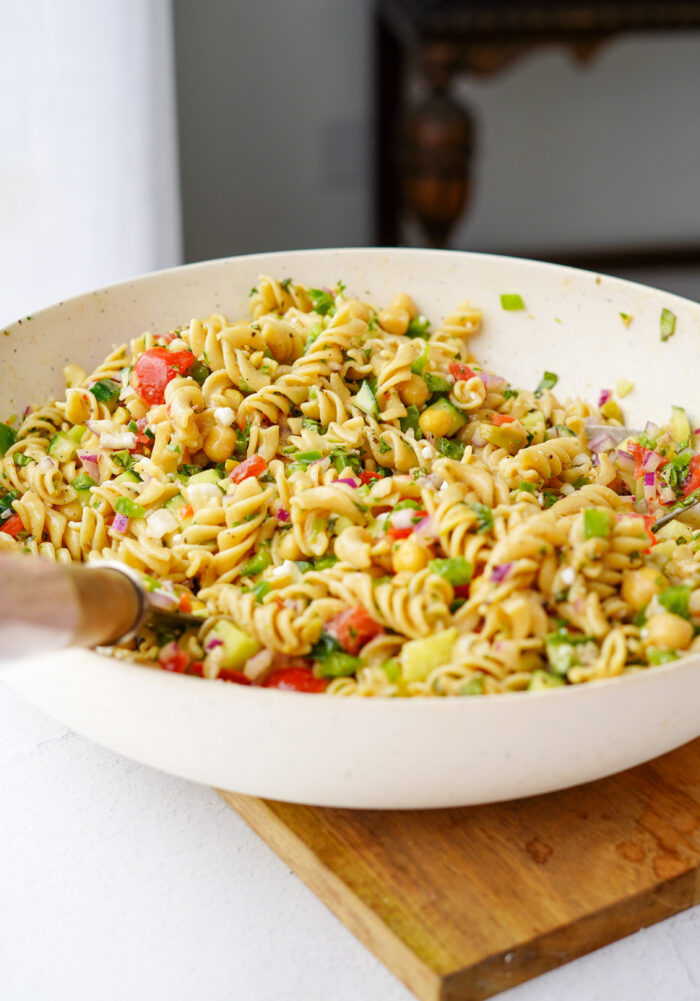 Other Recipes You'll Love
Have I mentioned that I have a cookbook? That's right, the PlantYou Cookbook has 140+ beginner-friendly, delicious plant-based recipes. It was specifically designed to make your plant-based journey as easy as possible, including ingredient swaps for common allergens, and an infographic accompanying every recipe for visual learners! Be sure to tag @plantyou when you share your beautiful meals from the book and leave a review if you can!
If you love simple vegan recipes like this one, why not join the PlantYou Planner! It's an interactive meal planner app with a huge database of over 600 vegan recipes, all optimized for easy meal planning! Not only can you drag and drop the recipes to create your weekly menu, you can also take advantage of the autogenerated shopping list. Believe me, plant-based living has never been so easy!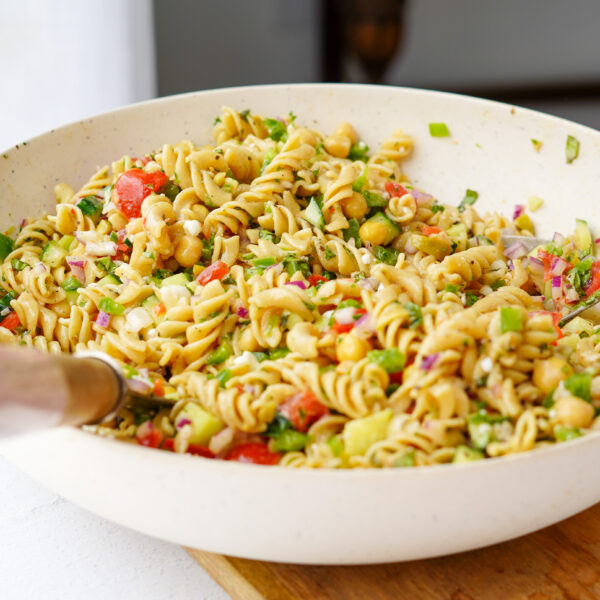 The Recipe: Greek Pasta Salad
A vibrant and delicious vegan salad featuring everyone's favorite ingredients from Greek cuisine.
Ingredients
1 lbs whole wheat fusilli or penne, cooked and cooled
1 cup green bell pepper, chopped
1 cup cherry tomatoes, quartered
1 cup cucumbers, diced
1 red onion, diced
1 cup olives, diced
¾ cup vegan feta, crumbled
1½ cup fresh basil and parsley, chopped
1 ½ cups chickpeas, drained and rinsed
For the vinaigrette
⅓ cup red wine vinegar
1 lemon, juice
½ tsp dried oregano
½ tsp sea salt
1 tsp nutritional yeast
2 tbsp dijon mustard
½ tsp black pepper, freshly cracked if possible
⅓ cup extra virgin olive oil
Instructions
Combine the dressing ingredients in a jar and shake or whisk until a dressing is formed. 

Add all ingredients to a bowl and toss. Enjoy immediately, or store in the fridge for up to 4 days. 
Calories: 278.5kcal, Carbohydrates: 20.1g, Protein: 9.3g, Fat: 19.2g, Saturated Fat: 3.6g, Polyunsaturated Fat: 2.1g, Monounsaturated Fat: 11.7g, Cholesterol: 10mg, Sodium: 776.5mg, Potassium: 331.9mg, Fiber: 5.8g, Sugar: 5.6g, Vitamin A: 340.4IU, Vitamin C: 37.9mg, Calcium: 56.6mg, Iron: 2.1mg