Cheese-less Pizza (Vegan, Oil-Free)
Don't think pizza can be delicious without cheese? Well, you'll need to try this cheese-less pizza with sun-dried tomatoes and broccoli before you make up your mind! 
I love to make homemade pizza and experiment with different vegetable topping! It was when I started making pizza from scratch that I discovered you don't need cheese at all to make an amazing pizza.
I've even started to order my take-out pizza cheese-free because I love how many more veggies I can top on instead. Plus, you have a whole playground of herbs, spices and sauces that you can try. A cheese-less pizza is also a healthy option for lunch or dinner. I've even had a slice for breakfast too.
Before going plant-based I found that after a slice of pizza with meat and cheese I would feel bloated and uncomfortable. But when made plant-based, I can enjoy many slices of pizza with no ill effects.
Even though, I've tried many flavor combos when it comes to a cheese-less pizza I would say this is my favorite! The broccoli and sundried tomatoes compliment each other perfectly.
If you are struggling to give up cheese and are looking for advice check out my blog article about how to give up cheese. 
Why You'll Love Cheese-less Pizza
Fresh and light: Opting out of the cheese doesn't make a pizza less delicious! It gives room for more whole plant foods that are full of healthy nutrients and flavour.
Customizable: You can mix and match as many herbs, spices and veggies as you please. You can't really go wrong with cheese-less pizza. Nobody has to be fighting over the toppings when it comes to making homemade since the options can be endless.
Quick & easy: This dinner recipe can be made in 20 minutes or less which makes it perfect for meal prepping or a quick weekend meal idea.
Hack it
Add greens: One of my secrets to getting in my greens is topping them to my pizza! Throw on arugula, kale or spinach to get in some extra greens.
Kick up the spices: Pizza is all about the spices in my opinion it really makes a tomato pie delicious. So, I make sure to at least pick three from my go-to spice list: oregano, basil, dried onion, thyme, cumin, chilli, cajun or paprika.
Drizzle it: To make your pizza gourmet I would suggest adding a drizzle. I love to this on special occasions or date nights. My favorite pizza drizzle options are my pesto, salsa, bbq sauce or balsamic glaze.
Add picked or fermented foods: I'm all about adding in fermented or pickled plant foods where I can, they also make delicious toppings for a pizza. I love adding quick pickled onions or kimchi.
How To Make This Recipe
Preheat your oven to 400F.
Firstly chop up your broccoli into small florets and finely slice the sundried tomatoes.
Then you will add your marinara sauce to your pizza crust and prepare the hemp hearts, nutritional yeast and seasoning.
Place the topping onto the pizza bake in the oven for 15 minutes.
Once, the pizza is ready remove it from the oven and add the balsamic glaze.
Store-Bought Vegan Pizza Crust Options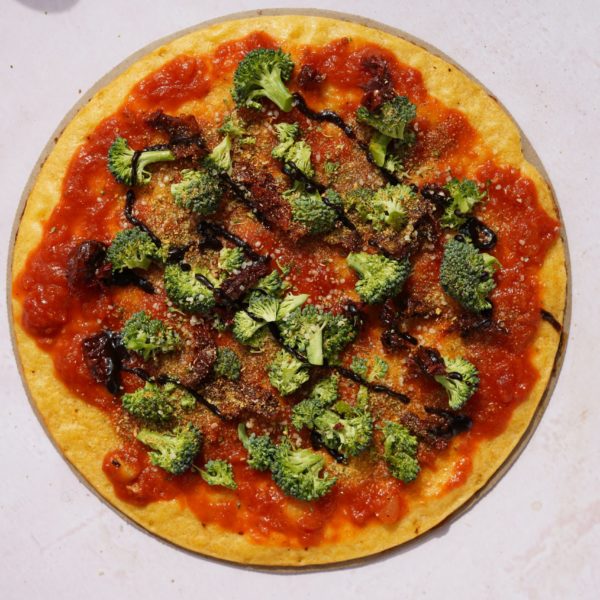 The Recipe: Cheeseless Pizza
This pizza will be a weekend staple in your household!
Ingredients
1 Pizza crust of choice, (I used a premade sweet potato crust)
1 cup Marinara sauce
1 head Broccoli, chopped into small florets
½ cup Sun-dried tomatoes, finely chopped
2 tbsp Hemp hearts
1 tbsp Nutritional yeast
1 tbsp Garlic and pepper seasoning
Balsamic glaze, to taste
Instructions
Top your pizza. Place in the oven at 400F for 15 minutes. Enjoy!
Calories: 152.4kcal, Carbohydrates: 22.4g, Protein: 10.7g, Fat: 4.5g, Saturated Fat: 0.4g, Sodium: 405.1mg, Potassium: 1191.8mg, Fiber: 7.3g, Sugar: 10.4g, Vitamin A: 1371.2IU, Vitamin C: 145.3mg, Calcium: 105mg, Iron: 4.1mg
Other Recipes You'll Love