Vegan Tacos in 15 minutes (wfpb, oil-free)
These vegan tacos in just 15 minutes have a base of ground mushrooms which acts as the perfect ground beef replacement. They're also whole-food, plant-based compliant, oil free, nut free and gluten free if you choose to use corn tortillas.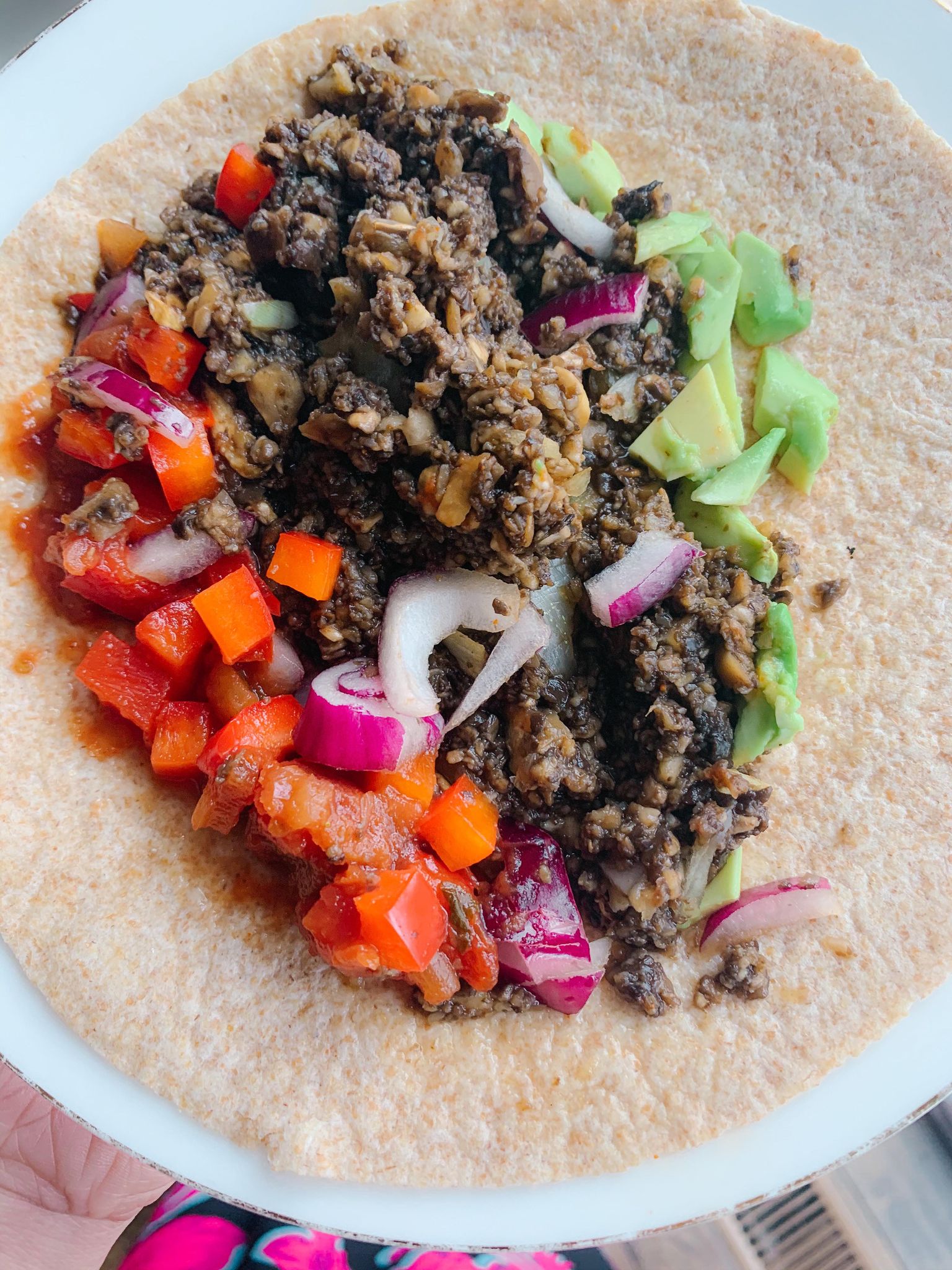 Happy Taco Tuesday!
Joking… I'm actually writing this on a Thursday. But in my world, everyday is Taco Tuesday.
Seriously, I could eat tacos every day of my life and be completely satisfied. They're one of those recipes that are completely versatile to your tastes, and are also ridiculously easy to veganize.
Today we're talking mushroom tacos. And if you aren't a fan of mushrooms, don't leave this blog post just yet. I swear that if any recipe was going to convert you to a raving mushroom fan, this is it.
What's In Vegan Tacos?
To make these vegan tacos, you need just a few simple whole-food, plant-based ingredients are required.
Most importantly, you need mushrooms. For the purpose of this recipe, we used white mushrooms because they are the most readily available and also have a great texture that can double as a ground beef replacement in recipes like this.
(Psst… If you are a fan of mushrooms as a meat replacement, you must checkout our veggie wellington and oyster mushroom pulled pork sandwiches).
Other than mushrooms, here are the other ingredients you need to whip up these vegan tacos in 15 minutes.
4 to 6 tortillas (both corn or a simple white or whole wheat tortilla will work for this recipe)
fresh garlic cloves
onion
cumin
garlic powder
chili powder
soy sauce
toppings of choice (avocado, tomato, lettuce, etc.)
As you can see, the secret to make delicious vegan tacos is in the spices. We add lots of spice like garlic powder, cumin, chili powder and soy sauce to amp up the flavor and make a true sub for regular meat tacos!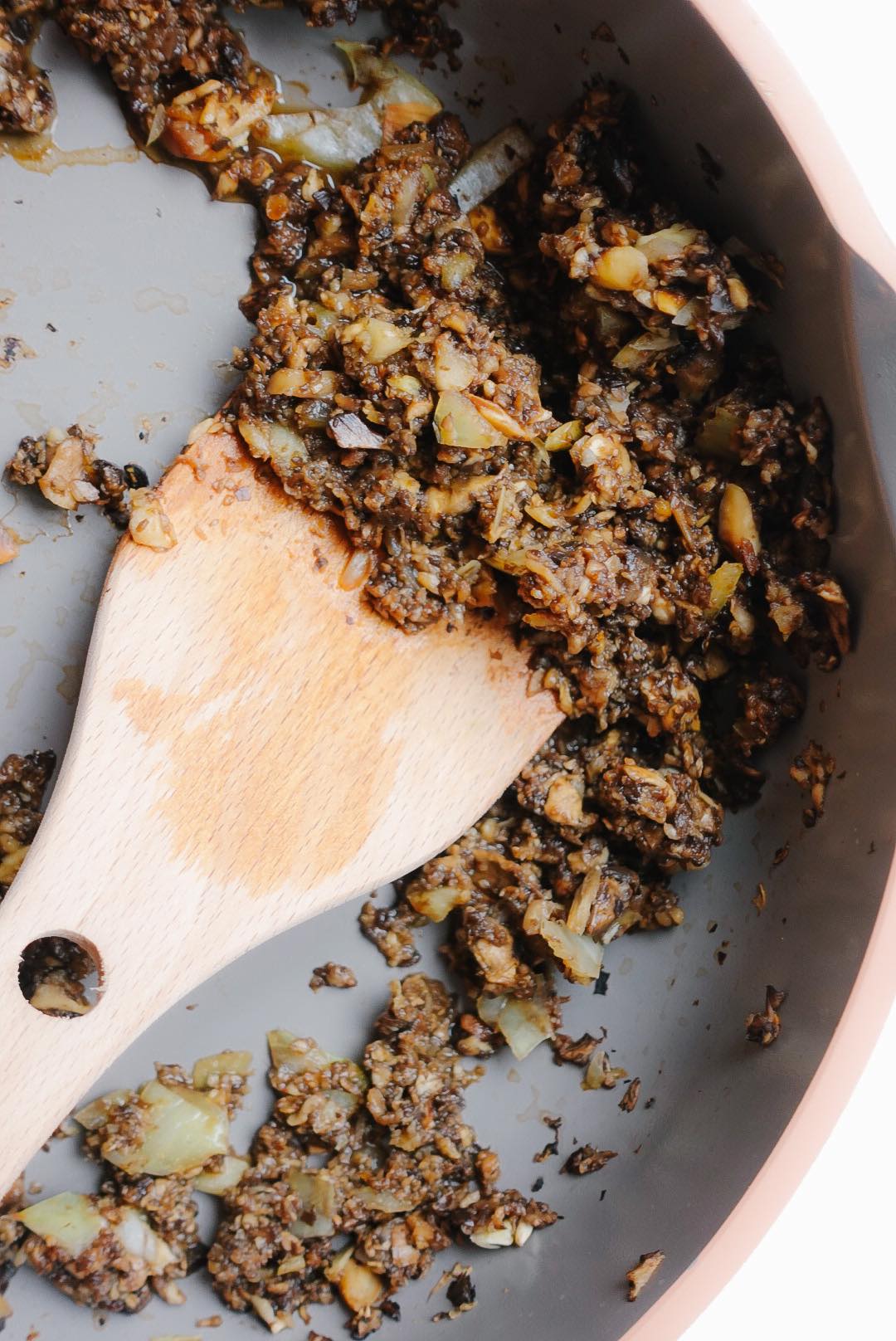 Can You Meal Prep These Mushroom Tacos?
I wouldn't recommend meal prepping these mushroom tacos for more than two days at a time because the 'mushroom' mixture is quite wet, and won't keep the best in the fridge.
If you are not eating these vegan tacos immediately, I would suggest storing the mushroom mixture separate from your other toppings (like the tortillas etc.) until you're ready to enjoy them. Then you can throw it back on the pan and reheat.
If you are looking for whole-food, plant-based, oil-free meal prep recipes, you should definitely sign up for our weekly meal plan subscription. We release a new meal plan every week specifically designed for food prep and it's just $7.99/month.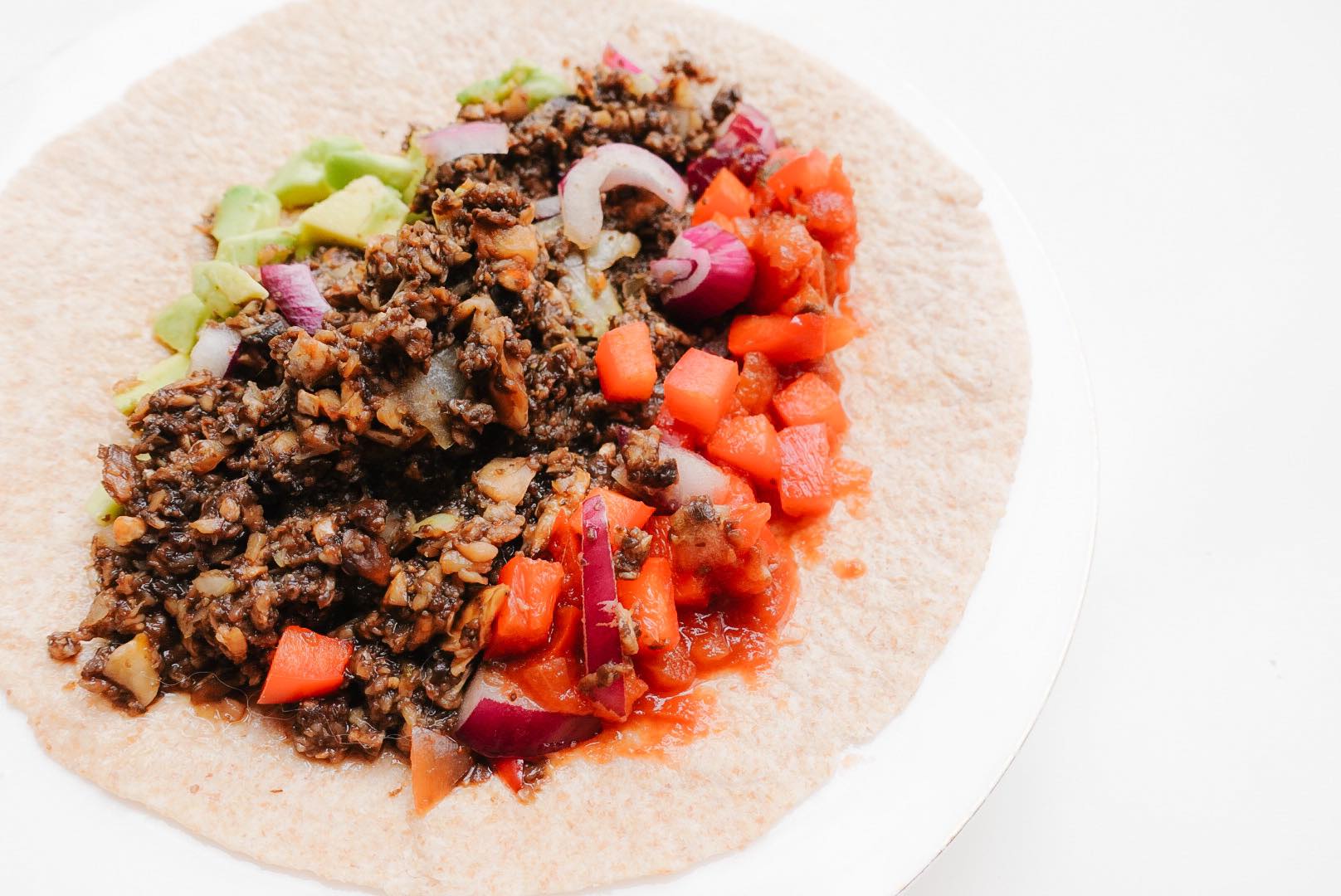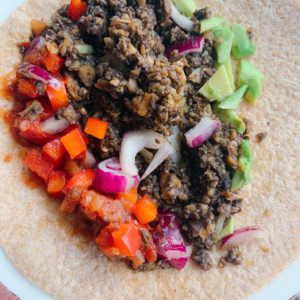 The Recipe: Vegan Tacos in 15 Minutes
A vegan taco recipe that takes just 15 minutes to prepare using just whole-food, plant-based ingredients including mushrooms and lots of spices!
Ingredients
2 cups white mushrooms
3 cloves garlic
½ yellow onion
½ tsp cumin
½ tsp garlic powder
½ tsp chili powder
1 ½ tbsp soy sauce
4 tortillas
Instructions
Add the mushrooms, garlic and onion to a food processor and chop until a mince is formed.

In a pan over medium heat, sauté in the mince until warmed. Add the spices and soy sauce and combine thoroughly. Sauté for 5 to 8 minutes.

Serve on a tortilla with your choice of toppings. I used salsa, avocado, bell pepper and red onion.