Vegan Seared Scallops
These delicious vegan seared scallops are a perfect alternative for vegans who miss seafood! They are sweet, aromatic, and buttery – ideal for a classy dinner!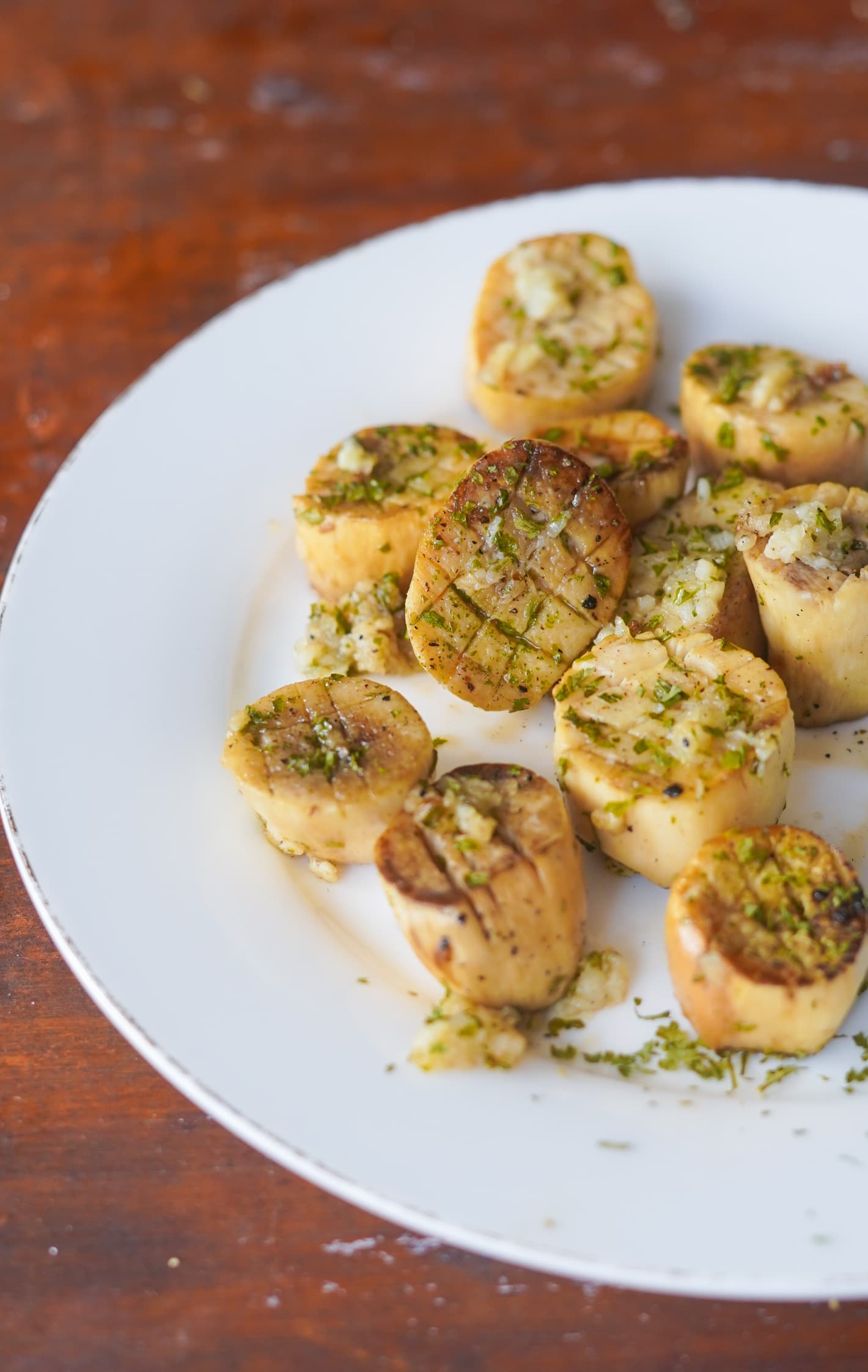 As a full-time food blogger, one of my favorite things is veganizing beloved meals. Ever since I've watched Seaspiracy, I've been on a mission to create delicious vegan alternatives to seafood dishes. I've already veganized coconut shrimp, salmon lox, and ahi tuna. The time has come to make vegan seared scallops, complete with the smooth buttery flavor!
To mimic the appearance and texture of the scallops, we'll be using king oyster mushrooms. The star of the show is… the mushroom stem! What can't oyster mushrooms do?!
Why You'll Love This Recipe
For a fancy dish, it's super-affordable! It only uses six ingredients!
These vegan seared scallops can be served in a variety of ways, from a stand-alone dish, to a salad topping!
It requires minimal equipment, and very little time. Great for busy people with small kitchens!
You can easily customize this dish with your favourite seasonings.
How to Prepare This Recipe
Set up your working station. All you need is a chopping board, a knife, a cast iron, and a pair of tongs. If you don't have a cast iron, it's best to use a non-stick frying pan that can withstand high temperatures.
Next, slice the stems of your mushrooms into 1-inch cylinders. The caps can be set aside and used for another dish. Carefully score the top of your "scallops" with a sharp knife.
Sprinkle the top of your mushroom scallops with salt and pepper. Spray them with a light layer olive oil, or another type of cooking oil.


Heat a well-seasoned cast iron pan. Add your scallops, scored side down. Sear them over medium heat for approximately 30 seconds. That sizzle is so satisfying!
Turn your scallops and add vegan butter, garlic, and dried parsley. Wait for the butter to melt, and for the garlic to release its amazing aroma. You scallops are ready! Yum!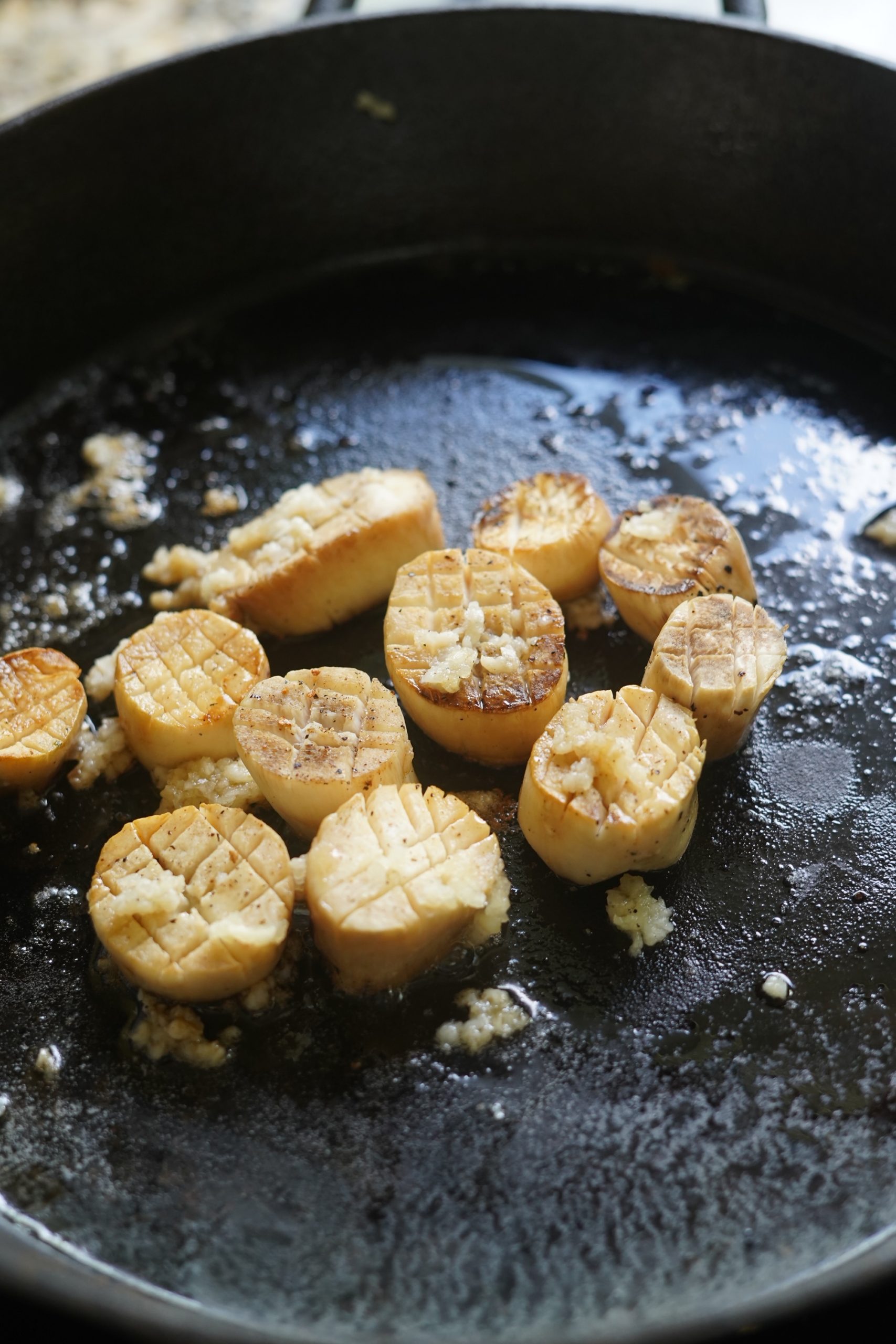 Hack It!
This simple recipe can be modified to include your favorite seasonings. Feel free to add chili flakes, smoked paprika, ground bayleaf, or white pepper.
For a hit of acidity, squeeze some fresh lemon juice over the top of your vegan seared scallops before serving.
These mushroom scallops are great on their own. However, you can use them to enhance other dishes. Serve them with roasted veggies, as a salad topping, or as a classy addition to potato mash.
If you don't have access to vegan butter, try making these with coconut oil or olive oil. For a spicier version, you can even use chilli oil!
To achieve a more fishy flavor, you can soak the scored mushroom pieces with some kombu seaweed and some rice vinegar for 2-4 hours.
Store This Recipe
Truthfully, these vegan seared scallops are best enjoyed straight from the pan. You can, however, prep your mushroom cyllinders in advance to save you time. If you do have some seared scallops leftover, store them in an airtight container in the fridge for 2-3 days.
Other Recipes You'll Love
Did you enjoy these vegan scallops? Check out PlantGenie – a digital plant-based meal planner by PlantYou! Not only does it have a huge database of healthy vegan recipes, it can be tailored to suit your needs. Customize your weekly meal plans, choose the number of servings you want for each dish, and enjoy effortless meal prep. Once you pick your meals for the week, PlantGenie automatically generates a checkable shopping list you can bring with you to the store. Eating plants has never been easier!
The Recipe: Vegan Seared Scallops
A perfect vegan alternative of buttery seared scallops
Ingredients
4 king oyster mushrooms
salt, to taste
pepper, to taste
4 tbsp vegan butter
5 cloves garlic, minced
1 tbsp dried parsley
Equipment
chopping board

knife

cast iron pan

tongs
Instructions
Slice the stems of the king oyster mushrooms into approximately 1 inch cylinders.

Season with salt and pepper and a spray of olive oil.

Add to a well greased cast iron skillet. Add the scallops face side down and allow them to sizzle over medium heat for approximately 30 seconds.

Flip your scallops and add vegan butter, garlic and dried parsley. Serve immediately.
Calories: 178kcal, Carbohydrates: 3.1g, Protein: 0.8g, Fat: 18.2g, Saturated Fat: 4.7g, Polyunsaturated Fat: 5g, Monounsaturated Fat: 7.3g, Trans Fat: 0.1g, Sodium: 187mg, Potassium: 73.1mg, Fiber: 0.5g, Sugar: 0.2g, Vitamin A: 1090.3IU, Vitamin C: 3.6mg, Calcium: 25mg, Iron: 0.4mg