Chickpea Spinach Curry
Welcome back to Plant-Based Basics! This chickpea spinach curry is a fantastic recipe to have in your arsenal, whether you are a beginner or a seasoned cook.
Being able to create a rich and flavourful curry sauce is a basic skill that will change the way you approach cooking. Curries are incredibly versatile, and once you have a go-to base recipe, you can really make it your own.
Why You'll Love This Recipe
Almost all of the ingredients used in this recipe have a long shelf life. This means that you can stock up your pantry and make this chickpea spinach curry on a whim!
Preparing a curry sauce from scratch makes a huge difference! Not only will you know exactly what goes into your dish, since the sauce won't need any preservatives or other unnecessary additives.
This chickpea spinach curry recipe is super simple! Even if cooking intimidates you, I promise that you can make this.
If you love meal prep, this recipe is perfect for batch cooking! You can eat it throughout the week or split it into portions and freeze it.
Despite its relative simplicity, it's an excellent dish you can serve to your guests. It's creamy, delicious, and can be served with various sides for everyone's liking!
How to Make This Recipe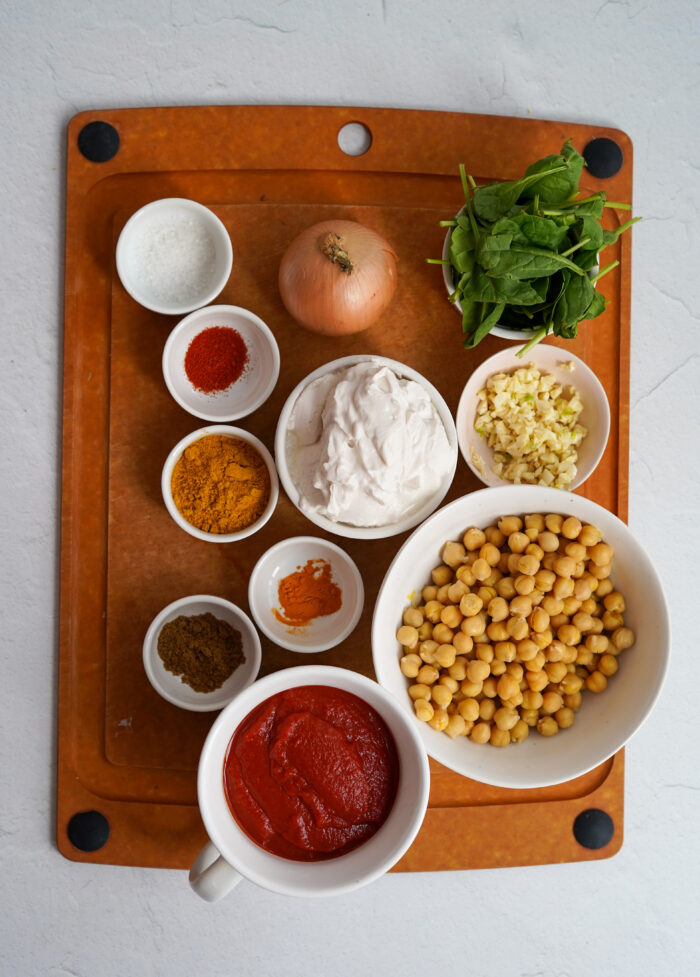 Heat the oil in a pan over medium heat. Add onion and sauce for a few minutes until fragrant.
Next, add minced garlic, curry powder, cumin, turmeric, paprika and salt. Continue cooking everything together for another 5 minutes or so. Your home will smell absolutely amazing!
Add canned tomatoes, coconut milk, chickpeas and almond butter to the pan. Bring the contents to a simmer, then reduce the heat, and let everything cook for about 6-8 minutes, until everything the sauce has an even, creamy consistency.
Want to hear some good news? It's nearly ready! Add spinach and stir it in until wilted. Serve your chickpea spinach curry with fresh cilantro and naan bread as desired.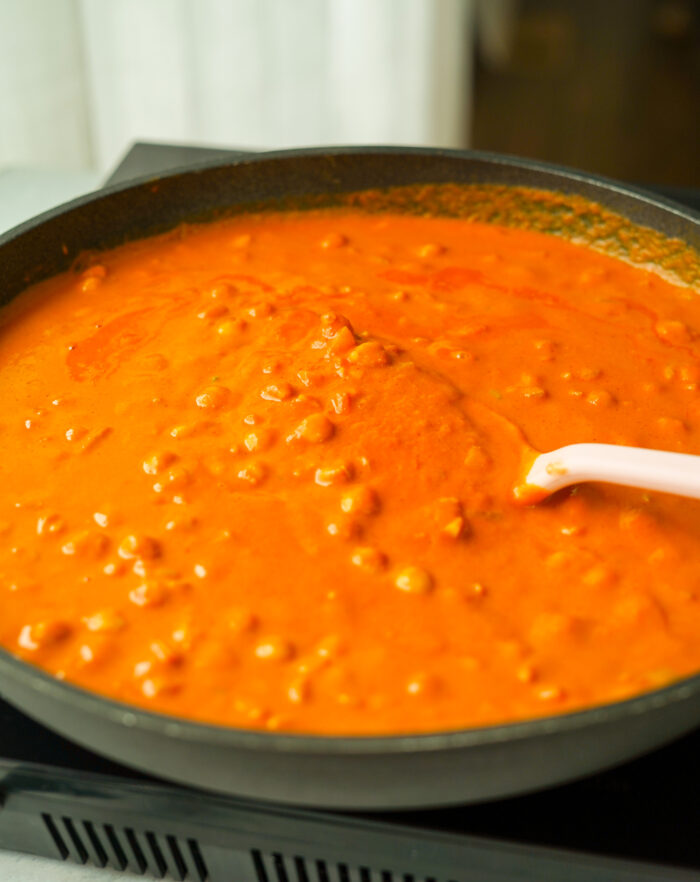 Hack It!
If you prefer a bit more spice in your curry, feel free to add some fresh chillies or chilli powder when you sauce onions and garlic with the spices.
For a nut-free version of this recipe, swap almond butter for sunflower butter or tahini. Alternatively, skip it altogether.
There are so many ways to serve this dish! I enjoy it with naan and fresh cilantro, but you can also serve it over rice, or with rotis or pakora. It all depends on your preference and appetite.
Once you master this basic recipe, you can start experimenting by adding extra veggies and greens. This could be very helpful in getting rid on excess produce from your fridge and reduce your household food waste.
If you have some time to spare, you can cook the sauce (without chickpeas or spinach) in a covered pan on low heat for up to an hour. This will really let the flavors develop and blow your mind!
You can use frozen spinach for this curry if you have no fresh spinach. Just be aware that it will take a little bit longer to heat up and integrate with the curry before you serve it.
Don't throw away the chickpea liquid. You can use it to make amazing vegan marshmallows or French toast!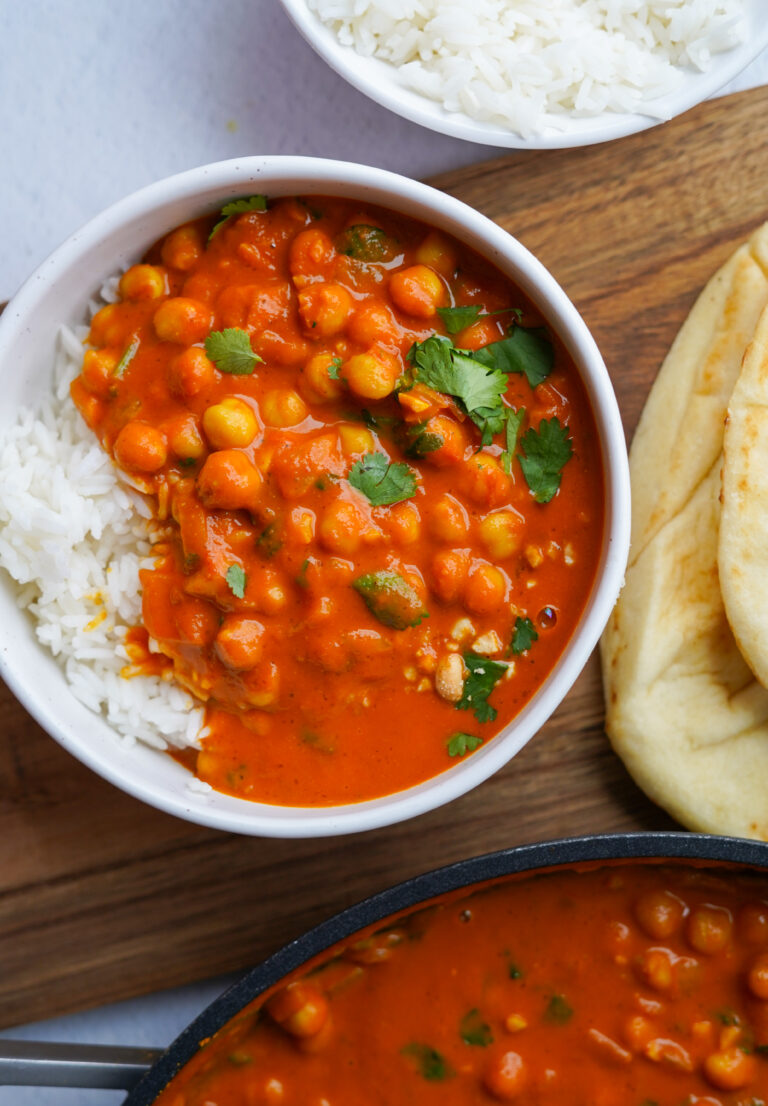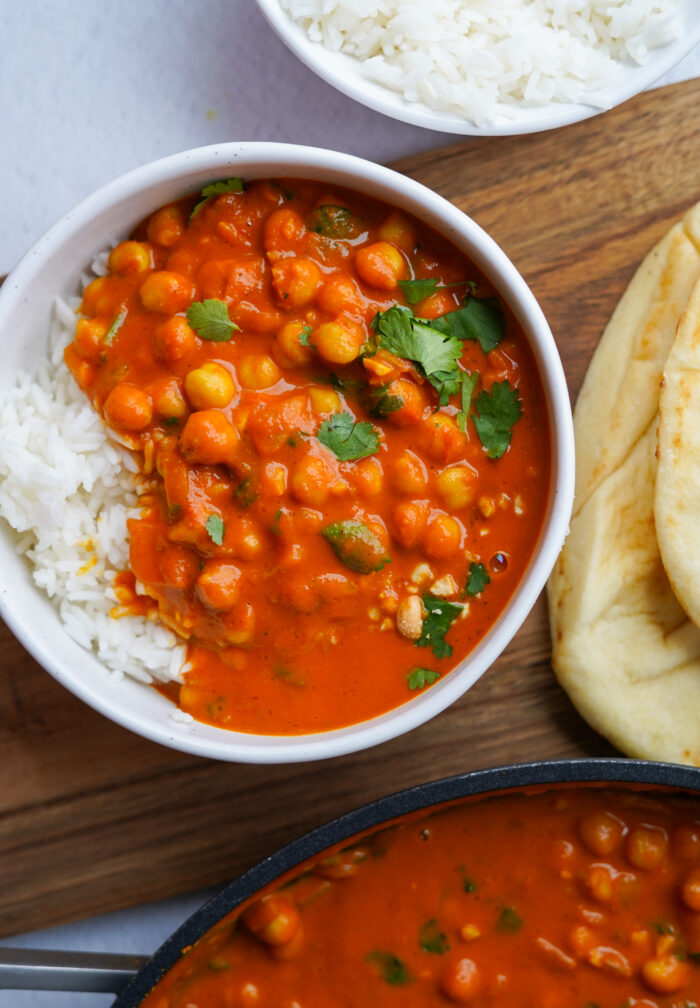 Other Recipes You'll Love
If you loved this recipe, you should check out Everything But The Kitchen Sink Curry from the PlantYou Cookbook! It features 140+ delicious vegan recipes that will make you fall in love with cooking. One of the best things about this cookbook is that it is beginner- and allergen-friendly, so hat no one has to miss out!
And if you like to mix things up on a weekly basis, check out the PlantYou Planner! It's a fully vegan meal planner app specifically designed to make plant-based living as easy as possible. Once you sign up, you will have access to over 600 delicious and wholesome recipes in the planner database, curated meal plans, and the ability to customize your weekly menu.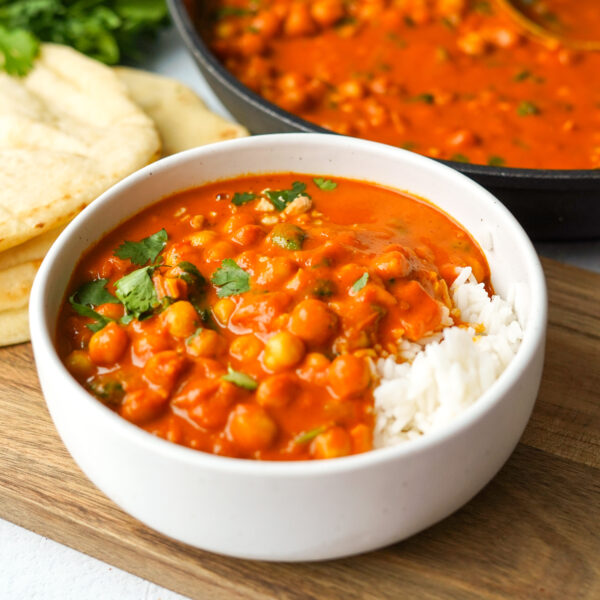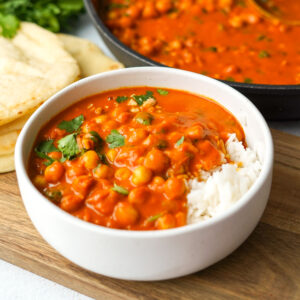 The Recipe: Chickpea Spinach Curry
A basic vegan curry recipe that will teach you how to make curry sauce from scratch.
Ingredients
1 tbsp olive oil
1 yellow onion, diced
3 cloves garlic, minced
2 tbsp curry powder
1 tsp cumin
½ tsp turmeric
½ tsp paprika
¾ tsp salt
1 can crushed tomatoes, 15 oz
1 can coconut milk, 13.5 oz
1 can chickpeas, drained and rinsed
1 tbsp almond butter, optional
1 handful spinach
Garnish and serving suggestion
Instructions
In a pan over medium heat, add the onion and olive oil. Stir until fragrant, approximately 3 minutes. 

Next, add the garlic, curry powder, cumin, turmeric, paprika and salt. Stir until fragrant, approximately 5 minutes. 

Add the crushed tomatoes, coconut milk, chickpeas and almond butter. Bring to a simmer, then lower the heat, and cook on low for 6 to 8 minutes, until everything is combined and warm. 

Stir in the spinach until it is wilted. Serve with fresh cilantro and naan bread as desired. 
Calories: 305.7kcal, Carbohydrates: 16.7g, Protein: 5.6g, Fat: 27g, Saturated Fat: 18.9g, Polyunsaturated Fat: 1.4g, Monounsaturated Fat: 5g, Sodium: 594.4mg, Potassium: 695.8mg, Fiber: 4.2g, Sugar: 6.1g, Vitamin A: 980.3IU, Vitamin C: 16.5mg, Calcium: 103.8mg, Iron: 6.3mg