White Bean Soup with Lemon and Orzo (Golden Glow Soup)
Ready in just 20 minutes, this white bean soup with lemon and orzo (aka Golden Glow Soup) is a perfect comfort dish for the winter.
I find it hard to believe that anyone truly enjoys cold weather. Despite living in Canada all my life, I really struggle to survive the winter! And do you know how I get through it? With warm, comforting dishes just like this white bean soup.
Featuring orzo pasta and a zesty lemon flavor, this soup is an amazing meal for anyone living in the colder climate.
Why You'll Love This Recipe
Who doesn't love a recipe that comes together in 20 minutes in a single pot? If you're the type of person who would rather spend as little time in the kitchen as possible, this recipe is for you.
Talk about affordability! This white bean soup recipe is made using commonly available ingredients, both fresh and canned. In fact, you might already have everything you need in your fridge and pantry.
Despite being fairly simple, this soup has a decadent feel to it. The recipe uses wholesome ingredients and the flavors mesh beautifully together!
It's a great opportunity to use up leftover veggies from the back of your fridge and prevent unnecessary waste!
This creamy white bean soup is soy-free, dairy-free and vegan. With a couple of adjustments, it can also be made gluten- and nut-free, very friendly to people with common allergies!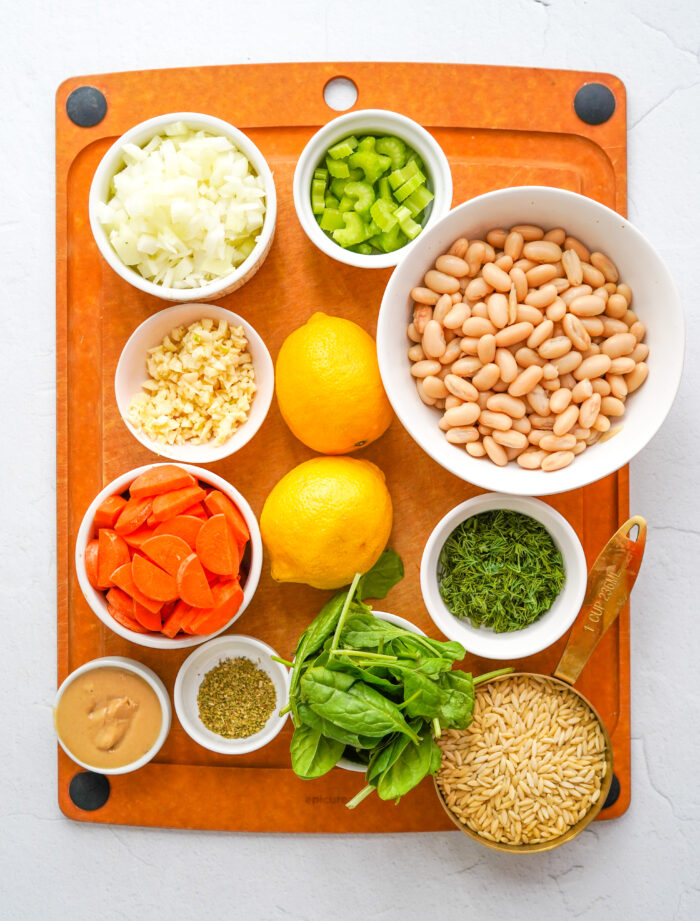 How to Make This Recipe
Although the cooking process is quick and simple, this recipe requires a fairly long list of ingredients. So the first thing you should do is gather your veggies, beans, spices, and pasta. This will save you time once you start cooking.
Once our vegetables are chopped and diced as instructed, heat a pot over medium heat, and add onion, carrot, celery, garlic, and oregano. Sauté the veggies for about 5 minutes until softened.
Next, pour in the vegetable broth. After draining the beans, add them to the pot, along with lemon zest and lemon juice. Bring the contents to a simmer, and cover the pot with a lid.
Cook for the next 10 minutes before stirring in fresh dill and orzo. Bring it back to a boil and cook for another 10 minutes until the orzo is soft. For this part, keep the lid off and stir from time to time to prevent the orzo from clumping together.
Lastly, add the cashew butter or tahini, along with the kale. Cook for just a few minutes until the kale had wilted and the soup is thoroughly heated. Enjoy immediately!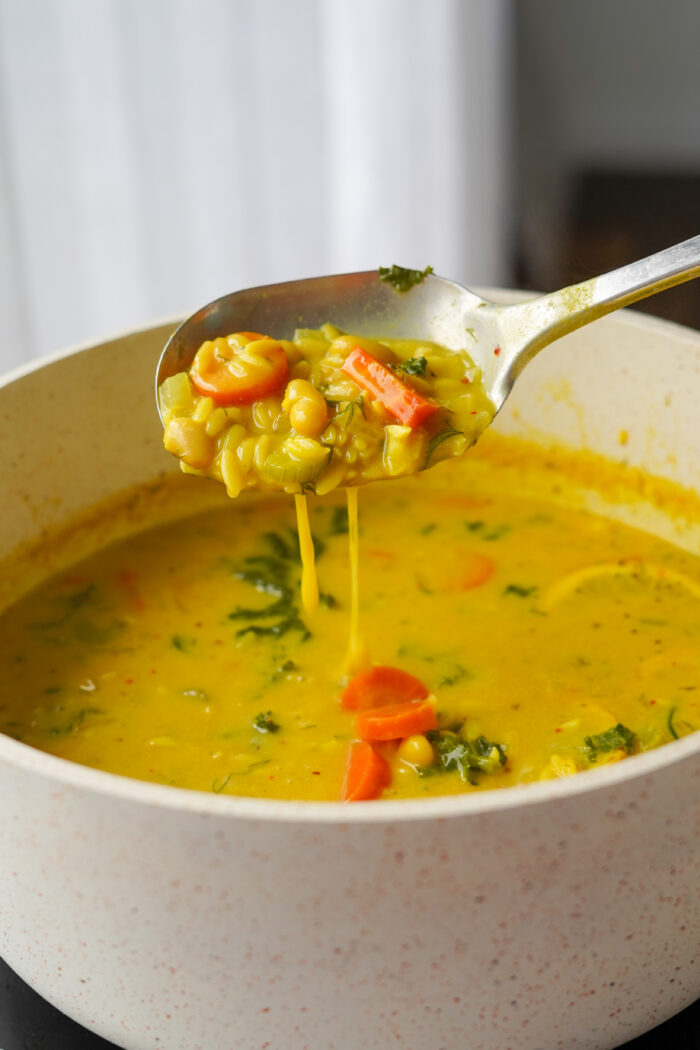 Hack It!
If you're gluten-free, you have a couple of ways to adjust this dish. If you have access to gluten-free orzo pasta, that's an easy swap. Alternatively, you can sub rice for pasta. After all, orzo was created to imitate rice!
Cashew butter is added to give the soup a nice, creamy feel. If you're allergic to nuts, use tahini instead.
If you don't have all the ingredients, that's okay! You can swap veggies and greens to produce you already have in the fridge and avoid food waste. And if you forgot to buy white beans, you can use chickpeas, kidney beans, or even frozen edamame.
In the same way, you can add extra seasonings. Try adding nutritional yeast, turmeric, Italian seasoning, or red pepper flakes! Don't be afraid to experiment.
This recipe makes 4-6 servings, depending on your appetite and sides you serve it with.
Other Recipes You'll Love
If you like the sound of eating healthy, nutritious recipes every day, check out the PlantYou Planner! This fully vegan meal planner app is designed to help you eat more plants for every single meal! With a huge database of over 600 whole-food plant-based recipes, you get to customise your weekly menu and even toggle the number of servings to feed a household of any size. Well, what are you waiting for?
And if you prefer to make your favorite recipes again and again, you'll love the PlantYou Cookbook. It contains over 140 recipes, taking care of breakfast, lunch, dinner, and dessert. It also has a collection of delicious side dishes, salad dressings and dips. With this cookbook, you'll never need to buy another!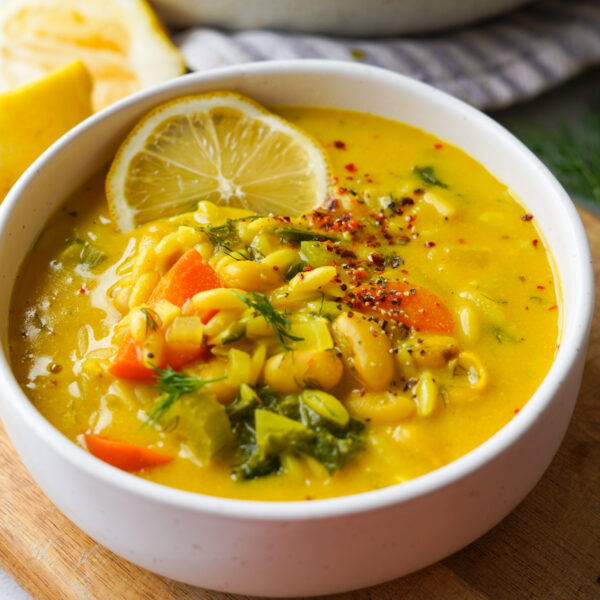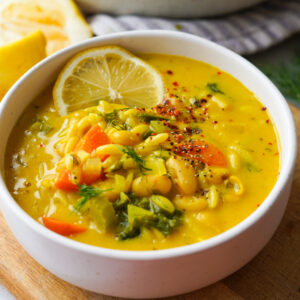 The Recipe: White Bean Soup with Lemon and Orzo
This delicious white bean and orzo soup is filling, nutritious, and full of flavor! Perfect for anyone dealing with cold weather.
Ingredients
1 tbsp olive oil
1 yellow onion, diced
2 carrots, diced
4 cloves garlic, minced
1 stalk celery, diced
1 tsp dried oregano
7 cups vegetable broth
1 can white beans, drained and rinsed
2 lemons, juiced
1 tsp lemon zest
¼ cup fresh dill, chopped
1 cup orzo
1 handful kale, chopped or torn
¼ cup cashew butter, or tahini
1 tsp turmeric
Equipment
Cutting board

knife

Can Opener if needed

large pot

Zester or fine grater
Instructions
In a pot over medium heat, add the onion, carrot, celery, garlic, and oregano. Sauté until softened, approximately 5 minutes. 

Add the vegetable broth, drained and rinsed can of beans, lemon juice and lemon zest to the pot. Bring to a boil, then simmer for 10 minutes covered.

Stir in fresh dill and orzo and cook for another 10 minutes until the orzo is cooked through, keeping the lid off and stirring intermittently to prevent the orzo from sticking.

Stir in the cashew butter or tahini and turmeric, along with the kale until heated through. Serve immediately. 
Calories: 422.2kcal, Carbohydrates: 66.2g, Protein: 15.6g, Fat: 12.7g, Saturated Fat: 2.3g, Polyunsaturated Fat: 2.2g, Monounsaturated Fat: 7.3g, Sodium: 1691.5mg, Potassium: 829.4mg, Fiber: 9.2g, Sugar: 8.9g, Vitamin A: 7088.5IU, Vitamin C: 44.6mg, Calcium: 146.6mg, Iron: 4.7mg