Healthy Blueberry Jam Without Pectin
Welcome back to Scrappy Cooking! I'm about to blow your mind with this healthy blueberry jam without pectin powder.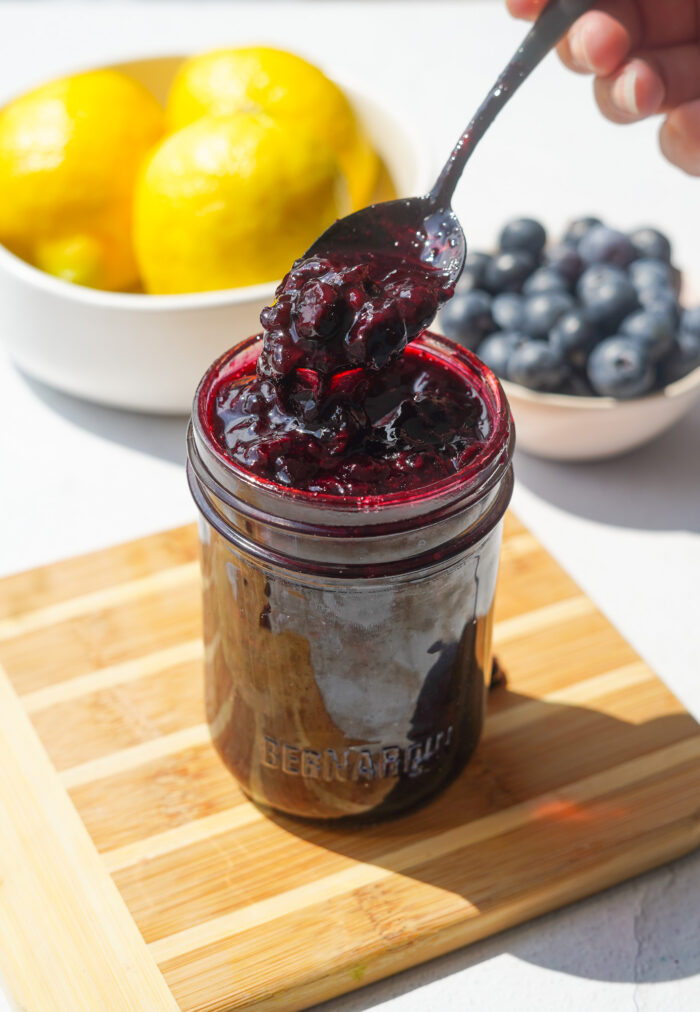 If you've ever made jam, you know that it need to have a certain texture. Part of the thickening process is usually cooking the fruit down with sugar, but even then most recipes call for a thickening agent such as pectin powder or arrowroot.
One workaround is to make fresh berry jam using chia seeds! It utilises the natural sweetness of the fruit and eliminates the need for a huge amount of sugar.
Another way to make healthy jam is to extract pectin straight from the source! Did you know that lemon seeds contain pectin? They can be used as a natural thickener for your jam if you don't have any pectin powder on hand!
Why You'll Love This Recipe
Jam making really doesn't have to be difficult! You can enjoy a jar of delicious and healthy blueberry jam in half an hour (although I would advise you to let it cool down first).
To make this delicious jam, you need ONLY THREE INGREDIENTS. If that doesn't blow your mind, I don't know what will!
Instead of buying a whole packet of pectin, you can make use of lemon seeds that would normally go to waste. Scrappy Cooking for the win!
In addition to the natural pectin source, this healthy blueberry jam recipe uses maple syrup instead of refined sugar. It's sweet and wholesome!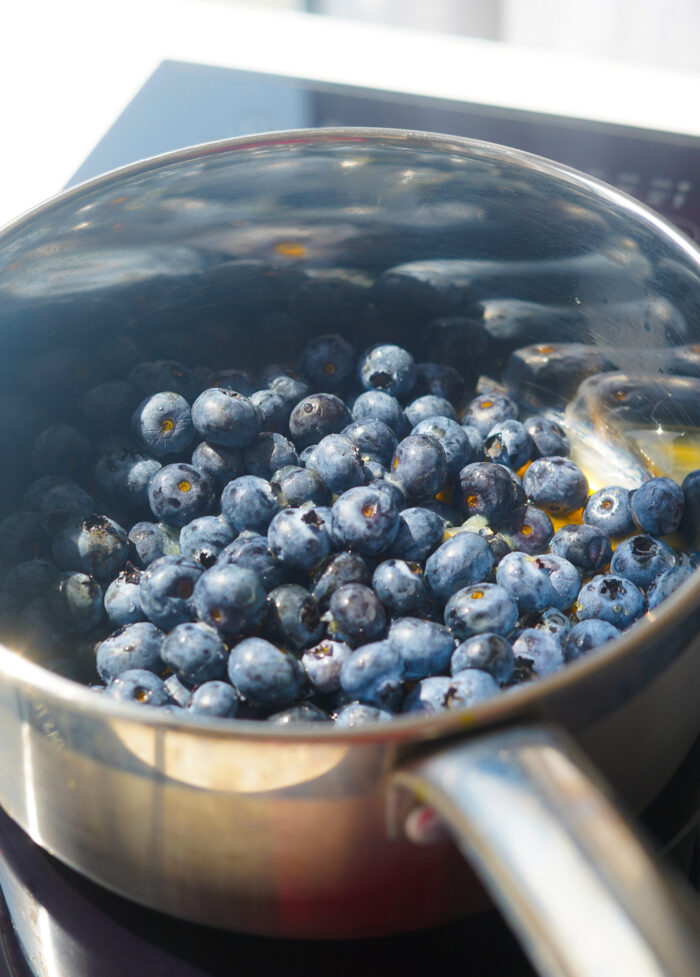 What is Pectin?
Pectin is a naturally occurring polysaccharide (a type of carbohydrate) that is found in the cell walls of fruits, vegetables, and other plants. It is most commonly extracted from citrus fruits like oranges and lemons, but can also be found in apples, pears, and other fruits.
Pectin is commonly used as a gelling agent in food and beverage products, such as jams, jellies, and fruit preserves. It works by forming a gel-like substance when combined with sugar and acid under the right conditions, creating the characteristic texture and thickness of these products.
Pectin is typically sold in powdered or liquid form in stores, and is often labeled as "fruit pectin" or "pectin powder". The powdered form of pectin is usually packaged in small sachets or boxes and can be found in the baking aisle or with other canning and preserving supplies in grocery stores. Liquid pectin is usually sold in bottles and can also be found in the same section.
How to Make This Recipe
First, wash and drain your blueberries. Squeeze the lemon juice from your lemon and pick out 8-10 lemon seeds.
Next, add your blueberries to a saucepan, along with maple syrup and lemon juice. Bring the contents to a boil over medium heat, then reduce it to low and simmer for about 5 minutes.
At this point, the blueberries will have softened enough to mash them. You can use a potato masher or even a fork. Mash the blueberries until you have a thick and consistent mass.
Pop the lemon seeds you reserved earlier into a tea holder and add it to the saucepan. Keeping the heat low, simmer the jam for another 20-25 minutes.
Your healthy blueberry jam is done! Allow it to cool down before you remove the seeds and transfer the jam to a clean jar.
Hack It!
This jam is not going to just months like a preserve from the store. Store your jam in a jar with a closed lid in the fridge for up to one week.
As for the rest, you can enjoy it as you would regular jam! Try it mixed with vegan cream cheese on a bagel, or use it a s topping for pancakes, toast and oatmeal. Yum!
Would this work with a different type of fruit? Sure! In order for pectin to activate, it needs a certain balance of sweetness and acidity. If you're making this recipe with a different type of berry, you may need to adjust the ratio of your fruit, lemon juice, and maple syrup.
Although it's meant to be eaten fresh, it is possible to preserve your jam! You'll need a few small, clean jars and a big pot to help you can your jam.
You may achieve a similar desired effect if you use fresh orange juice and orange seeds.
Why Blueberries?
Blueberries are a nutritious fruit that are low in calories and high in nutrients. Here are some of the nutritional benefits of blueberries:
High in antioxidants. Blueberries are one of the best sources of antioxidants, which help to protect cells from damage caused by free radicals.
Rich in vitamins and minerals. Blueberries contain vitamin C, vitamin K, vitamin B6, and minerals like potassium, calcium, and magnesium.
Good for heart health. Blueberries may help to reduce the risk of heart disease by lowering blood pressure, improving cholesterol levels, and reducing inflammation.
May improve brain function. Some studies have suggested that blueberries may help to improve cognitive function, memory, and mood.
Anti-inflammatory properties. Blueberries contain compounds that may help to reduce inflammation in the body, which is linked to many chronic diseases.
Low sugar content. Compared to other fruits, blueberries have a relatively low glycemic index (GI), which means they don't cause a rapid spike in blood sugar levels after eating. This makes them a good option for people who are watching their blood sugar levels, such as those with diabetes.
Other Recipes You'll Love
If you are a fan of simple, healthy recipes that use whole-food ingredients, you have got to check out the PlantYou Cookbook. This cookbook was truly a product of love and hard labor, which is reflected in every page. The book contains 140+ delicious vegan recipes for any taste and occasion. Each recipe is accompanied with a helpful infographic outlining the ingredients, making food shopping a breeze!
And if you prefer the more dynamic way to run your kitchen, you'll love the PlantYou Planner! The digital meal planner app allows you to browse over 600 WFPB recipes in its database to select your menu for the week. You can use one of the carefully curated meal plans and customize it to your taste, or create a meal plan entirely from scratch. The app even generates a shopping list to make it easier for you to plan your week. Plant-based living has never been easier!
The Recipe: Healthy Blueberry Jam Without Pectin
Did you know that lemon seeds naturally contain pectin? This zero-waste recipe makes use of the natural pectin source to make delicious and healthy blueberry jam!
Ingredients
2 cups blueberries, washed
3 tbsp maple syrup
1 lemon, juiced, reserve the seeds
10 lemon seeds
Equipment
Citrus juicer

Tea holder

Saucepan
Instructions
First, wash and drain your blueberries.

Add the blueberries, maple syrup and lemon juice to a saucepan over medium heat. Bring to a boil, and then simmer over low heat for 5 minutes.

Using a potato masher or back of a fork, mash the blueberries until you have a thick consistency. Add the tea holder with the lemon seeds in it to the saucepan. Allow the jam to simmer for 20 to 25 minutes.

Allow to cool before transfering to a jar. Store in the fridge with a lid for up to one week. Enjoy as you would regular jam. We love ours mixed with vegan cream cheese for the perfect bagel. 
Calories: 36.2kcal, Carbohydrates: 9.3g, Protein: 0.3g, Fat: 0.1g, Saturated Fat: 0.01g, Polyunsaturated Fat: 0.1g, Monounsaturated Fat: 0.02g, Sodium: 1.1mg, Potassium: 51.2mg, Fiber: 1g, Sugar: 6.8g, Vitamin A: 18.4IU, Vitamin C: 8.6mg, Calcium: 11.1mg, Iron: 0.2mg