Mason Jar Soup
This delicious mason jar soup is meal prep friendly and oh-so-easy to make! Try it for yourself.
Whether you travel to your workplace or work from home, there is no denying that meal prep can make your lunchtime a whole lot easier. Having your food made in advance is also a great way to ensure that you're eating healthy, nutritious meals every day of the week.
This mason jar soup is a whole-food, healthy alternative to instant ramen. It combines the convenience of instant noodles with the advantages of a homemade meal. Plus, it's incredibly easy to make!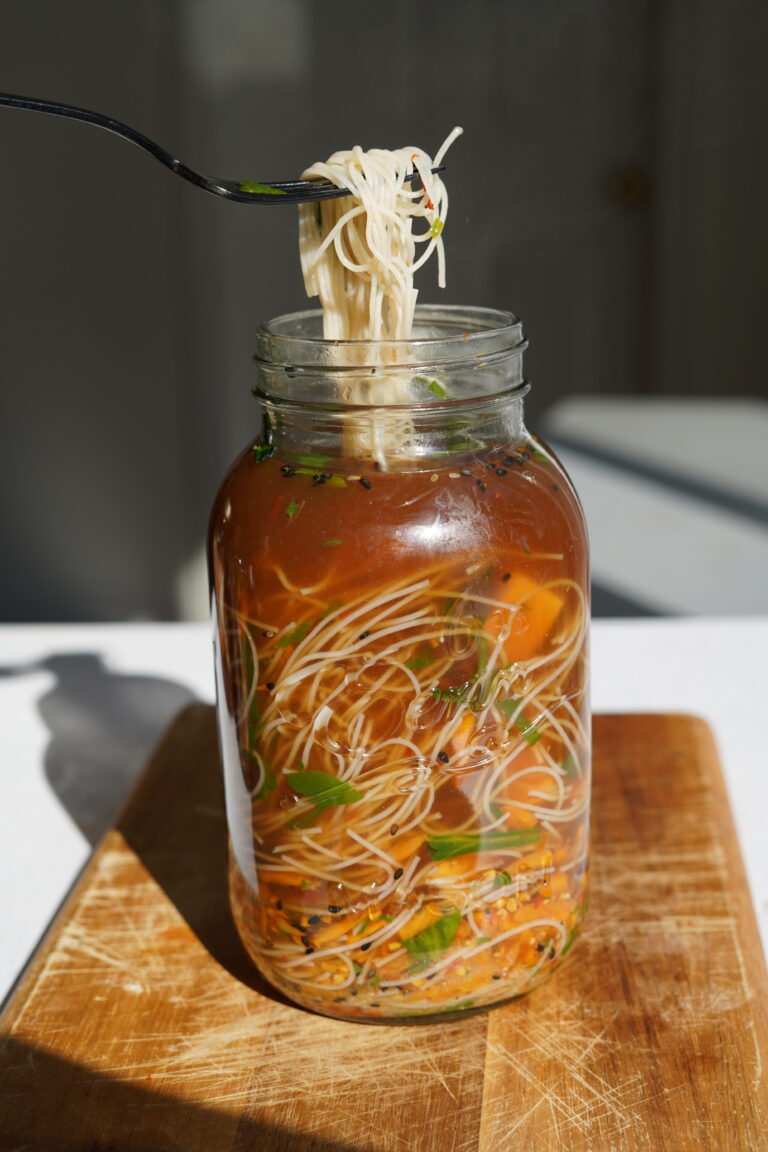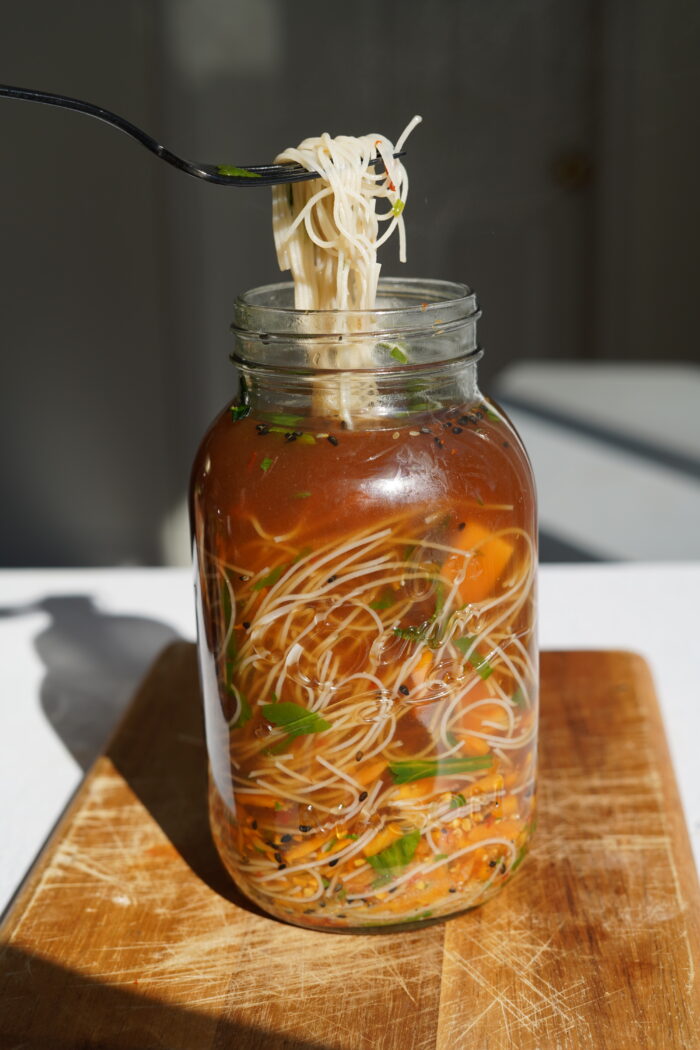 Why You'll Love This Recipe
This healthy mason jar soup features ONLY EIGHT ingredients! It could not be more simple.
This recipe is inspired by strong Asian flavors. Between miso, soy sauce, and chilli garlic sauce, this mason jar soup is bursting with umami!
Even though this recipe has very few ingredients, it it very well-balanced. The noodles are a great source of carbs, tofu takes care of your protein needs, and the veggies provide you with fiber. Furthermore, sesame seeds are a wonderful whole-food source of fat.
You can easily prep a week's worth of these ramen jars in less than 15 minutes. And when you're ready to enjoy the mason jar soup, it's ready in 3 minutes!
This soup is commute-friendly! It's lightweight, and spillage-free, guaranteed.
How to Make This Recipe
Start by grating carrots and chopping up some kale. Cut your tofu into cubes.
Prepare your mason jar. To ensure the soup doesn't spoil before you eat it, make sure the jar is clean.
Layer your ingredients inside the jar. Start with flavorings and noodles, and finish off with kale and sesame seeds.
When it's time to eat, fill the jar with hot water and let it sit for 3 minutes.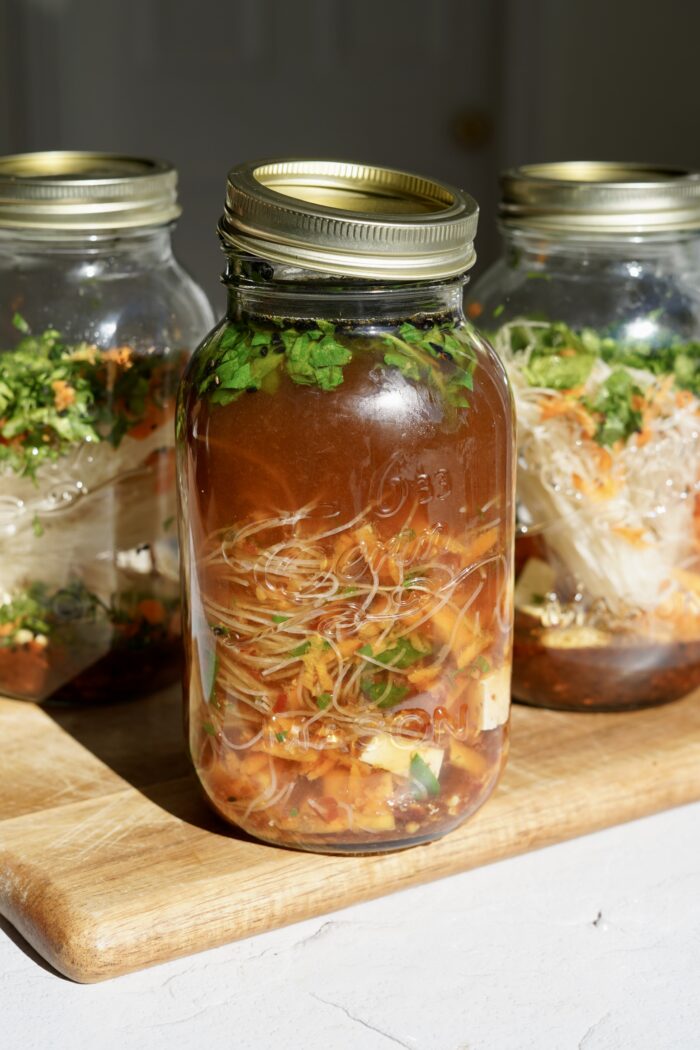 Hack It!
For this simple mason jar soup I chose carrots and kale. They store well, and they taste great without being thoroughly cooked! That said, feel free to use your veggies of choice. For example, try swapping kale for spinach, pr adding extra vegetables such as bean sprouts, red onions, or bell peppers.
Soy sauce, miso, and tofu all contain soy. For a soy-free version of this recipe, you can replace soy sauce with coconut aminos, whereas tofu can be swapped for some seitan. Miso is a bit more tricky, but you can create a similar umami flavor by using mushroom broth instead of water.
The beauty of rice vermicelli is that they can be cooked instantly. Alternatively, you can use glass noodles, instant ramen noodles, or pre-cooked udon.
For a hint of acidity, you may squeeze some fresh lime juice or add a touch of rice vinegar.
If you don't have access to a kettle, fill your jar with cold water and microwave for 2-3 minutes at high power. Make sure your jar has no metal detailing if you do that!
Other Recipes You'll Love
If you love meal prep, check out the PlantYou Planner! This digital meal planner platform allows you to plan ahead with ease. The planner database has over 600 whole-food, plant-based recipes for you to choose from. You can customize the number of portions to accommodate households of any size! Plant-based living has never been easier.
I also could not be more grateful for the outpouring of support that the PlantYou Cookbook has received so far. My main goal as a plant-based content creator has always been to get people to eat more plants. And with this book, I feel like my dream has finally come true! If you've had a chance to get your copy, it would mean a world to me to see your creations, so be sure to tag @plantyou on Instagram and TikTok.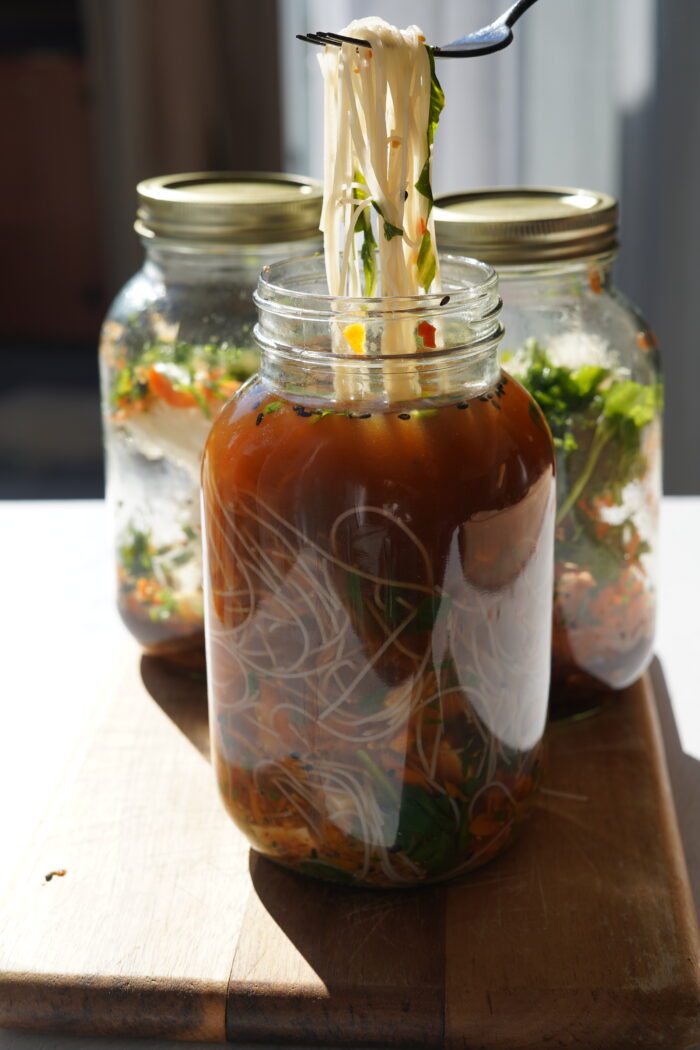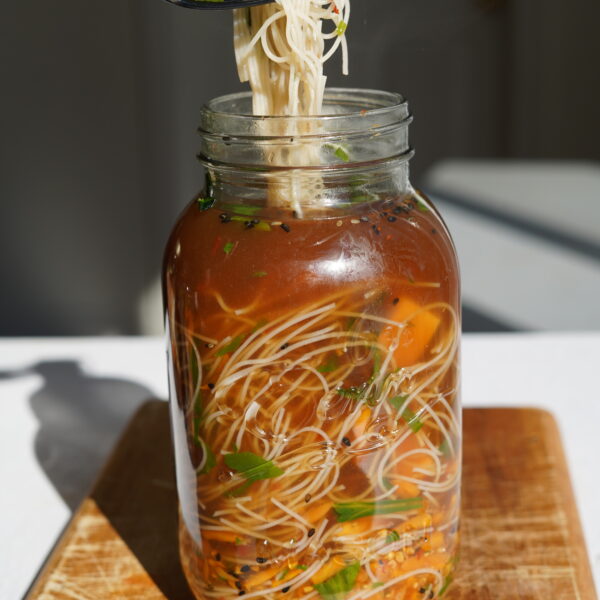 The Recipe: Mason Jar Soup
A delicious Asian-inspired meal prep soup recipe that you can take to work.
Ingredients
2 tbsp chili garlic sauce
1 tbsp soy sauce
2 tsp miso paste
½ cup extra firm tofu, cubed
½ cup carrot, grated
½ cup kale, shredded
50 g rice vermicelli
1 tsp sesame seeds
Equipment
Mason Jar

chopping board

knife
Instructions
Layer your soup ingredients in a mason jar or heat safe container. When ready to eat, pour over hot water and allow to sit for 3 minutes for the noodles to soften. Enjoy immediately.
Calories: 373.6kcal, Carbohydrates: 64.1g, Protein: 16.3g, Fat: 5g, Saturated Fat: 0.8g, Polyunsaturated Fat: 2.5g, Monounsaturated Fat: 1.1g, Sodium: 3354.7mg, Potassium: 600.1mg, Fiber: 6.5g, Sugar: 11.5g, Vitamin A: 14049.1IU, Vitamin C: 35.1mg, Calcium: 183.6mg, Iron: 3.6mg