Vegan Cauliflower Alfredo Sauce (Nut Free, Gluten Free & Oil Free)
You will want to pour this velvety vegan cauliflower alfredo sauce over just about anything. This delicious sauce is also nut free, gluten free, oil-free and whole-food, plant-based (wfpb) compliant.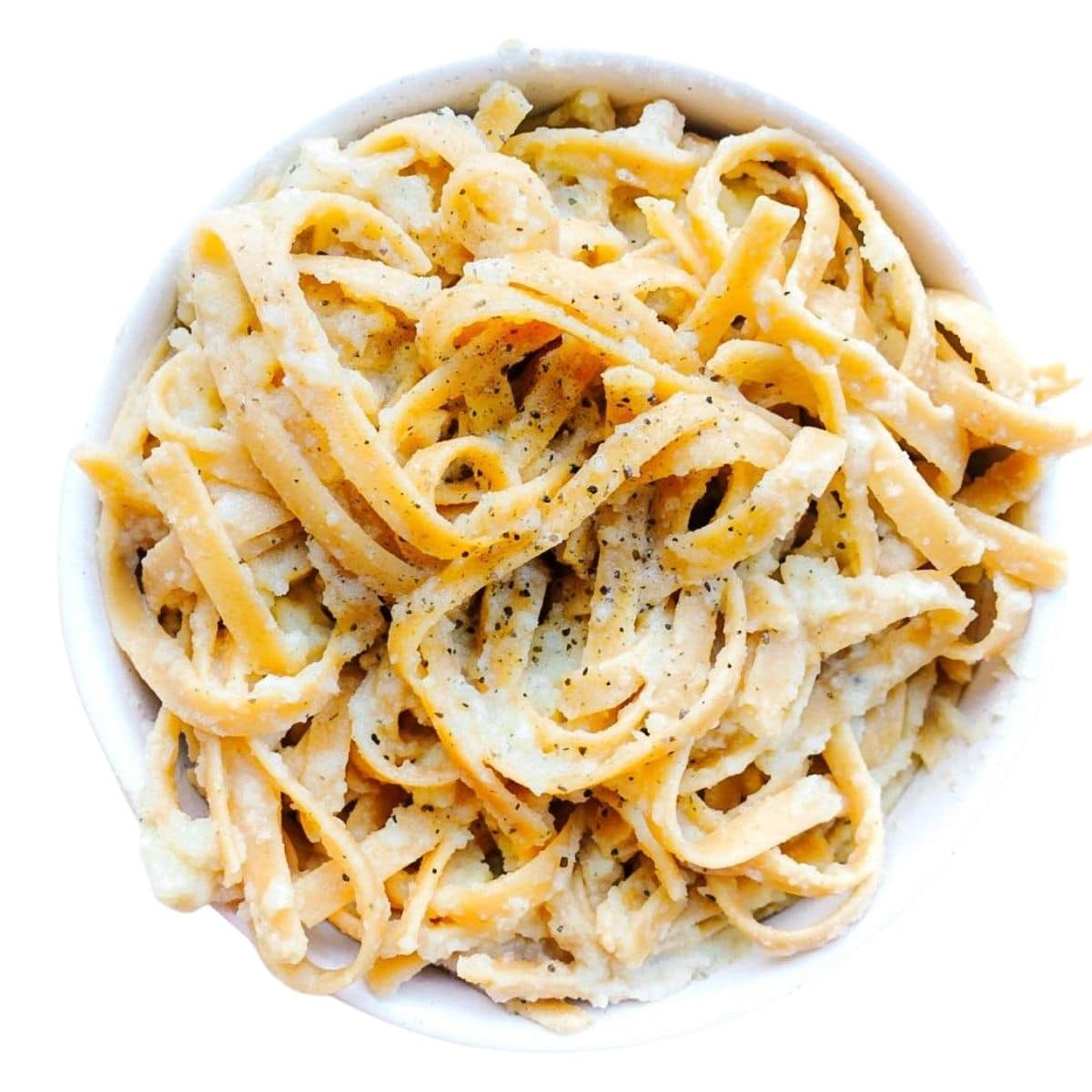 One of the most challenging things to give up when you transition to a plant-based diet is cheese. The good news is there are many healthier, plant-based alternatives to the cheese and cheese sauces you've become accustomed to.
Enter this insanely delicious and easy Vegan Cauliflower Alfredo Sauce.
Why You'll Love This Vegan Alfredo Sauce
It Takes Less Than 20 Minutes To Prepare: This sauce is so simple, and requires less than 20 minutes from start to finish to achieve a creamy velvety consistency.
It's Allergy Friendly: You don't need to worry about nut, gluten or dairy allergies with this amazing sauce. It's the perfect meal to serve a variety of guests!
It's Good For You: This sauce is completely oil-free, and the main ingredient is cauliflower. Other than that we've got some amazing aromatic spices and plant milk to fill things out.
How To Make This Sauce
To make this delicious Vegan Cauliflower Alfredo Sauce, you want to start by boiling your cauliflower florets. I boiled mine for between 8 to 10 minutes until softened. Alternatively you can steam your cauliflower for approximately 15 minutes.
The next step is to add all of your sauce ingredients to a blender. This includes the boiled cauliflower, nutritional yeast, a plant-milk of choice (like unsweetened almond, cashew, or soy milk), garlic powder, sea salt and lemon juice (or apple cider vinegar if you prefer). As you blend the sauce, add more liquid as needed to get a smooth consistency. I like to give mine a taste once blended to adjust the salt content as needed.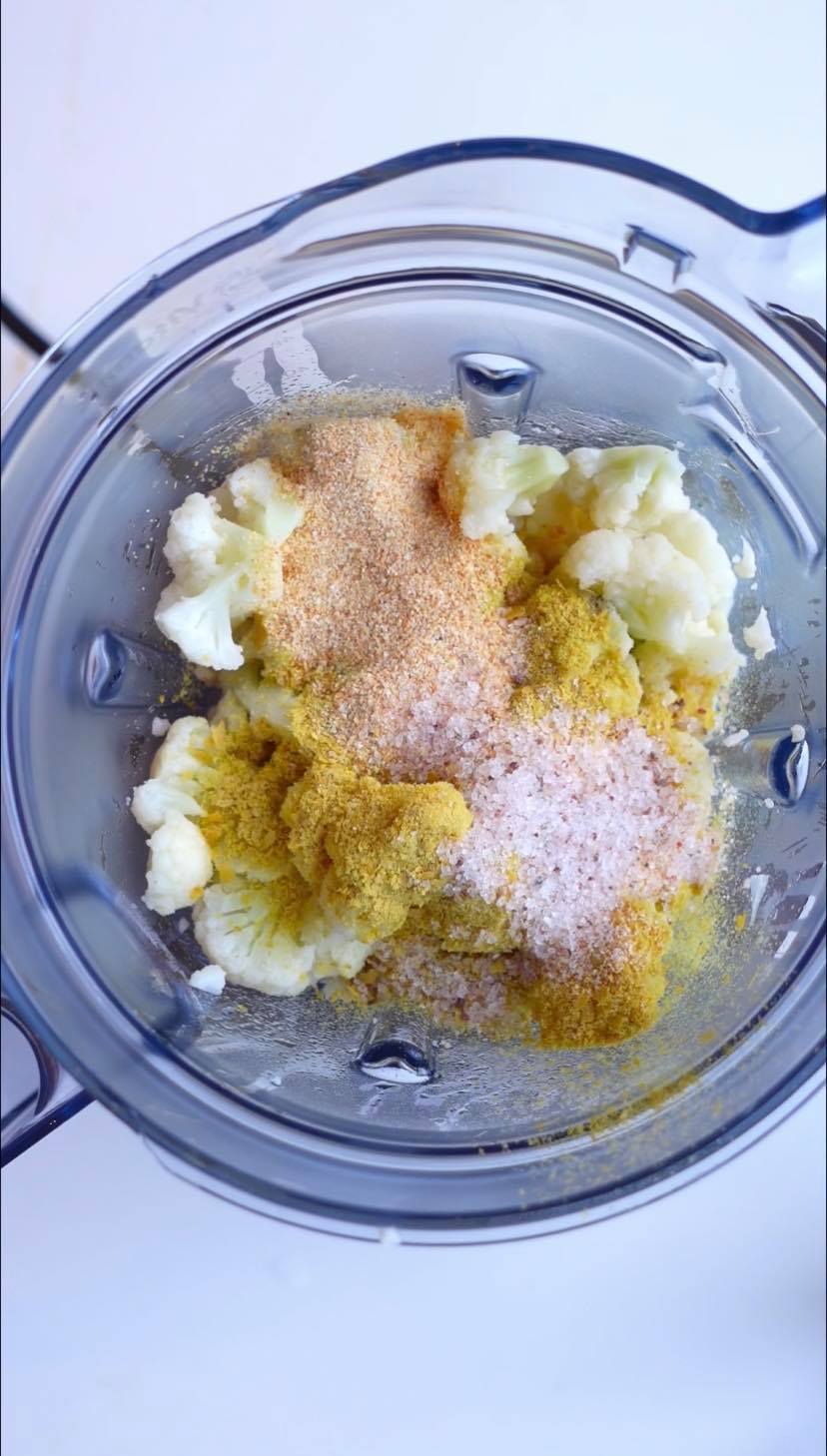 Finally, you want to add the sauce to a saucepan with your pasta of choice. I used whole wheat fettuccine, but chickpea pasta or another alternative would work great as well!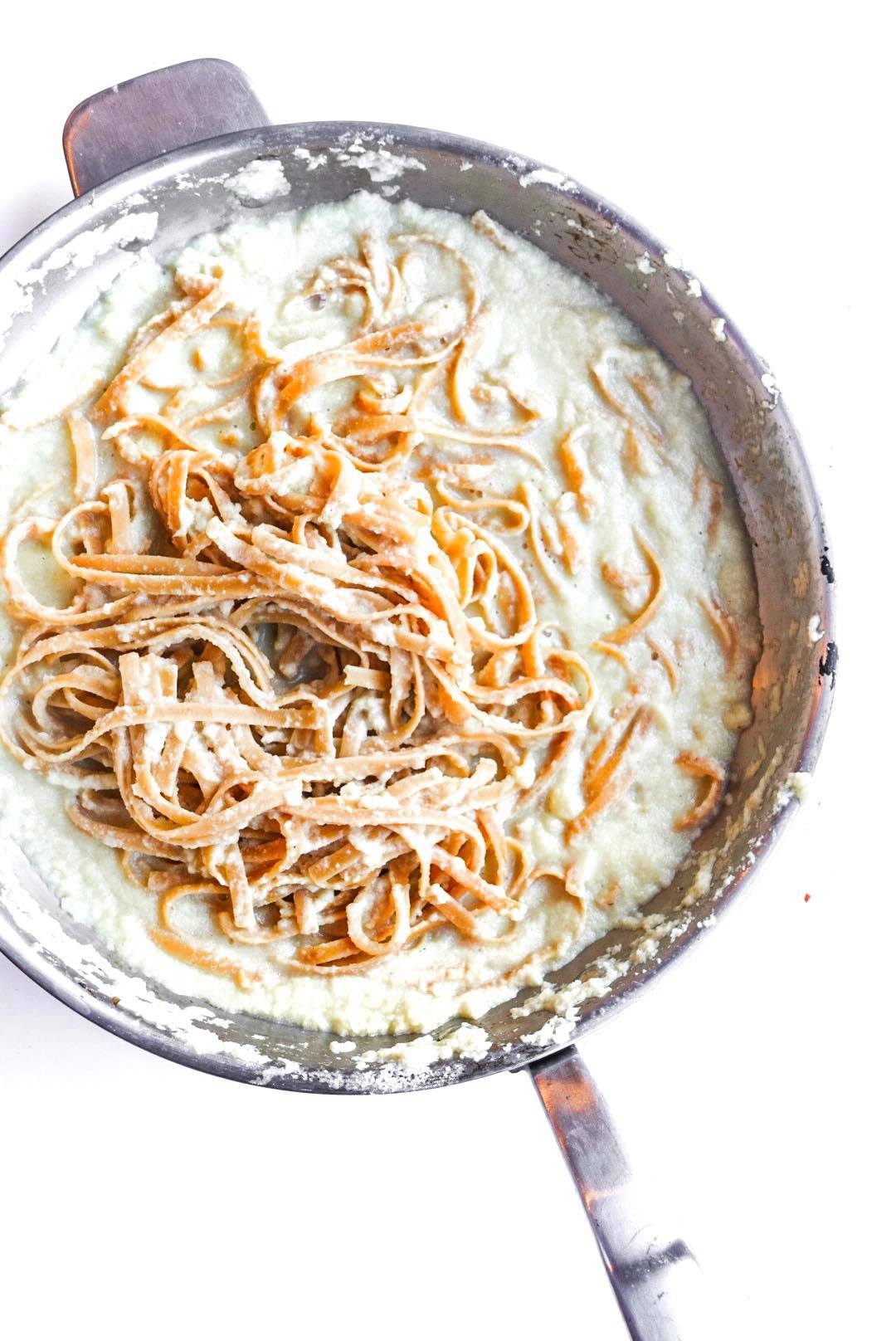 Enjoy served with freshly cracked pepper.
Tips To Customize This Vegan Cauliflower Alfredo
Add some veggies: This pasta dish would be especially amazing with peas, broccoli or sauteed peppers and onions.
Make it spicy: Add some red pepper flakes and hot sauce to the blender to amp up the spice level of this delicious sauce!
Pasta swap: Try using this Vegan Cauliflower Alfredo Sauce poured over a big baked sweet potato or russet, or alternative in a baked rice casserole. The possibilities are truly endless!
If you're not feeling an alfredo pasta sauce, here are some of our other favorite plantyou pasta recipes that you must try: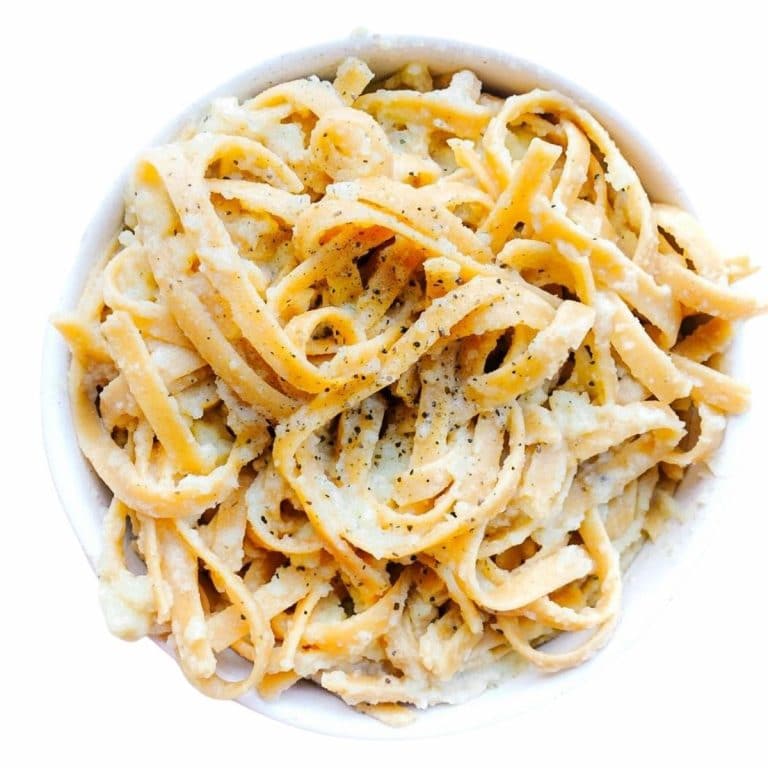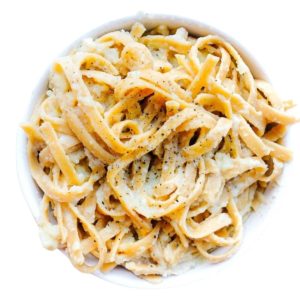 The Recipe: Vegan Cauliflower Alfredo Sauce
Less than 20 minutes is between you and this amazing nut free, dairy free and gluten free creamy vegan cauliflower alfredo sauce!
Ingredients
4 cups cauliflower florets
¾ cup cashew milk
¼ cup nutritional yeast
1 tbsp garlic powder
1 tsp sea salt
1 tsp lemon juice
1 package whole wheat fettuccine
Instructions
Cook preferred pasta according to package directions.

Bring a pot of water to a boil, and add the cauliflower florets. Simmer for 8 to 10 minutes until they are softened.

Drain and add the florets to a blender with the cashew milk, nutritional yeast, garlic powder, lemon juice and sea salt. Blend until a smooth sauce is formed, adding more plant milk as needed to combine.

Pour in a saucepan along with your cooked pasta and toss until covered.