Crispy Baked Carrot Fries
These Crispy Baked Carrot Fries are a delicious and nutritious crunchy snack or replacement for french fries when you don't have any potatoes on hand!
Listen. I'm not going to tell you that carrots are a complete replacement for your favorite french fries (especially our oil free fry truck wedges, they are insane). But if you're searching for a way to uplevel a boring old carrot, I've got you.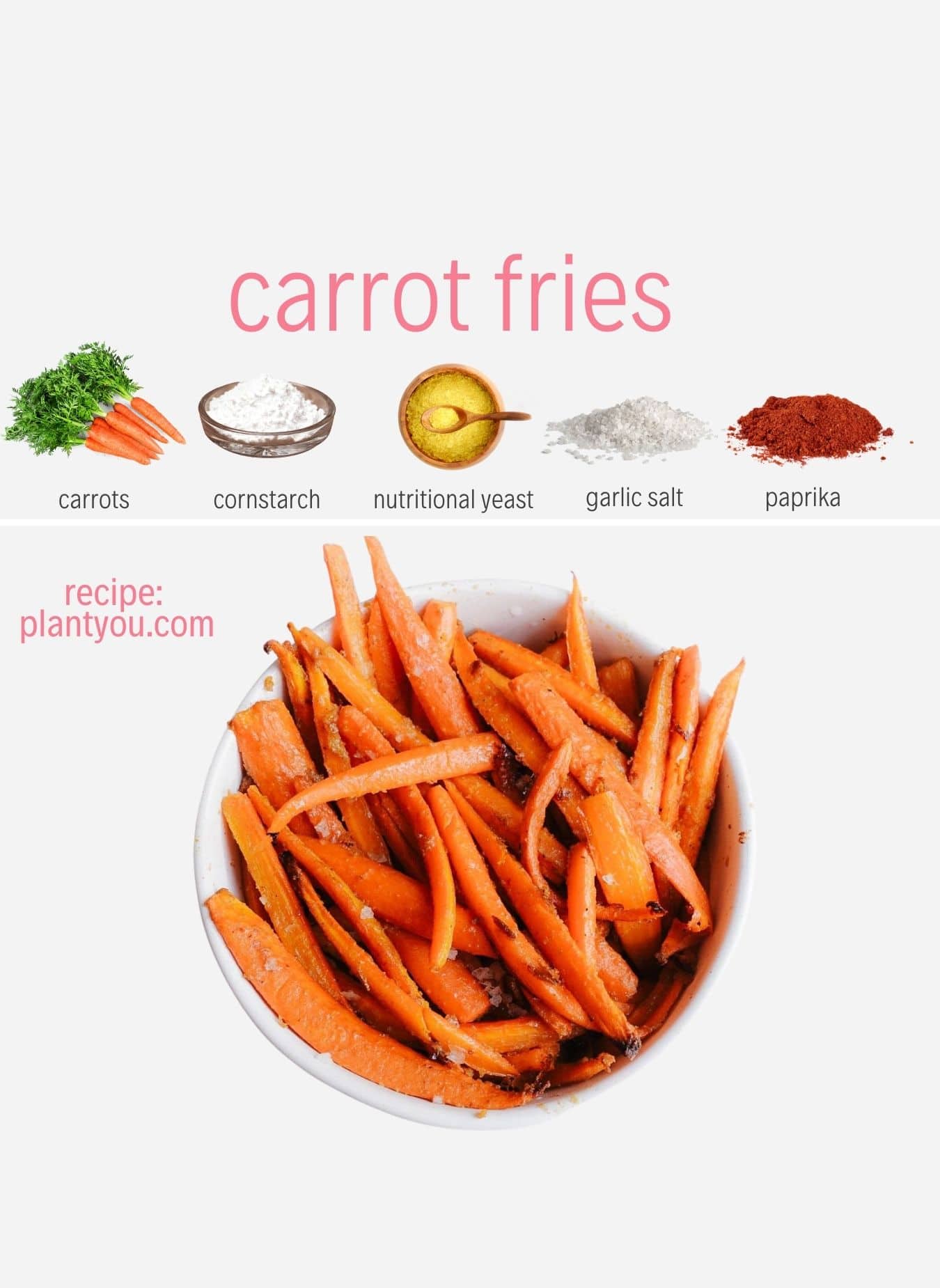 What's In Crispy Baked Carrot Fries
To make these carrot fries, you need a few simple ingredients that you likely already have in your spice drawer or pantry.
First and foremost carrots. Any carrot will do. You basically just want to slice them into a really small fry shape to get the best crispy results.
Olive oil (or your favorite oil). Now I don't usually use oil in my recipes, but to get a nice crisp going, we need just a tablespoon in this recipe.
Nutritional Yeast. I love adding nutritional yeast to these fries to give them a cheesy umami flavor profile
Dried dill, paprika and garlic salt. You can play with the spices on these carrot fries, but these are three of my favorites.
What Dip Should I Serve My Carrot Fries With
These carrot fries would be delicious with ketchup or hot sauce, or a vegan chipotle mayo. The sky is really the limit with these fries. You just want to serve them hot and fresh out of the oven so they don't go limp after a couple of hours!
How To Make Carrot Fries In The Oven
The best part about these carrot fries is that we simply bake them. There's no air fryer or special kitchen equipment needed for the crispy and delicious results.
You simply need a pan with a silicone baking sheet or parchment paper. We bake these for around 20 minutes at 400F.
PRINT RECIPE
Crispy Baked Carrot Fries
A crispy and delicious carrot fry recipe that comes together in less than half an hour.
Ingredients
1

pound

carrots

sliced into thin fry shaped strips

1

tbsp

olive oil

2

tbsp

cornstarch

1

tsp

paprika

2

tsp

nutritional yeast

1

tsp

dried dill

1/2

tsp

garlic salt
Instructions
Preheat oven to 400F. Combine carrots in a bowl with the oil, cornstarch, paprika, nutritional yeast, dill and garlic salt. 

Place on a parchment or silicone lined baking sheet. Bake for 25 minutes until crispy, flipping halfway through. Serve with desired condiment.