Broccoli Stem Fries
I'm back with another Scrappy Cooking recipe, and this time we're making delicious broccoli stem fries!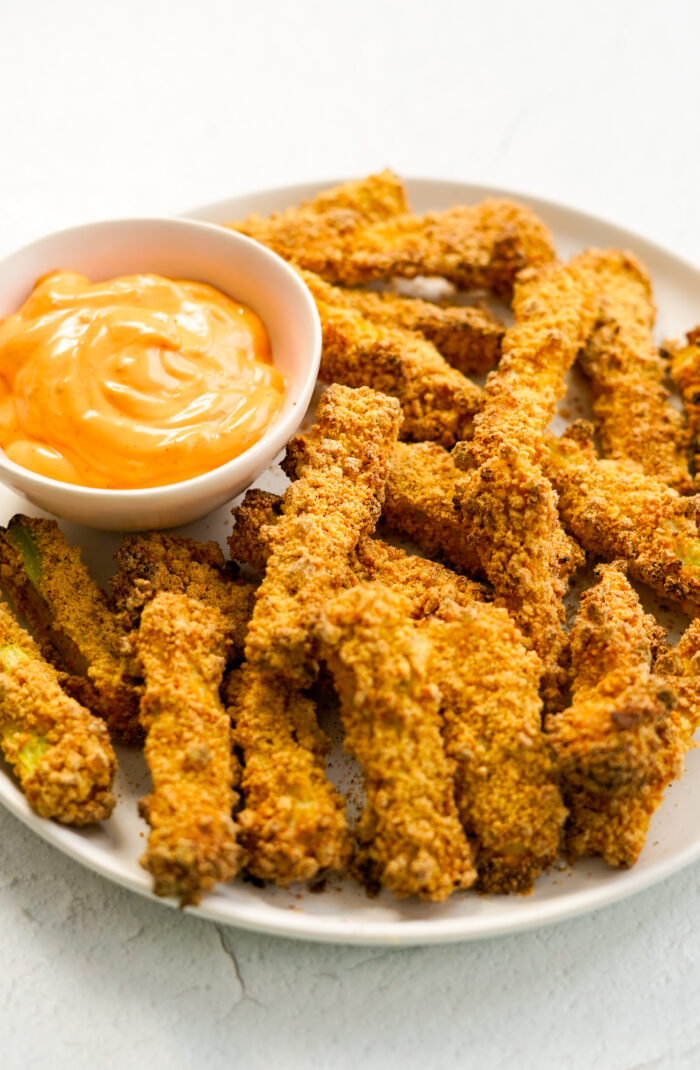 Why You'll Love This Recipe
Between this recipe, and broccoli tater tots, you'll never throw out another broccoli stem!
The goal of Scrappy Cooking is to help you reduce waste, save money, and generally make more environmentally conscious decisions. Meanwhile, you get to enjoy the healthy, green fries.
Since the stalk is usually tossed away, these broccoli stem fries are super cheap to make!
In addition to the broccoli stem, this recipe only calls for four more ingredients. In fact, you may already have them in your pantry!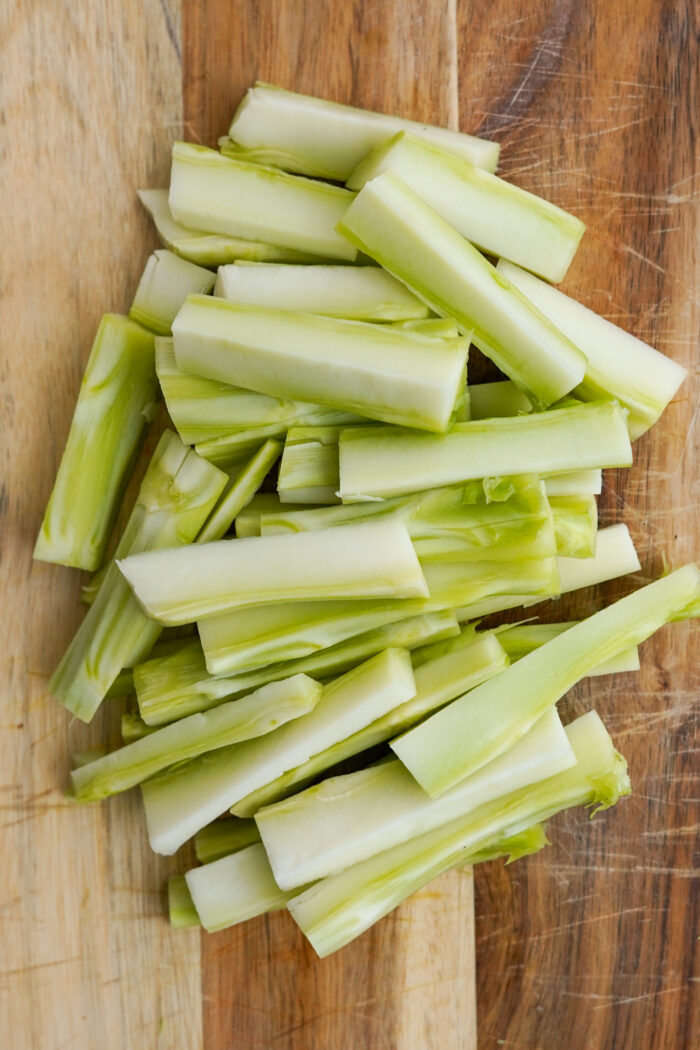 How to Make This Recipe
First, preheat the oven to 400F and line a baking sheet with parchment.
The outer edge of mature broccoli can be quite tough, so take a minute to peel the stems.
Slice them into thin fries and set aside.
Next, let's set up a breading station with two shallow bowls. In one bowl, mix the non-dairy milk with flour. Add the breadcrumbs to the other bowl.
One by one, take each piece of broccoli and coat with the flour mixture, then dip it in the breadcrumbs. Make sure there is an even coverage across your broccoli stem fries.
Once they're ready, place your fries on the baking sheet, and bake until the broccoli is crispy, about 15-20 minutes. Add salt to taste and enjoy with a dipping sauce of choice.
Hack It!
You can season these broccoli stem fries as much as you like! You can add spices, nutritional yeast, hot sauce, or liquid smoke to the almond milk and flour batter.
Another excellent way to season these veggie fries is to sprinkle them with some lemon salt, tomato powder, or pulverized orange zest.
If you're making a feast, and your oven is already in use, you can use your air fryer! Keep an eye on the cooking time, as your fries will be ready in less time.
Gluten free? No problem. For the batter, you can use oat flour or all-purpose gluten-free flour. Instead of breadcrumbs, you can coat your broccoli in cornmeal.
As for the almond milk, it can be replaced with a different type of non-dairy milk if you're allergic to nuts.
Other Recipes You'll Love
If you like a fluid approach to grocery shopping and cooking, try the PlantYou Planner. It's a digital meal planner program that allows you to fully customize your menu. To reduce unnecessary waste, you can toggle the number of servings to suit the size of your household. And if that weren't amazing enough already, the planner provides you with a tailored shopping list based on your selection! NOW AVAILABLE AS A PHONE APP!
For more simple and delicious vegan recipes, check out the PlantYou Cookbook! As well as featuring 140+ unique plant-based recipes, this cookbook has basic cooking and prep tips, a sample shopping list, and a guide to oil-free cooking. Additionally, each recipe is accompanied by a visual aid outlining all the ingredients. Perfect for visual learners!
The Recipe: Broccoli Stem Fries
A scrappy and delicious way to use broccoli stalks and stop them from going to waste!
Ingredients
3 broccoli stems, peeled
½ cup all purpose flour
½ cup almond milk
¾ cup breadcrumbs, panko or seasoned
½ tsp salt
Equipment
Baking Sheet

Parchment Paper

2 bowls
Instructions
Preheat the oven to 400F and line a baking sheet with parchment.Peel the broccoli stems to completely remove the tough outer edge. Cut into "French fry" shapes and set aside.

Set up a breading station with two bowls. One with the flour mixed with the almond milk, and the second with the breadcrumbs.  

Working one piece of broccoli at a time, coat with the flour, almond milk mixture, and then the breadcrumbs. Place on the lined baking sheet, and repeat until all the broccoli is used up.  

Bake until the broccoli stem fries are crispy, approximately 15 to 20 minutes. Season with salt to taste and serve with a dipping sauce of choice. 
Calories: 296.3kcal, Carbohydrates: 56.9g, Protein: 17.3g, Fat: 3.3g, Saturated Fat: 0.8g, Polyunsaturated Fat: 1.2g, Monounsaturated Fat: 0.6g, Sodium: 630.3mg, Potassium: 1497.4mg, Fiber: 13.3g, Sugar: 9.1g, Vitamin A: 2840.9IU, Vitamin C: 406.8mg, Calcium: 291.4mg, Iron: 5mg