Pickled Garlic Scapes
Welcome back to Scrappy Cooking! Today we'll be using the less-famous part of the garlic plant. Let's make pickled garlic scapes!
You may have seen this strange vegetable at a local farmer's market or in a local Asian store. What exactly are the garlic scapes?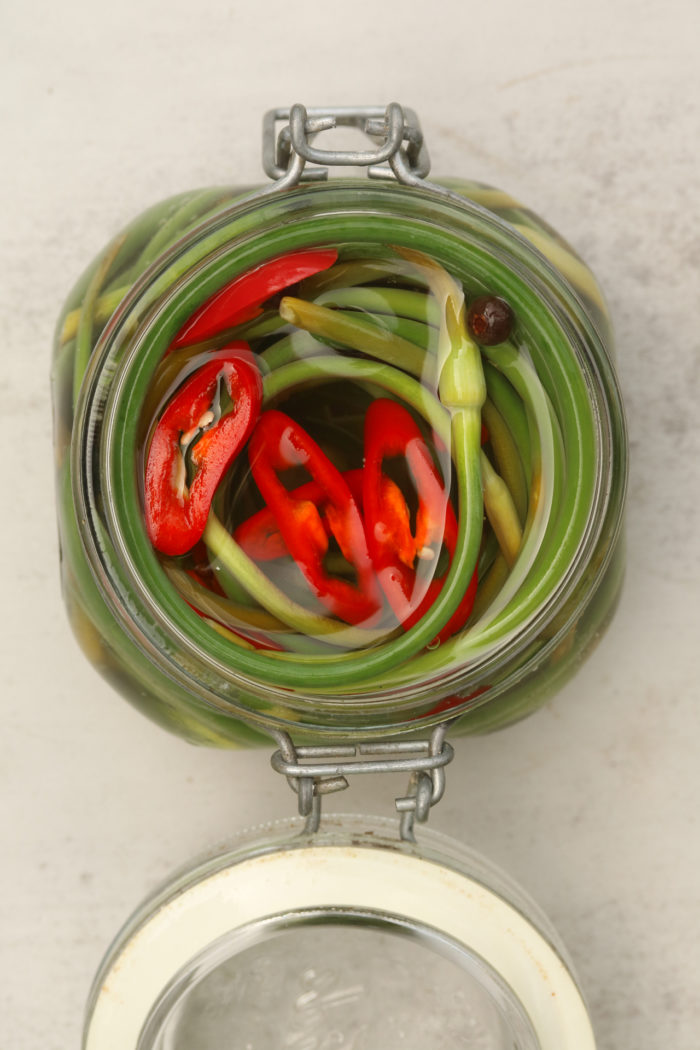 Garlic is mostly known for its sharp-tasting bulbs. Frankly, I start most of my meals by adding some minced garlic to them. However, garlic is actually a flowering plant. At one point of its life cycle, garlic starts directing its resources toward growing a flower as a means of reproduction. Similar to other flowering plants, garlic grows a curved stem, which then forms a little bud near the top. These stems are known as garlic scapes.
If you let the garlic flower grow, the water and available nutrients will be directed away from the bulb. If you are trying to cultivate your own garlic, cutting off the garlic scapes is an important part of the process. The good news is, they are not only edible but also versatile! A great way to use them is to make pickled garlic scapes.
Why You'll Love This Recipe
The texture of garlic scapes is similar to green beans, except they are already flavored!
If you grow your own garlic, this recipe is a must! It saves you from wasting perfectly delicious food, and it doesn't take up a lot of your time.
Pickled garlic scapes are a great way to ensure you can enjoy this highly-seasonal ingredient throughout other times of the year!
Garlic scapes make an excellent topping for burgers, tacos, and sandwiches. They are also a great addition to soups, stews, and salads.
Pickling is a great way to preserve your veggies without sacrificing fridge or freezer space.
How to Make This Recipe
First, trim the garlic scapes. Cut off any parts that are dried out or yellow. Then, rinse the garlic scapes with cold water. This is a good idea even if you grow your own garlic, especially if you live in an area with busy traffic.
Prepare a clean wide-mouth jar (I used 500 ml jar, equivalent to 2 cups). You can disinfect it by warming it up in the oven or hot water.
It's up to you whether you want to have whole or chopped pickled garlic scapes. Both are delicious, but the latter might be easier to fit in the jar. Get the rest of the ingredients ready.
Next, stuff the garlic scapes into the jar. Add chili, peppercorns, salt and sugar. Pour the vinegar into the jar, then top it with warm water. The garlic scapes should be fully submerged in brine. Close the lid and let it gradually cool down at room temperature. Then, move it into the fridge. Depending on your preference, you can wait a day, a week, or even longer!
Hack It!
You can really make these pickled garlic scapes last! Depending on the kind of jar you use and the temperature of the water, you could potentially seal the jar. In which case, the garlic scapes will be preserved until you decide to open the jar!
The chili adds a pleasant kick. However, if you're not a fan of such heat, you can simply omit the chili pepper from the recipe.
You can add bay leaves, dill flowers, mint, or even oak leaves to enhance the flavor of your pickled garlic scapes.
This recipe can be made with virtually any type of vinegar and sugar. If what you have in your pantry is coconut sugar, just go for it!
Other Recipes You'll Love
Two of my main goals are to help you reduce food waste and to help you eat more plants. That's why you should check out the PlantYou Planner! It's a digital meal planner platform with over 600 frecipes for you to choose from. All recipes are whole-food, plant-based, and beginner-friendly. What's more, you can adjust your weekly meal plan to the size of your household. It's a subscription-based service, but you get access to the entire recipe and meal plan database as soon as you sign up!
If you'd rather have your recipes in a more tangible form, you should get a copy of the PlantYou Cookbook. It features over 140 recipes in addition to helpful tips for beginner cooks and infographics to accompany each recipe. The first print sold out almost immediately after the book was released, so hurry up if you don't want to end up empty-handed!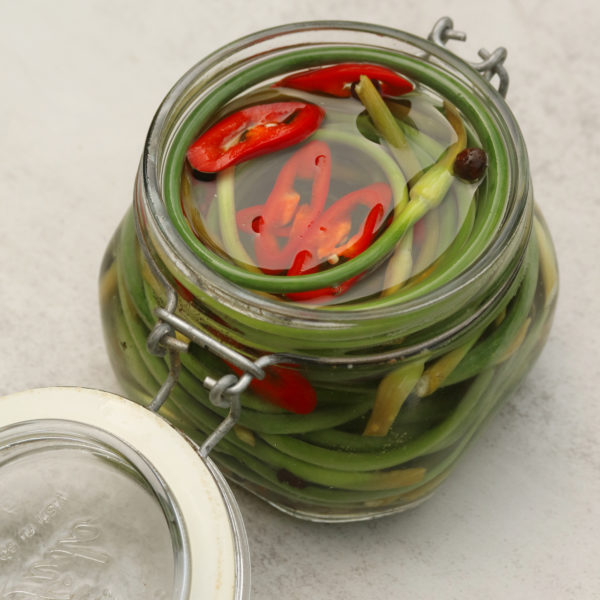 The Recipe: Pickled Garlic Scapes
An easy Scrappy Cooking recipe using the lesser-known part of the garlic plant.
Ingredients
2 cups garlic scapes, chopped or whole
1 red chili pepper, sliced
1 tsp black peppercorns
1 tbsp brown sugar
1 tbsp sea salt
6 tbsp apple cider vinegar
1 cup warm water
Equipment
1 clean wide-mouth jar 500 ml or 2 cup capacity
Instructions
Wash and trim your garlic scapes. Chop if desired.

Add the garlic scapes to the jar, packing them tightly. Add chili, peppercorns, salt, and sugar.

Pour in the vinegar, followed by the warm water until the garlic scapes are submerged. Close the lid and let the contents pickle for at least 24 hours.

Transfer to the fridge. Enjoy when you want to enhance a burger, sandwish, soup, stew, or salad.
Calories: 80.7kcal, Carbohydrates: 17.7g, Protein: 3.2g, Fat: 0.4g, Saturated Fat: 0.01g, Polyunsaturated Fat: 0.02g, Monounsaturated Fat: 0.01g, Sodium: 883mg, Potassium: 35.8mg, Fiber: 1.2g, Sugar: 2.1g, Vitamin A: 56.6IU, Vitamin C: 22.6mg, Calcium: 91.7mg, Iron: 0.9mg