The Easy Vegan Salad
This easy vegan salad will become your staple side dish! It's easy, it's quick, it's cheap, and t's delicious!
For the longest time, I've been advocating for salads to be more interesting, more versatile, and more filling. However, this easy vegan salad is the exception to that rule. It's as simple as it is delicious, and it comes together in less than 10 minutes.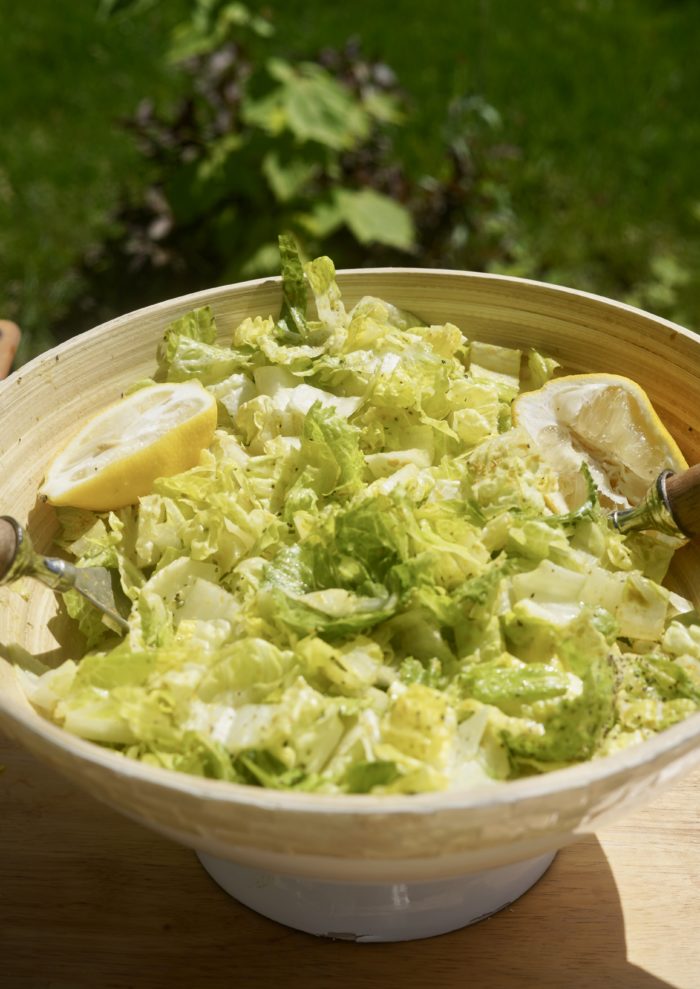 Why You'll Love This Recipe
This easy vegan salad has ONLY FOUR INGREDIENTS. Can you think of a simpler salad?
Because of its very few ingredients, this salad comes together in minutes! You really don't need to be an expert in the kitchen to make this recipe.
It's a perfect side dish for when you have last-minute guests!
On a hot summer day, this is a perfectly refreshing lunch option that takes very little effort!
An obvious advantage of only using 4 ingredients is the COST!
How to Make This Recipe
Start by chopping your lettuce and squeezing fresh lemon juice.
Add romaine, lemon juice, and olive oil into a mixing bowl. Give it a mix.
Serve topped with nutritional yeast, salt, and pepper. Yum!
Hack It!
Depending on whether you're using this recipe as a side salad or the main event, it can be divided into 4-6 servings.
You can treat this salad like a taco. Prepare extra toppings, and let everyone add whatever they like to this healthy base.
Lime juice works just as well as lemon juice! You're also welcome to use a different type of oil, e.g. infused sunflower oil, toasted sesame oil, or peanut oil.
Don't throw away your lemon rinds! Make a gentle DIY kitchen cleanser instead! It will save you money on cleaning products, and your kitchen will smell amazing.
Other Recipes You'll Love
Did you know that the PlantYou Cookbook is back in stock? Thanks to the incredible support from the plant-based community, the book was completely sold out shortly after its release in February. Thankfully, now you can buy the cookbook from all major retailers and enjoy the 140+ WFPB recipes it contains!
For an even wider variety of recipes for any occasion, check out the PlantYou Planner! It's a digital meal planner that allows you to FULLY CUSTOMIZE your weekly menu. You can choose from 600+ incredible vegan recipes, as well as toggle the number of servings for every dish you select. Sounds good, right?
The Recipe: The Easy Vegan Salad
This Easy Vegan Salad only has four ingredients, but is LIFE CHANGING.
Ingredients
3 hearts romaine lettuce, finely chopped
4 tbsp olive oil
3 lemons, juiced
3 tbsp nutritional yeast
salt and pepper, to taste
Instructions
Combine the finely chopped romaine, olive oil and freshly squeezed lemon juice in a bowl.

Sprinkle nutritional yeast, salt and pepper on top. Enjoy immediately.
Calories: 56.3kcal, Carbohydrates: 10.2g, Protein: 3.8g, Fat: 1.7g, Saturated Fat: 0.2g, Polyunsaturated Fat: 0.2g, Monounsaturated Fat: 0.9g, Sodium: 126.5mg, Potassium: 229.5mg, Fiber: 4g, Sugar: 2.1g, Vitamin A: 114.6IU, Vitamin C: 43mg, Calcium: 25.5mg, Iron: 0.9mg