Portobello Pot Roast Recipe
Your new vegan holiday classic: This Portobello Pot Roast recipe!
Pot Roast is a classic meal that is warm and comforting in the fall and winter season. And typically, Pot Roast is made with a massive chunk of meat and vegetables, roasted for hours in a slow cooker or dutch oven.
It is an excellent dish for a classic Sunday family dinner or the main dish at holiday meals.
That's why I decided to recreate the traditional Pot Roast but with a vegan twist – Portobello Pot Roast!
This Portobello Pot Roast boosts all of the traditional, comforting flavors of the classic pot roast, but it is a healthier option for your next holiday dinner.
One reason I love this portobello pot roast is that it is perfect for the holidays. The ingredients are simple, and it is a crowd-pleaser.
The great thing about this Portobello Pot Roast is the minimal work that goes into it! All you need to do is prepare the vegetables, add some spices and broth, put it in your preferred cooking option, and let it cook.
You can prepare it in the morning before you start other meal preparations, and it will be ready in time for dinner. As a plus, it will make your house smell amazing and taste like you spent hours in the kitchen.
And of course, this Portobello Pot Roast is vegan, oil-free, and gluten-free, so it suits almost all of the dietary needs you might need to watch out for this holiday season.
Portobello Pot Roast is a new favorite in my house, and I hope it becomes a favorite in yours too!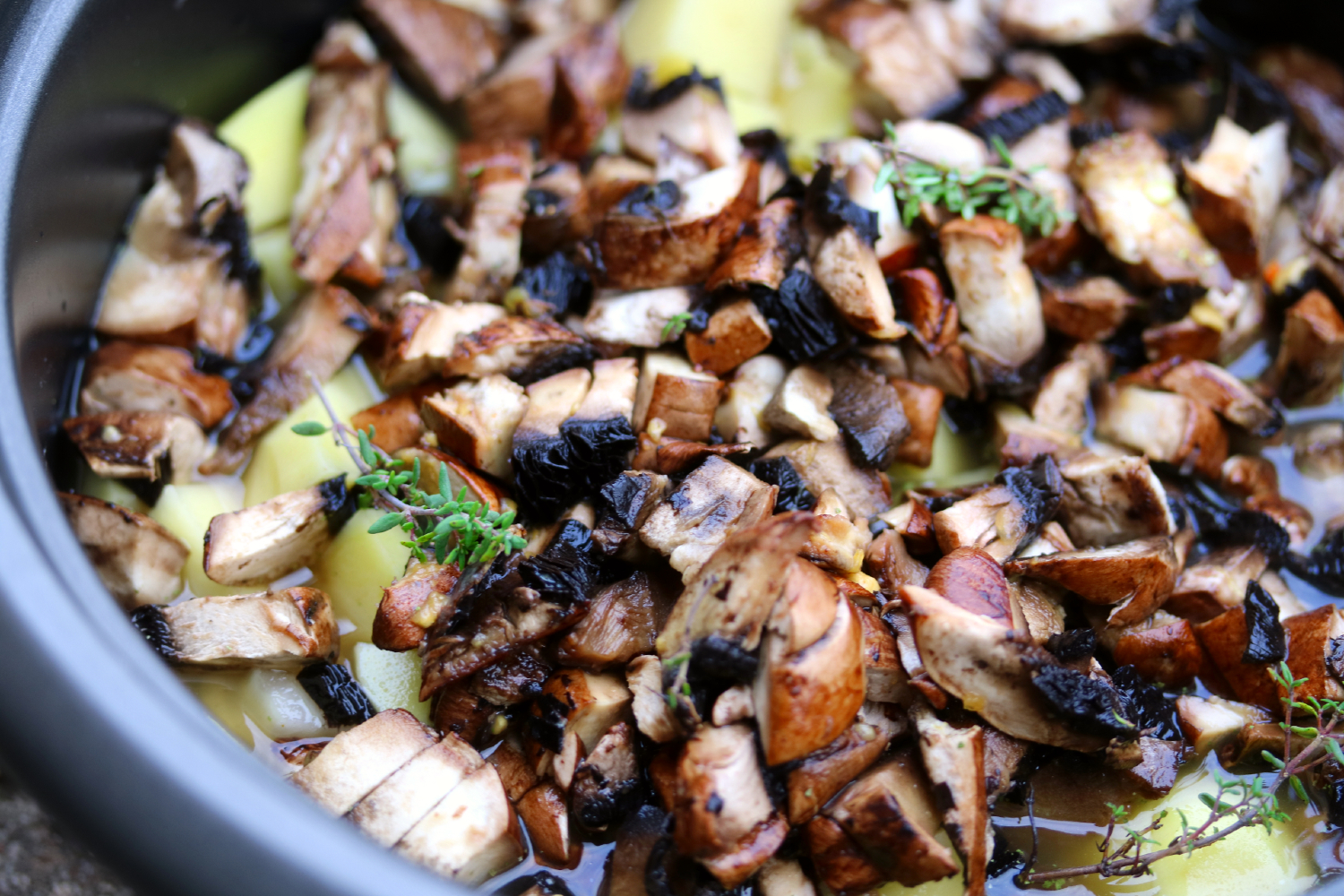 How to Make This Portobello Pot Roast
This Portobello Pot Roast is made using traditional Pot Roast vegetables, carrots, onion, and potatoes. And instead of a chunk of meat, you use portobello mushrooms!
To make the delicious gravy-like broth that it cooks in, you will use vegetable broth, red wine, garlic, spices, and cornstarch which will harness all of those traditional pot roast flavors.
To cook the Portobello Pot Roast, use a slow cooker pot or a dutch oven.
There are also two different cooking times, depending on how long you have available. You can do a short cooking time, 3-4 hours on medium heat, or a longer cooking time, 6-8 hours on low heat.
And, if you would like it to be wine-free, you can easily substitute balsamic vinegar.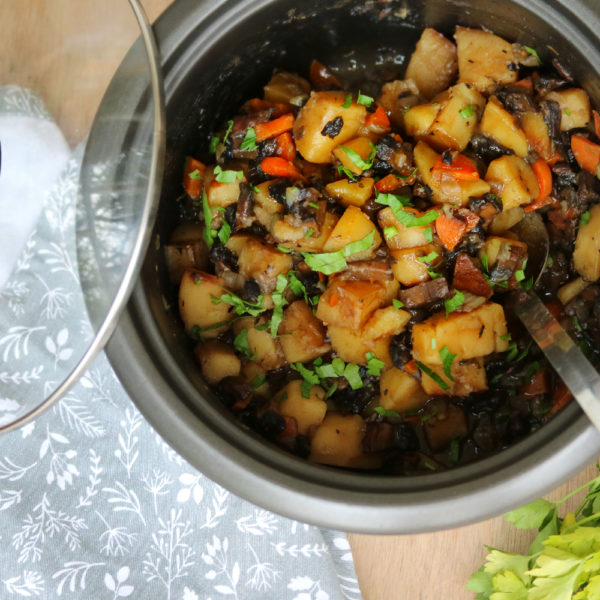 The Recipe: Portobello Pot Roast
This holiday favorite recipe is vegan, oil-free and gluten free! Enjoy with family and friends this fall or winter.
Ingredients
4 Yellow potatoes , large, cubed
2 Carrots, chopped
4 cups Portobello mushrooms, chopped
4 Garlic, peeled, minced
1 Yellow onion, peeled, chopped
1 tbsp Thyme, 3-4 sprigs
3 cup Organic vegetable broth
½ cup Red wine
3 tbsps Tomato paste
2 tbsps Cornstarch
Salt and black pepper , to taste
Equipment
Slow cooker or dutch oven
Instructions
In a slow cooker or a dutch oven, combine potatoes, mushrooms, carrots, onions, garlic, thyme, wine, tomato paste and 2 1/2 cups of vegetable broth. Give it a gentle stir and close the lid.

Cook for 3-4 hours on medium heat (or high setting of the slow cooker) or 6-8 hours on low heat (or low setting).

In a separate bowl, whisk together remaining 1/2 cup of the veggie broth with cornstarch. Add to the roast mixture and give it another stir.

Cook for another 2-3 minutes as you let the mixture thicken up. Serve garnished with fresh parsley if desired.
Notes
RED WINE: Use 3 tablespoons of balsamic vinegar instead. LEFTOVERS: Store in the fridge for up to 4 days.
What Slow Cooker or Dutch Oven Do I Recommend?
I love using my Instant Pot Slow Cooker for comfort food recipes like this Portobello Pot Roast. Instant Pots are easy to use and perfect for locking in all of the pot roast flavors.
Typically, you use the Instant Pot as a pressure cooker to cook things quickly, but you can use your Instant Pot to slow cook this Portobello Pot Roast.
Le Creuset Cast Iron Round Casserole Pan
This Dutch Oven is my go-to kitchenware for all of my slow-cooking needs. It is perfect for roasts, soups, stews, and casseroles.
The Le Creuset Cookware is exceptionally reliable and is made from non-toxic materials. I trust Le Creuset in my kitchen for all of my holiday cooking needs!
Can I swap Portobello mushroom in the recipe?
Absolutely! You can swap out Portobello mushrooms for almost any other whole food.
If you do not want to use Portobello mushrooms, I recommend using:
Tomatoes
Eggplant
Zucchini
Tofu
Chickpeas
Can One Freeze this Portobello Pot Roast?
You can store your Portobello Pot Roast in the fridge for up to 4 days.
Is the recipe good for the Holidays?
Portobello Pot Roast is a great meal for the upcoming holiday season, especially American Thanksgiving!
If you are planning on having a vegan Thanksgiving this year, make sure to check out some other delicious recipes to include, like Butternut Squash Soup, and Pumpkin Muffins, in my Vegan Thanksgiving Recipes blog here!
And if you are in charge of bringing your vegan food to your next holiday meal, check out some of these fantastic fall plant-based dishes that are perfect for sharing.
More Plant-Based Holiday Recipes?
Another way I love to celebrate the holiday season is with some delicious drinks! In my Fall Vegan Drinks recipe round-up, you can learn how to make vegan hot chocolate, pumpkin spice lattes, and even vegan Baileys. These drinks are perfect for sharing this holiday season, especially the Baileys!
And if you are looking for an easy dessert to share, look no further than these Vegan Coconut Truffles. They are super decadent and easy to make – only four ingredients!
Where to find my plant-based recipes like this one?
And if you are struggling to find and make simple and delicious plant-based meals, join us in the Plant Ahead Meal Plan Program! Every week, I share a weekly meal plan with full recipes and a grocery list.
And as a bonus, you'll get full access to my plant-based recipe database plus my ebooks! That is over 1000+ plant-based recipes, all at your fingertips!
So no more stressing out and spending hours searching for plant-based recipes that you enjoy – you'll be prepared for every day of the week, plus have an arsenal of recipes for this holiday season.
Join Plant Ahead today.
*This article includes affiliate links*