Strawberry Milk
Welcome back to Scrappy Cooking, where we transform food scraps and leftovers into beautiful vegan recipes, like this delicious strawberry milk that only requires two ingredients.
Next time you have a jar of strawberry jam coming to an end, don't waste a single drop of it! Instead of watching leftover jam wash away into the kitchen sink, make delicious (and scrappy) strawberry milk!
Why You'll Love This Recipe
This is the epitome of making something from virtually nothing! Most people wouldn't think twice before washing the jam jar. Little do they know, there might be enough jam to make a delicious and refreshing drink!
This recipe literally only takes a minute, and you don't need a blender, or any special kitchen equipment for that matter!
The process itself is so easy, a child could make it. This could also serve as a great teaching moment for your kids, instilling them with the importance of avoiding unnecessary food waste.
It's super-affordable, with ONLY TWO INGREDIENTS, one of them basically free, not to mention healthy and wholesome!
How to Make This Recipe
When you have a jar of strawberry jam that is nearly empty, fill it with non-dairy milk (I used one and a half cups of oat milk) and give it a good shake.
Done! That's all there is to it. Enjoy this refreshing drink over ice.
Hack It!
Unsurprisingly, this works with other types of jam too! I used strawberry, but you can also make it with raspberry, cherry, or mixed fruit jam.
Depending on the consistency of your jam, it may require some effort from you. However, you can also use a milk brother to help you integrate strawberry flavor into the milk.
You don't actually have to wait until you've got an almost-empty jar. You could simply mix 2 tablespoons of jam with plant milk and enjoy.
It is up to you which vegan milk you want to use, especially if you have to accommodate an allergy. I promise, this strawberry milk tastes equally delicious with oat, almond, cashew, coconut, soy, and more…
You can adjust the amount of milk to balance the strawberry flavor. For instance, if you like a sweeter strawberry milk, you may use less milk than the recipe suggests, and vice versa.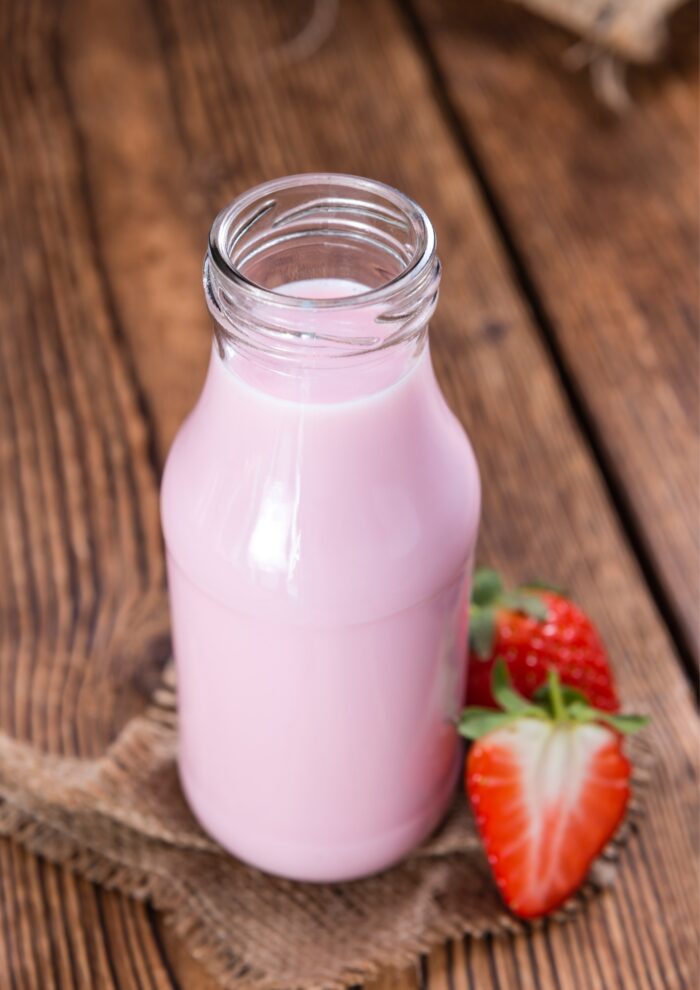 Other Recipes You'll Love
If you love simple vegan recipes that reduce your personal food waste and save you money, be sure to check out the PlantYou Planner! Meal planning is one of the most effective ways to ensure all of your nutritional needs are met, while none of the fresh produce goes to waste. The app has a special feature that allows you to fully customize your weekly meal plan, as well as toggle the number of servings to the size of your household.
And if you prefer all of your favorite recipes encased in one book cover, be sure to get your hands on a copy of the PlantYou Cookbook. It features 140+ beginner-friendly vegan recipes for every taste and every occasion! And if you already have a copy, it would mean the world to me if you could leave a book review.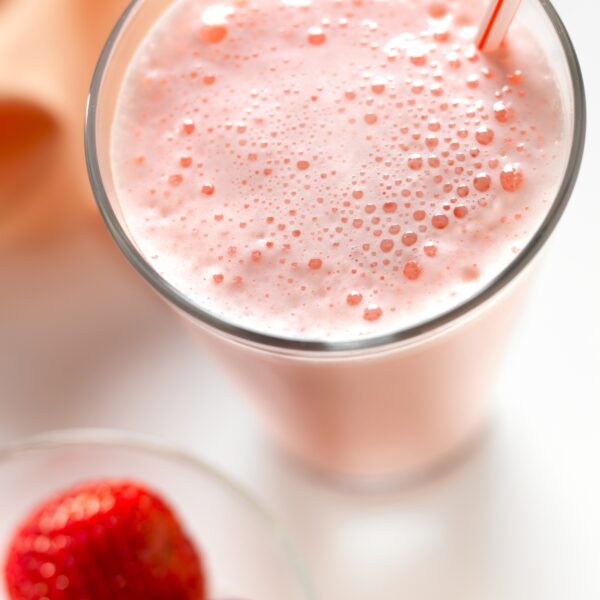 The Recipe: Strawberry Milk
The easiest scrappy cooking recipe that uses leftover jam to make a tasty, refreshing beverage!
Ingredients
2 tbsp strawberry jam, leftovers in a jam jar
1½ cup non-dairy milk, I used oat
Instructions
Add the oat milk to the empty jar of jam, and shake until the jam is mixed with the milk and it turns slightly pink. Alternatively, blend 1 1/2 cups of milk with 2 tablespoons of jam to achieve the perfect creamy strawberry milk.
Calories: 270.5kcal, Carbohydrates: 39.8g, Protein: 10.6g, Fat: 7.1g, Saturated Fat: 0.7g, Polyunsaturated Fat: 4.2g, Monounsaturated Fat: 1.5g, Sodium: 189.8mg, Potassium: 529.9mg, Fiber: 1.9g, Sugar: 28.4g, Vitamin A: 1391.2IU, Vitamin C: 29mg, Calcium: 503.6mg, Iron: 1.9mg