Vegan Picnic Ideas
Summer is here, and you know what that means… (Vegan) picnic time! Whether it's a picnic in the park, or on the beach, or in your backyard, you'll want to be totally prepared with all things to fit into your vegan lifestyle. In our article today you will find the best vegan picnic ideas around.
I have rounded up some easy recipes plus my top tips and tricks to having the perfect vegan picnic. Grab your pals, and let's get to prepping!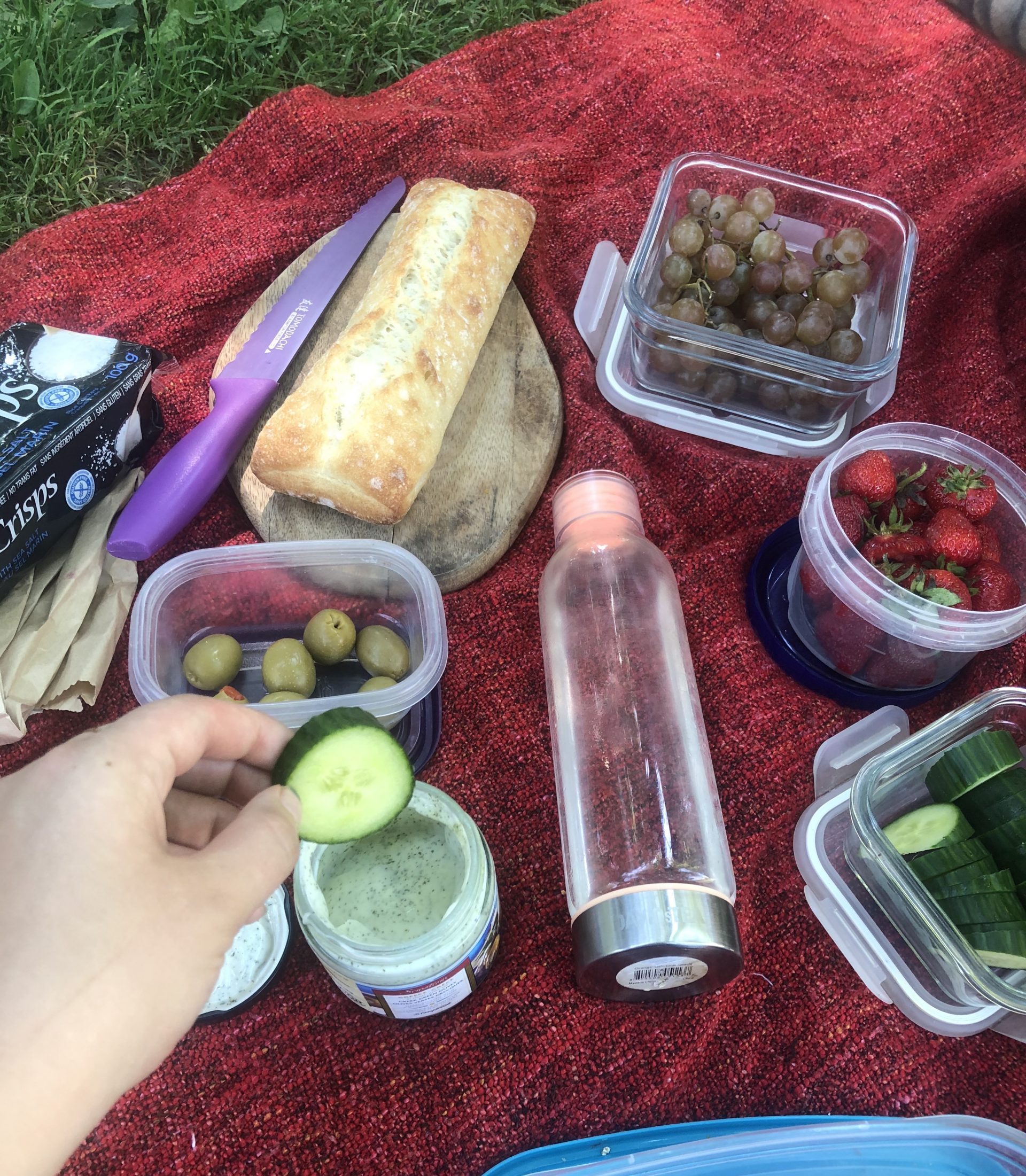 Easy Picnic Ideas Themes
There are so many ways to enjoy a vegan picnic! Try out these ideas for your next or first vegan picnic-venture:
Need some quality time with your significant other, perhaps? Spice up date-night and by going on a sunset dinner picnic, instead!
Missing your best friends? Have a quality time 'catch-up session' where everyone brings their own vegan picnic dish.
Ready to catch some rays on the beach? Nothing is better than a refreshing and healthy picnic after a day of lying in the sun.
The weather is too perfect, and your favorite trail is calling? Add-in some nature while getting in your steps with a beautiful hike finished by a rewarding and refreshing picnic.
Craving some travel after the months of lockdown? Have a mini-road trip to a nearby tourist spot and pack your own lunch picnic to enjoy when you finally get there.
Can't get out of town but need a break from home? Transform your backyard, front yard, or head to your local park for an afternoon staycation picnic
Basic Needs For a Vegan Picnic
Blanket
Glass containers for storage- check out my favorite eco-friendly containers here!
Reusable storage bags
Picnic basket
Cooler
Reusable Dining Set
Travel Knife and Fork (or spork)
Reusable water bottle
Sunscreen/ Bug Spray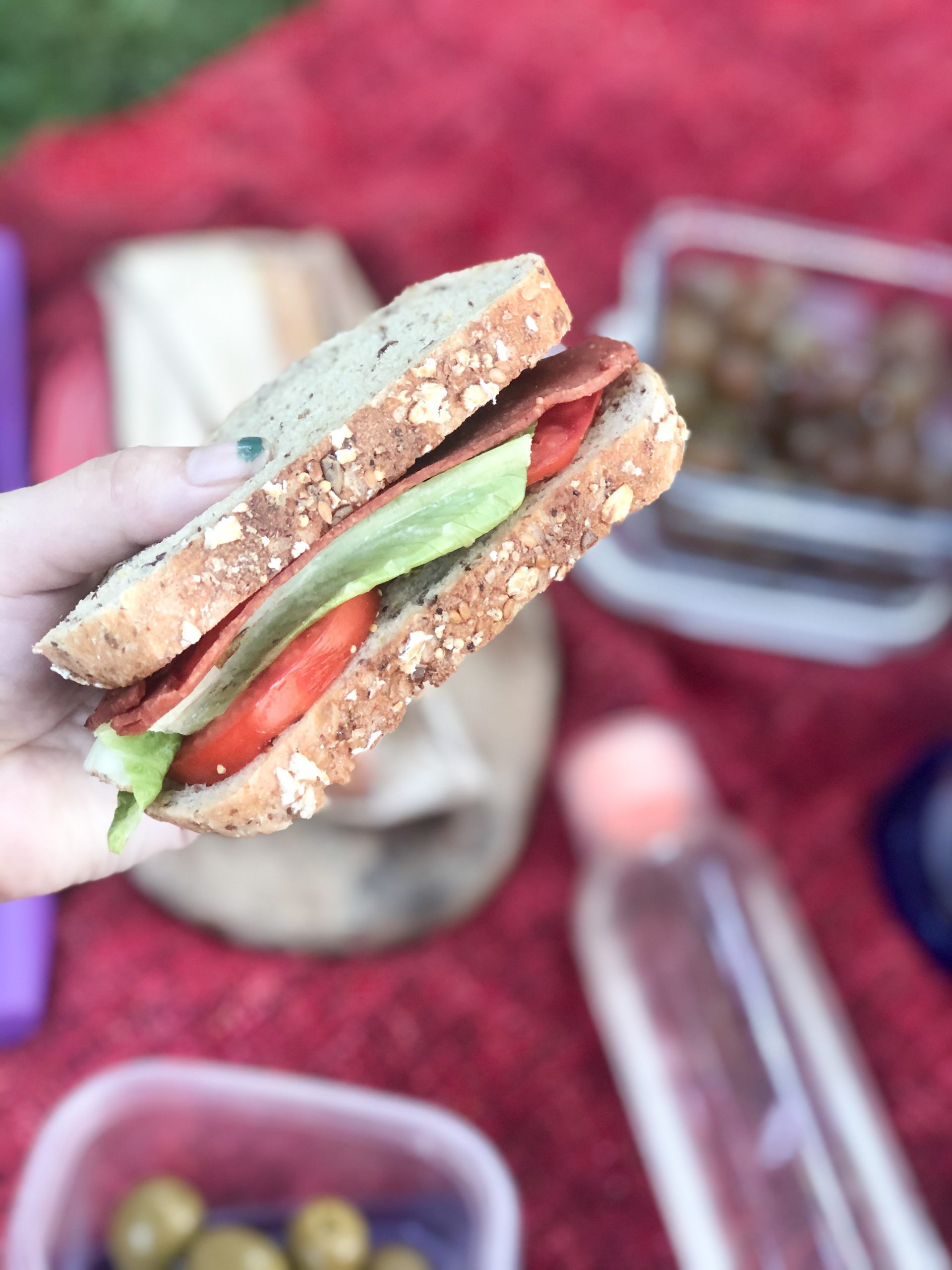 Simple and Delicious Vegan Picnic Recipes
Now that you have all the essentials for your vegan picnic, it's time to get to the most crucial part – the actual food! Make your vegan picnic stand out from the rest simply by prepping these recipes ahead of time.
Here are some of my simple and easy recipes for your vegan picnic if you want a full-out meal:
For starters:
Chop up some fresh fruits and veggies and dip them in either my delicious veggie dip or hummus. The best (and most delicious) way to make sure you're still in-taking those veggies! Check out our oil-free hummus recipe here.
For something a little more fun, make your own vegan charcuterie board. Grab a baguette or some vegan crackers, your favorite vegan cheese (or make my 5-minute cashew garlic and herb cream cheese), and spreadable jams. Bring a big platter to lay it all out and add some nuts as the finishing touch. Don't forget to take a picture of this idyllic setting when it's finished!
For the main meal:
Make a delicious vegan BLT by using my vegan tempeh bacon, tomato, lettuce, and vegan sourdough. Just like when you were a kid, nothing is better than a satisfying sandwich during a summer day.
If you aren't much of a sandwich person, pack some amazing vegan tuna salad wraps. These are so satisfying after a long hike in the heat or a day in the hot sun.
When we want a treat we opt for Lightlife vegan smart bacon! (pictured above)
And of course, who can forget dessert?
For dessert, I recommend my classic vegan peanut butter cookies—the perfect and satisfying treat to end your fabulous vegan picnic meal the right way.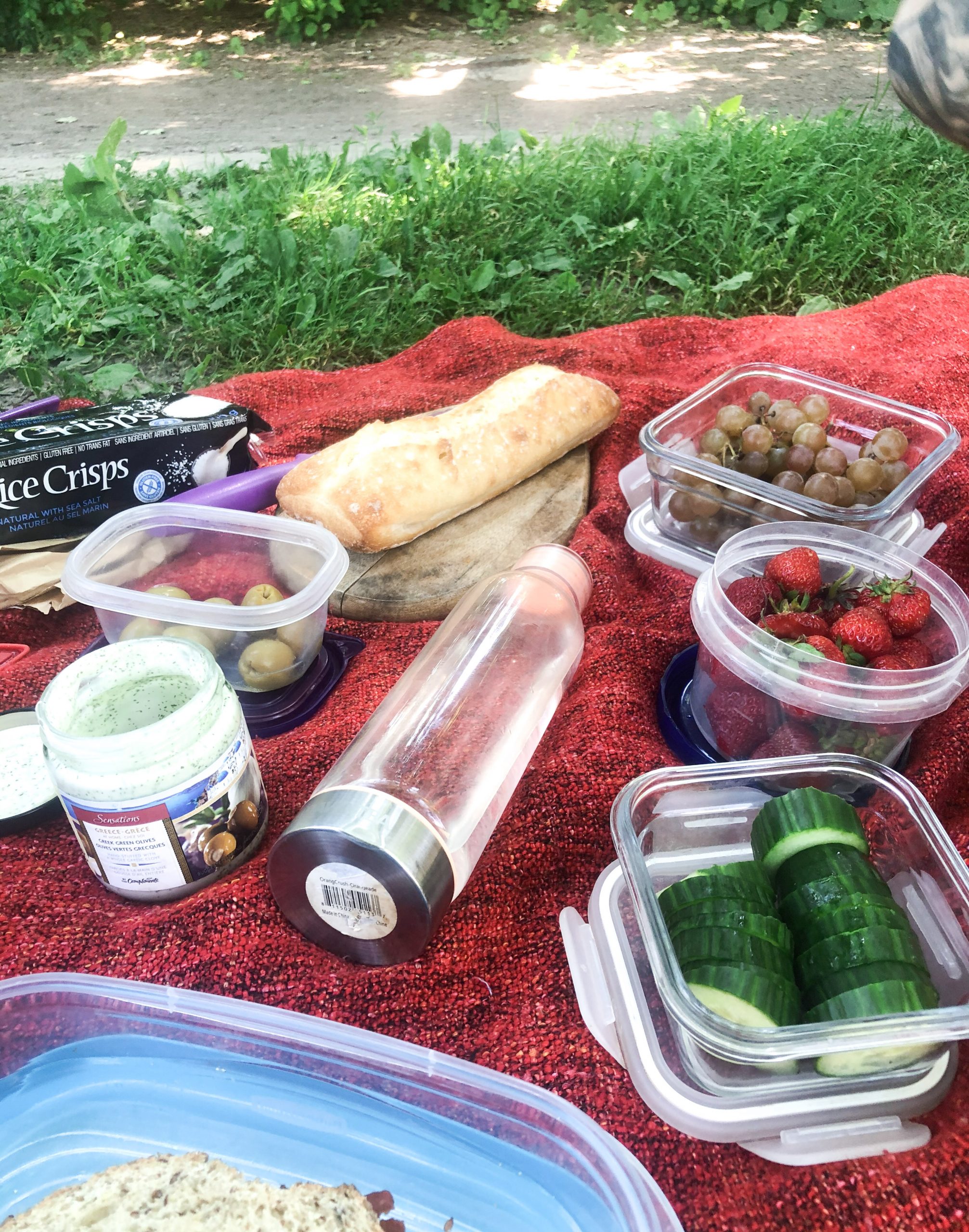 The Best Vegan Picnic Snacks To Pack
If you don't want to bring a three-course meal on your vegan picnic, bring a variety of snacks to give you a pick me up while you enjoy the summer sun.
If you have time and are in the mood to bake a bit, I recommend any of my easy plant-based snack recipes.
But if you are more grab-and-go type, here are some super simple trail mix combination recipes that take next to no time to make and involve no cooking whatsoever. Also, I always bring along cut up veggies and fruits on all my picnic trips. These trail mixes are also great to make and eat at home or have on hand for a grab-and-go snack!
Quick Trail Mix Combos
Savory:
almonds
sunflower seeds
pumpkin seeds
onion powder
garlic powder
cayenne pepper (be careful, this can get spicy!)
Sweet:
almonds
cashews
peanuts
vegan chocolate chips
raisins
sea salt
High Protein:
dry-roasted soybeans
pistachios
almonds
pumpkin seeds
dried cranberries
Vegan Thirst Quenchers
And we can't forget the perfect vegan drinks to go along with this fantastic vegan foodfest. Beat the heat with any of these thirst-quenching vegan drink options.
Vegan Wine: Perfect for a romantic date night picnic or a 'bestie-catch up session'. It brings relaxing and fun vibes to any vegan picnic! We just found Frogpond Winery and loved this vegan wine!
Kombucha: I love having Kombucha after a long hike or during a mini-road trip picnic. It is super refreshing, and the perfect pick me up during or after a day's hiking adventure.
Lemonade: Another super refreshing and vegan drink option if you are not a Kombucha fan! Homemade lemonade pairs perfectly with all picnic foods and gives that summer vibe to all your vegan picnics. I suggest simply squeezing a lemon with a teaspoon of maple syrup and water. Voila! You have a healthier lemonade.
Water: I bring bottled water with me everywhere I go, so of course I wouldn't forget to take it with me when planning to go on another vegan picnic.
Store-bought Picnic Favorites
If you are looking for a super simple, no prep vegan picnic, here are all my store-bought favorites that are perfect for grabbing-and-going on any last-minute adventure.
Now you have all your vegan picnic bases fully covered! Whether you're planning in advance or having a spontaneous road-trip, you can always have the perfect vegan picnic every time. I loved sharing my best tips on making a vegan picnic easy and fun, and now I can't wait to see all your picnic food on Instagram!
Searching for easy plant-based meals for the summer?!
We've been working hard to create meal plans that are themed for the summer to have all types of social events and adventures covered. We just release our camp theme meal plan and we will be releasing our BBQ themed plan this week. Don't miss out on these perfect summer plans within the Plant Ahead Meal Plan Program!
Plus, when you join the Plant Ahead Program, you will receive a NEW weekly done-for-you plant-based meal plan that is oil-free, refined sugar-free and all recipes are made from whole-food ingredients. And, don't forget you get access to all our previous plans that are now 75+ plant-based plans strong!