Vegan Pumpkin Latte Brownies
Are you still throwing away your coffee grounds? Next time you make a coffee, save them for a delicious batch of vegan pumpkin latte brownies!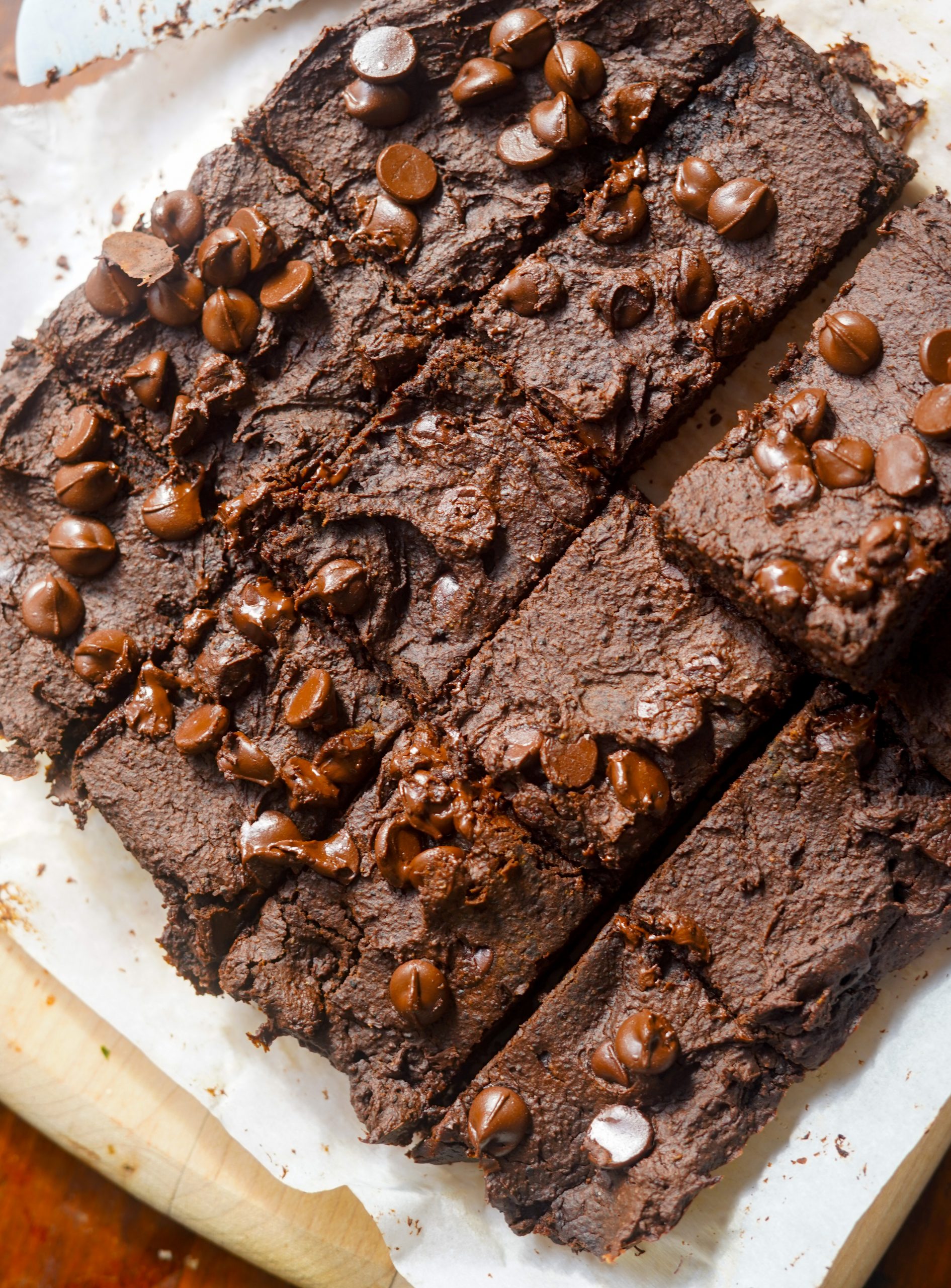 Used coffee grounds are one of the most common food scraps in households across the world. Many of us love a cup of joe in the morning. What if I told you that you can use those coffee grounds to make delicious, moist brownies that taste like pumpkin spice latte?
That's right, I am back with yet another Scrappy Cooking recipe, where I take common food scraps and turn them into a tasty treat! Today, we are making gooey, rich-tasting brownies that will blow your mind!
Why You'll Love This Recipe
Show me a person who doesn't like brownies! It's such an indulgent dessert, and yet it's very easy to make.
As with other Scrappy Cooking recipes, you will be reducing your household food waste.
These vegan pumpkin latte brownies may look like an unhealthy treat, but they are made with simple, whole-food ingredients.
I mean, just look at them… Next time you have guests over, these brownies would make a beautiful centerpiece.
Did I mention that these vegan pumpkin latte brownies are also gluten-free?
How to Make This Recipe
Next time you make a coffee, reserve 2 tablespoons of used coffee grounds. And don't rush to throw away the rest! Coffee grounds can also be used for:
In a mixing bowl, combine all the wet ingredients, including coffee grounds, nut butter, pumpkin puree, and maple syrup. In a separate bowl, combine dry ingredients, including oat flour, cocoa powder, and spices.
Slowly add the dry mixture into the wet, mixing them together until there are no flour streaks. Add the chocolate chips and gently fold them in.


Preheat the oven to 375 F and line a brownie tin with parchment paper. Transfer the brownie mixture into the tin and use a spatula to smooth out the top.
Sprinkle with extra chocolate chips and flakey salt. Bake in the center of the oven for about 30 minutes. When the brownies are ready, there should be some cracking on top, while the middle of your dessert has a gooey, fudge-like consistency.
Allow your brownies to fully cool down. Cut them into squares and enjoy!
Hack It!
If you have a nut allergy, you can use seed butter instead, such as sunflower seed butter or pumpkin seed butter. You can also use tahini, but it may give your brownies a bitter aftertaste.
If you don't have access to a pumpkin spice mix, you can make your own. Simply combine cinnamon, nutmeg, ground ginger, and clove.
Feel free to get creative with your toppings. I kept it simple, but you could also add sprinkles, shredded coconut, flaked almonds, and more!
To make your own oat flour at home, blend it at high speed in the food processor or use a coffee grinder.
Store This Recipe
If you manage to obstain from eating it all at once, store in an airtight container at room temperature for up to 3 days.
Other Recipes You'll Love
If you love simple, healthy desserts like these vegan pumpkin latte brownies, check out PlanYou Planner! Customize your weekly menu by choosing from a database of over 500 recipes, including desserts! You can adjust the number of servings you are planning to make, and the planner will autogenerate a shopping list for you. Plant-based living has never been easier!
Very soon, you will also be able to enjoy the recipes from my debut cookbook. And the best part is, you can preorder the PlantYou cookbook right now! Pssst. Did I mention that you get access to $197 worth of goodies when you preorder?
The Recipe: Vegan Pumpkin Latte Brownies
A classic dessert using coffee grounds
Ingredients
Wet ingredients
1 cup pumpkin puree
½ cup nut butter
⅓ cup maple syrup
1 tsp vanilla extract
2 tbsp used coffee grounds
Dry ingredients
1 tsp pumpkin spice
½ cup cocoa powder
½ cup oat flour
Other
½ cup vegan dark chocolate chips, plus extra for topping
1 tsp flakey salt
Equipment
two mixing bowls

Spatula

Baking dish (Brownie tin)

baking parchment

knife
Instructions
In a mixing bowl, combine all the wet ingredients. In a separate bowl, combine the dry ingredients.

Carefully combine them together until there are no flour streaks. Fold in the chocolate chips.

Line a baking tin with parchment and transfer the brownie batter. Use a spatula to smooth out the top. Add more chocolate chips if desires, and some flakey salt.

Bake at 375 F for about 30 minutes. Remove from the oven and allow the brownies to cool down. Once they have fully cooled down, cut into squares and enjoy!
Calories: 122kcal, Carbohydrates: 14.8g, Protein: 3.3g, Fat: 7g, Saturated Fat: 1.8g, Polyunsaturated Fat: 1.2g, Monounsaturated Fat: 2.8g, Sodium: 3.3mg, Potassium: 161.1mg, Fiber: 2.8g, Sugar: 7.6g, Vitamin A: 2383.5IU, Vitamin C: 0.7mg, Calcium: 52.1mg, Iron: 1.4mg