The Ultimate Vegan Baking Guide For Holiday Desserts
No eggs? No problem. Skip the vegan baking struggle this year with the Ultimate Vegan Baking Guide for Holiday Desserts.
Are you struggling with what vegan goods to bake this holiday season?
While typical holiday baking includes loads of dairy and animal products such as eggs, milk, and butter, you might be wondering…
How can I make a delicious and vegan holiday treat that everyone will love?
Just because we are skipping the eggs, that doesn't mean you need to miss out on any holiday cheer this year.
I share everything about baking vegan treats in this ultimate vegan baking guide that will please even the pickiest of eaters.
From vegan baking substitutes that you can make yourself, to my favorite store-bought subs, there is no shortage of vegan baked goods that you can enjoy.
First and foremost; I just want to say that pretty much any baked good can be made vegan with the right substitutes. Once you know how to create the ideal texture you are looking for with plant-based ingredients you'll never want to go back.
Egg Baking Alternatives
In baking, eggs act like the glue that holds everything together. So you can't just eliminate eggs, but you can find a different type of bond that is a whole less harmful to animals. I've rounded up the egg substitutes I find work best in baking to help you out.
Flax Eggs
Flax eggs are the most common type of substitute because it works well, and it is super easy to make.
You can make flax eggs by mixing 1 tbsp of ground flax seeds with 3 tbsp of water for every egg. Then, you just let it sit out and do its thing for about 5-10 minutes until it becomes similar to gelatin.
Plus, you are getting the added fiber and omega-3s from the flax seeds.
Chia Eggs
Chia eggs are incredibly similar to flax eggs, even in the prepping.
To make a chia egg, you mix 1 tbsp of chia seeds with 3 tbsp of water and let it thicken.
Chia seeds also have significant health benefits, like added fiber, magnesium, and omega-3s.
Aquafaba
Remember the liquid in the chickpea can that you always dump down the drain? It turns out that stuff is like it's own little magic trick.
If you save the liquid, you can whip it up to make vegan meringue or use it as an egg substitute. It makes a beautiful substitute because it creates super fluffy and thick peaks.
You can make Aquafaba by:
Draining the chickpeas and reserving the liquid

Boiling the liquid on the stovetop for about 10 minutes

Let the liquid cool

Whip it up using an electric beater until it is thick and has the consistency of meringue.
You can check out my full guide to using Aquafaba here: How to Use Aquafaba.
Apple Sauce
Applesauce is a great egg substitute in sweet desserts! It also adds moisture to your baked goodie, so I recommend using it in cupcakes or cakes to create a creamy and moist texture.
For every 1 egg, you can use ¼ cup of applesauce.
Mashed Banana
Another egg substitute that also adds a bit of moisture to your holiday treat is mashed bananas Be cautious, as there will be a bit of banana flavor, but it tastes great in muffins, cakes, and even pancakes.
Use ½ of a super ripe banana to replace 1 egg.
Vinegar
Wait, excuse me? Yes, vinegar is also an egg substitute.
You can use white distilled vinegar or apple cider vinegar, and it works great for heavier baking like cakes and quick bread.
This is an especially great option if you want something shelf-stable that you can use at the last minute.
To make a vinegar egg substitute, use 1tbsp of vinegar + 1 teaspoon of baking soda to replace one egg.
Milk Alternatives
Plant-based milk is a simple replacement because, for most recipes, you can use just about any plant milk. Some vegan milk is thicker than others, so that is something to keep an eye on when deciding which milk is the best option for you.
Buttermilk Substitute
If you are replacing buttermilk, you can add 1 tbsp of lemon juice to any non-dairy milk to give it that sour taste. Also, make sure you get unsweetened, unflavored milk for the best turn out.
Soy Milk – Soy milk is an excellent milk replacement because it has almost the same consistency as 2% milk and has a neutral flavor.
Almond Milk –Almond milk is great in cookies and cakes because it has a little bit of a nutty flavor.
Oat Milk –Oat milk is great to use in place of full-fat milk because it is thicker while keeping a neutral flavor. I love using oat milk in holiday drinks and any muffin or bread recipes.
Coconut Milk – Coconut milk is excellent to use in tartes or merengue like desserts because it is full of fat, making it thicker than other milk. Also, it has a refreshing coconut flavor that compliments any lemony or tropical treats.
Cashew Milk – If you are running low on non-dairy milk, you can easily make your own cashew milk with just cashews, a blender, and a bit of sweetener.
Using a 1:4 ratio of cashews to water, add it to a blender with a bit of sweetener (optional), and voila! Cashew milk!
Vegan Baking Thickeners
Psyllium husk –Psyllium Husk is a plant-based fiber. It is commonly used in homemade bread (like sourdough) to create a thick and sticky dough. It has no taste, it's vegan, gluten-free, and a great source of fiber.
A little goes a long way with Psyllium Husk, you only need about ½ a teaspoon for serving. So, be aware not to overdo it, or your recipe might end up too thick.
Chia Seeds –If you have a recipe that calls for gelatin replace it with chia seed gel. You can make chia seed gel by adding 1/3rd cup of chia seeds to 2 cups of water in a sealable container.
Shake and refrigerate for 10 to 20 minutes, and you will have perfect gelatin-like gel that is also vegan. It's great to add to smoothies and puddings, too. You can watch my how-to tutorial here.
Xanthan gum –Xanthan gum is typically used in gluten-free baking as a binding and thickening agent in bread, cakes, and muffins.
Luckily, it is also vegan, so you can add it to anything you want to create a fluffy texture. Start small otherwise, your dough might become overly gummy and hard to work with.
Cornstarch –Yes, the classic cornstarch is vegan. By adding cornstarch to water, you get a flour like thickener that is not as heavy. I like using cornstarch with heavy flavor baking, like muffins or sauces, because sometimes cornstarch can leave an exciting aftertaste behind. It is also great to use if you are looking to recreate a pudding-like consistency.
Date Paste –Date paste is excellent to use in sweet desserts like puddings or pies! It adds a bit of sweetness while holding everything together well and adding some extra thickness.
Non-Dairy Milk Pulp –If you make your own nut milk, you can use the leftover milk pulp as a thickening agent in your vegan baked goods.
You can add it to smoothies, pies fillings, or crusts, or you can toast it and make a crumble topping.
Vegan Baking Sweetener
Sweetener is essential in baking so here are some great options if you want to replace your regular refined sugar with something less processed.
Coconut Sugar – An excellent alternative because you can swap it for refined sugar cup for cup. It is natural sugar, so it is less processed but still provides virtually the same consistency and flavor. Coconut sugar works wonders in cookies and pastries.
Maple Syrup – A great sweetener to use, especially if you are looking for a glossy finish. It brings a great flavor to cakes and muffins.
You only need ¾ cup of maple syrup to replace 1 cup of refined sugar.
Molasses – Very similar to maple syrup, but it does make your dough very sticky and sometimes hard to work with.
You only need ¾ cup of molasses to replace 1 cup of refined sugar.
Date Sugar – Date sugar is made from dates, which are very sweet. Once dates are dried out, they can be ground up and turned into date sugar.
Date sugar tastes great in sweeter recipes, like pies and cookies.
Butter Alternatives
In baking, butter provides moisture and a bit of flavor. To replace butter, you need to find something that can still offer the same moisture you aim for in your recipes.
Soy Yogurt – Unsweetened soy yogurt provides a really lovely density and moisture to your baking. It is excellent to use in cupcakes and cakes.
Coconut Oil – At room temperature, coconut oil has a very similar consistency to margarine. Once melted, it can be used in place of melted butter to provide light moisture in cookies or brownies.
Avocado Oil – Another oil that is great in baking is avocado oil. This will give your baked goods a more savory flavor, so I suggest using it in muffins or bread to add moisture.
Nut Butter- Nut butter is an excellent alternative to dairy butter because it provides a fantastic consistency to your baked goods. You can use peanut, cashew, sesame, or even tahini. Because you will get some nutty flavor in your baking, keep that in mind when choosing a recipe.
Applesauce – Similar to oil, but it is less fattening and provides a hint of sweetness. It's a bit more liquidy, so it is a great butter replacement for any type of batter, like muffins or cakes.
Store-Bought Vegan Baking Alternatives
If you don't have the time or patience to make your own alternatives, here are some of my favorite store-bought vegan baking alternatives!
Earth Balance Baking Sticks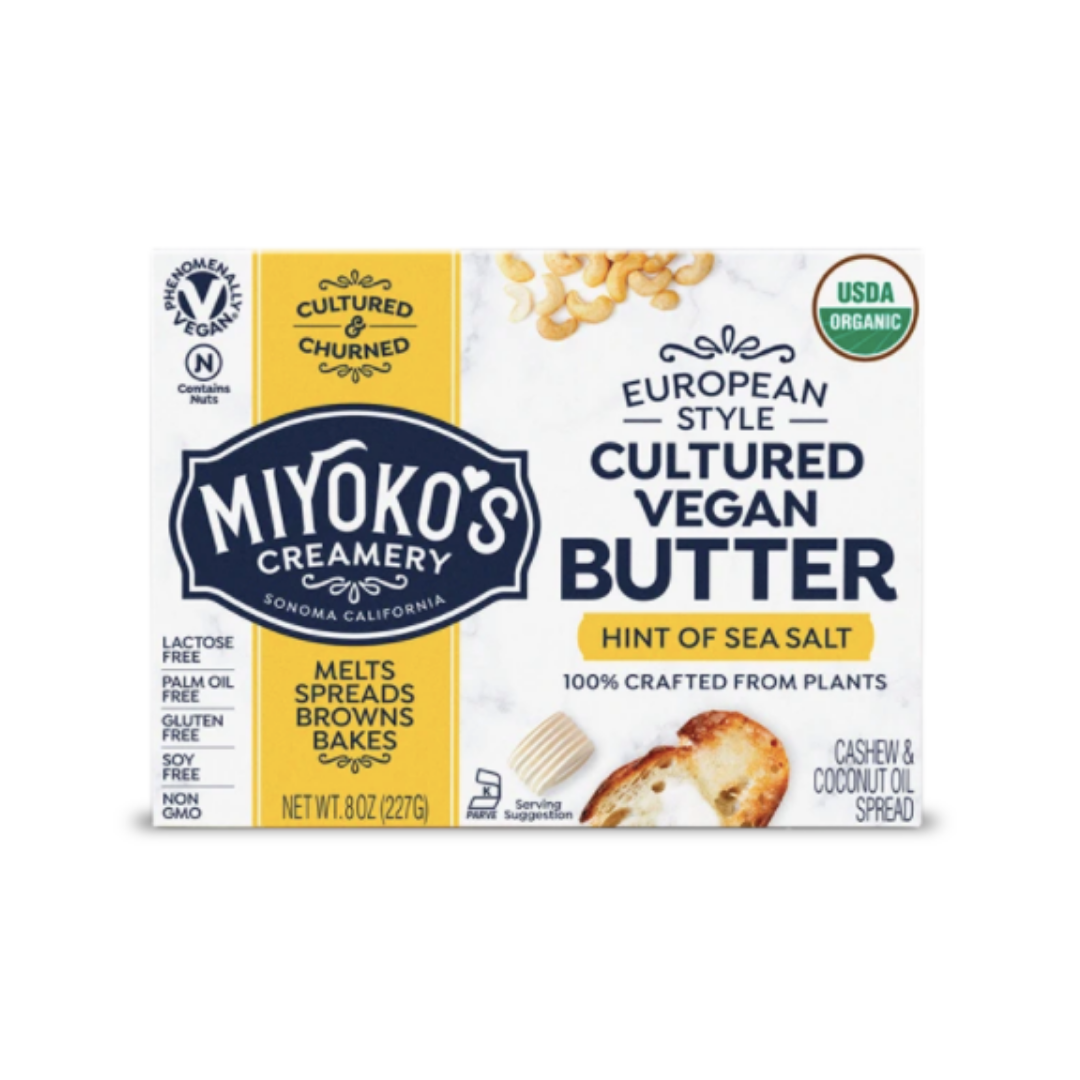 Let's Do Organic Confetti Sprinkelz
The Ultimate Vegan Baking Tool
In my meal plan program, Plant Ahead, I share tons of whole-food plant-based desserts and holiday recipes. You get new recipes weekly and access to our entire recipe database and e-books including my vegan dessert ebook.
If you are looking for a way to make your holiday baking a little less stressful this year, join us in Plant Ahead today.
*This blog post does include affiliate links*