Vegan Pasta Salad
Who says salads need to be boring? This vegan pasta salad is delicious and nutritious, and it comes with amazing creamy dill dressing!
Growing up, I never liked salads. In the 90s, salad was always the boring option for people on a diet, or at least that's what they'd have me believe! Switching to a plant-based diet really opened my eyes to the fact that salads don't have to be bland. I've been on a mission to create tasty and nutritious salads that rock your world.
This vegan pasta salad really hits the spot with its variety of flavors and an amazing creamy dressing. Did I mention this dressing is made using a Scrappy ingredient? Buckle up.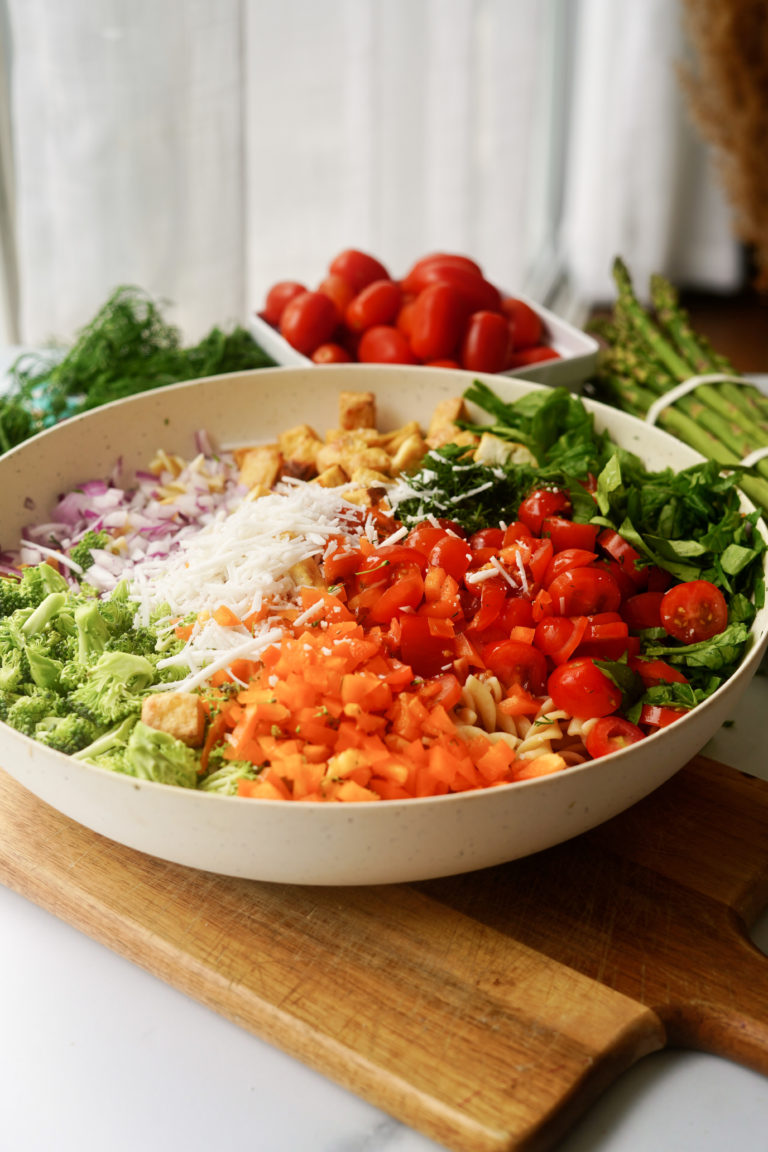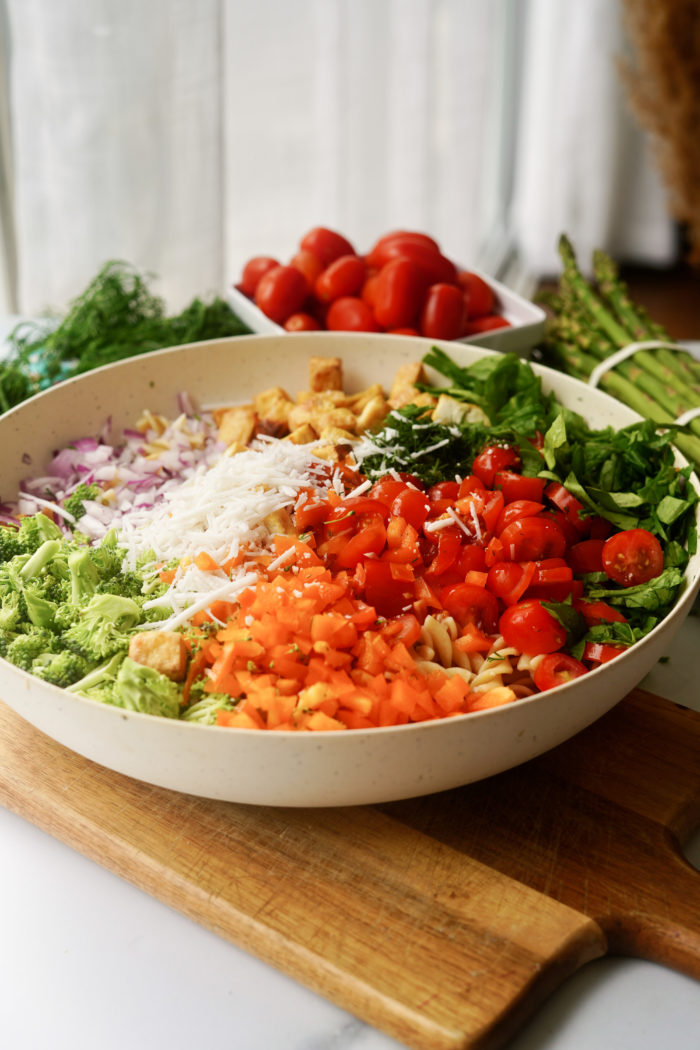 Why You'll Love This Recipe
Frankly, one of the best things you can put in your salad is pasta.
This vegan pasta salad is perfectly balanced to meet all of your nutrition needs. It has a great source of protein, carbs, and plenty of dietary fiber!
The dressing… Let me tell you, this creamy dill dressing is so good, you'll be putting it on everything!
An abundance of veggies in this salad is not only great for your gut microbiome, it can actually contribute to your longevity.
If you have your own vegetable garden, at one point in the summer you'll be able to get at least half of your ingredients from your veg patch. In certain climates, tomatoes, onions, broccoli, spinach, and dill can grow at the same time.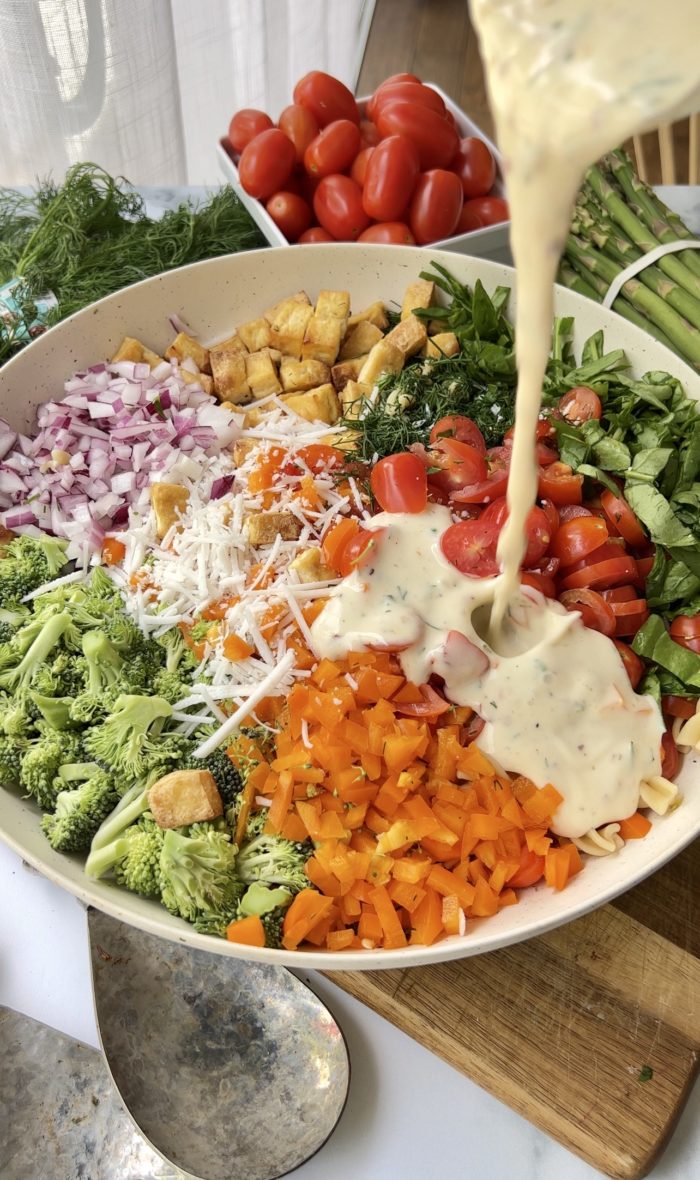 How to Make This Recipe
Cook the pasta according to the packaging instructions. Drain the liquid and set the pasta aside to fully cool down.
In the meantime, chop and dice your veggies. If you're using tofu as your protein option, you could bake it or air fry it until it's crispy.
To make the dressing, combine coconut yogurt, dill pickle juice, lemon juice, parsley, nutritional yeast, salt, and pepper.
Finally, combine all the ingredients in a large mixing bowl. Add the dressing, mix, and ENJOY!
Hack It!
Choosing your protein option between tofu and chickpeas is a great way to add variety, even if you're making the same salad again. It's also a good option for soy-free folks.
If you're gluten-free, you can use rice pasta, chickpea pasta, lentil pasta… Or any gluten-free pasta of your choosing!
To add a bit of spice to the dressing, add a pinch of cayenne pepper or ground chili.
If you keep the dressing separate, you can enjoy this vegan pasta salad for a few days. Make sure to refrigerate it, and add the dressing before you serve.
Another great way to use up the dill pickle juice is to make dill pickle chip soup!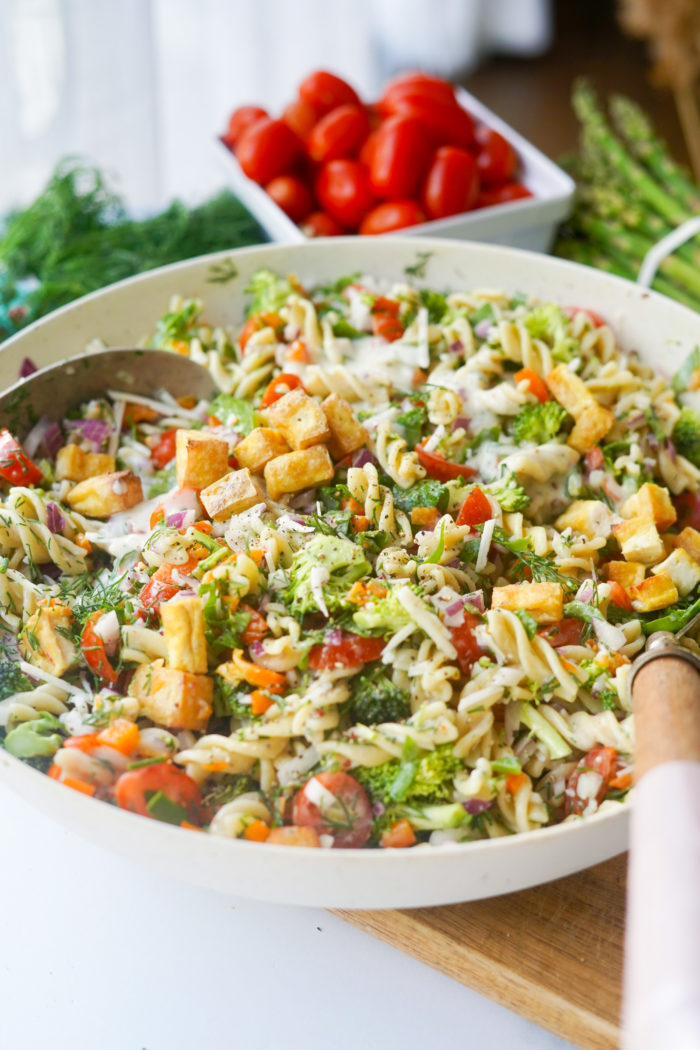 Other Recipes You'll Love
If you love creative salads, delicious soup recipes, and indulgent vegan desserts, check out the PlantYou Planner! It's a digital meal planner platform that allows you to FULLY CUSTOMIZE your weekly menu! As well as choosing from over 600 recipes, you can toggle the number of servings and take the generated shopping list to the store. Plant-based living has never been easier!
Speaking of whole-food plant-based recipes… The PlantYou Cookbook is back in stock! To get your hands on 140+ delicious, beginner-friendly recipes for every occasion, pop into your local bookstore or order online. And don't forget to claim over $200 worth of freebies!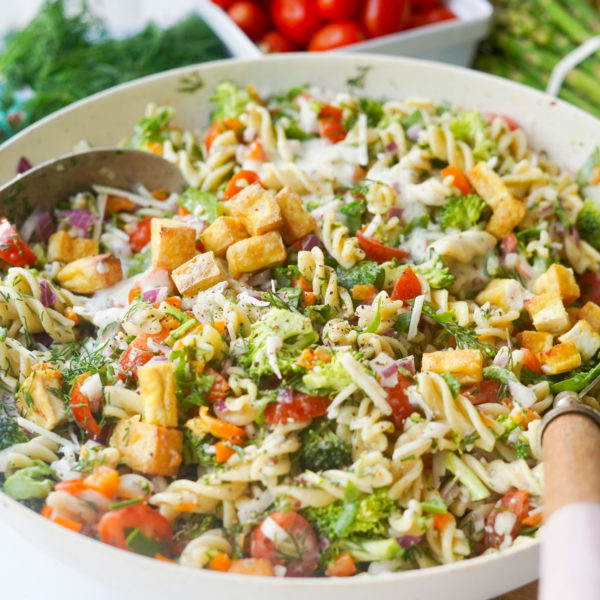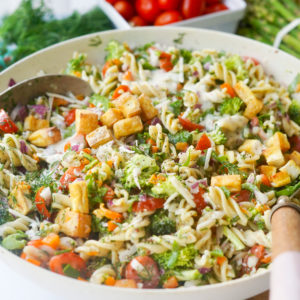 The Recipe: Vegan Pasta Salad
A creamy delicious vegan pasta salad recipe you won't be able to get enough of!
Ingredients
16 oz whole-grain rotini, cooked, cooled down
1 red onion, diced
1 ½ cup cherry tomatoes, halved
1 orange bell pepper, seeds removed, diced
1 head broccoli, diced
1 cup spinach, finely diced
½ cup fresh dill, chopped
1 cup chickpeas, or extra firm tofu air fried & cubed
¼ cup vegan cheese
Creamy Dill Dressing
½ cup coconut yogurt, unsweetened
3 tbsp pickle juice
½ lemon, juiced
1 tsp dried parsley
1 tsp nutritional yeast
1 tbsp dijon mustard
½ tsp sea salt
Freshly cracked black pepper
Equipment
Pasta pot

chopping board

knife

mixing bowl

Jar for the dressing
Instructions
Add all dressing ingredients to a jar and mix until smooth.

Combine all pasta salad ingredients in a bowl.
Calories: 434.4kcal, Carbohydrates: 79.9g, Protein: 17.3g, Fat: 6.3g, Saturated Fat: 0.9g, Polyunsaturated Fat: 1.2g, Monounsaturated Fat: 3g, Sodium: 737.8mg, Potassium: 807.7mg, Fiber: 9.6g, Sugar: 9g, Vitamin A: 2305.8IU, Vitamin C: 138mg, Calcium: 140.6mg, Iron: 3.5mg