Deconstructed Spring Roll Salad
If you cringe at the very sound of the word "salad", I have something that will change your mind. This deconstructed spring roll salad is a perfect combo of crunch, spice, and sheer deliciousness!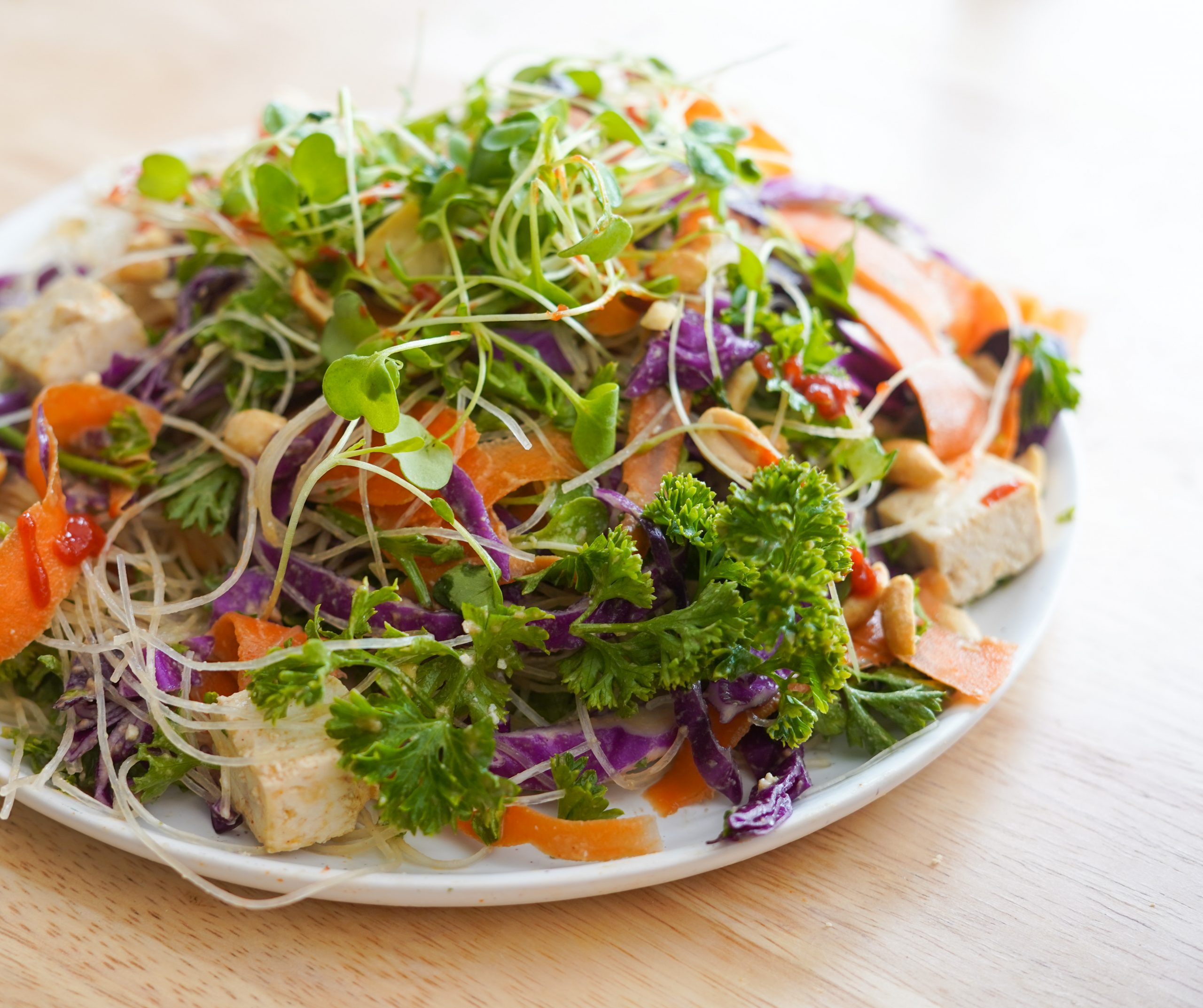 I'm going to let you in on a secret: I'm not a huge fan of traditional salads. Although things are changing for the better, a salad is often the only option available to vegans attending events or going out to eat. And generic salads are usually kind of… boring.
For me to love a salad it needs to have some UMPH, and this deconstructed spring roll salad hits all the marks for flavor, texture, and nutritional value. It's vegan, gluten-free, and perfect for meal prep!
Why You'll Love This Recipe
Do you love spring rolls? Because this salad features all the best things about a spring roll – the fresh veggies, the noodles, and an amazing peanut dressing!
It is SO EASY to make! You can make the whole thing from scratch in under 20 minutes, isn't that awesome?
This deconstructed spring roll salad is perfect for meal prep – it's quick and it will stay crisp and fresh for 3-4 days.
Just because it's vegan, doesn't mean it's not filling. Tofu is a great source of protein and rice noodles are a great way to bulk up a salad.
This dish is full of fiber, which stimulates digestion and encourages overall gut health.
How to Make This Recipe
First, you're going to prepare your noodles. Check the instructions on the package.  A common way to prep rice noodles is to soak them in hot water until they're soft (but not falling apart). Drain the water and allow your noodles to cool down.
Cut tofu into cubes and cook it in the air fryer until crispy (about 15 minutes).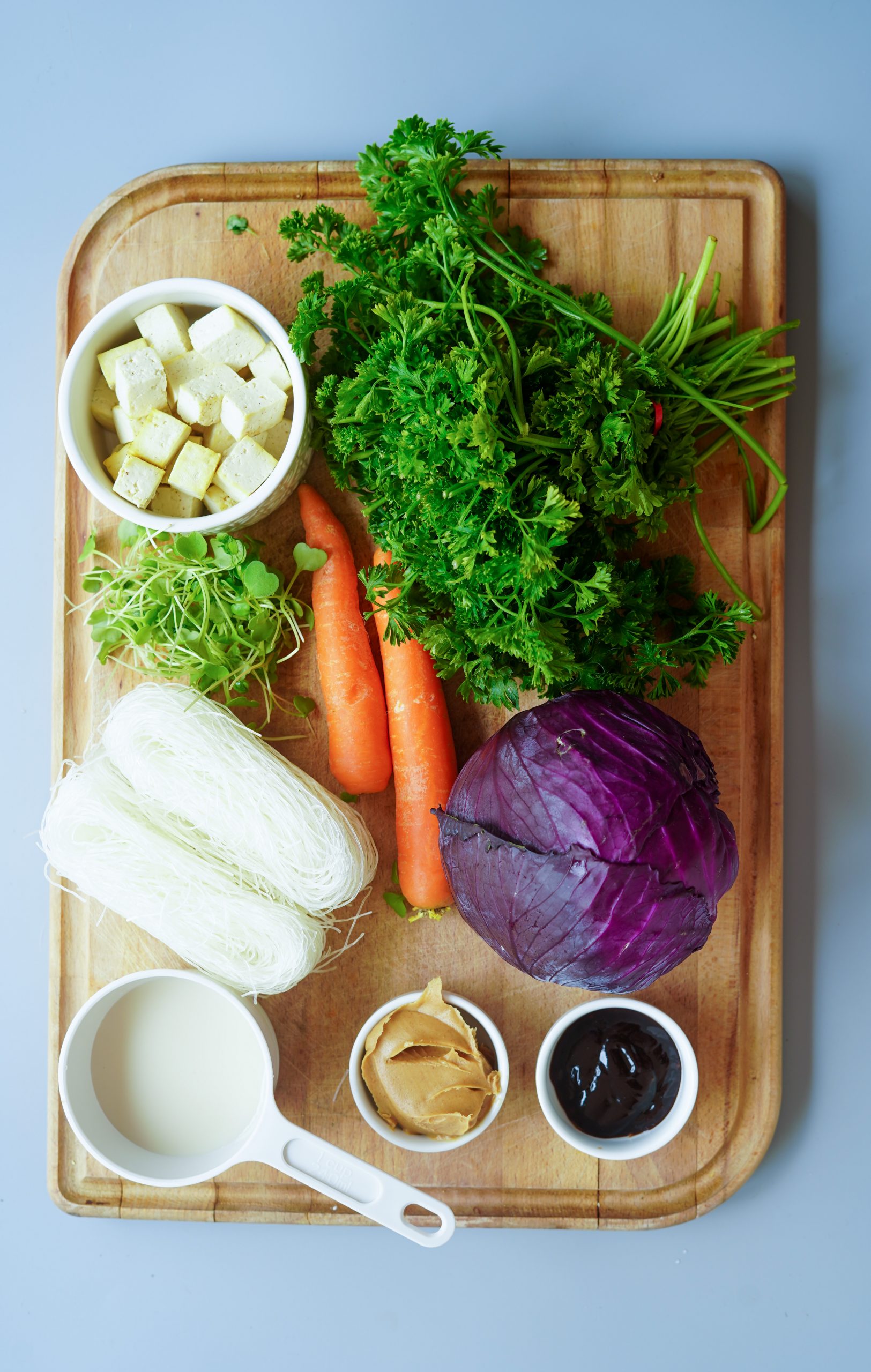 While you're waiting for your noodles and tofu, prepare the rest of the ingredients. Shred some red cabbage, chop cilantro and shave carrots into thin ribbons.
To make the dressing, combine peanut butter, hoisin sauce, and plant milk. Whisk everything together and add more milk if you prefer a thinner consistency.
Finally, add all ingredients to a bowl, and drizzle the dressing over top. Mix until combined and finish off with crushed peanuts and sriracha to taste.
If you make this recipe, be sure to snap a picture and tag @plantyou on Instagram or TikTok!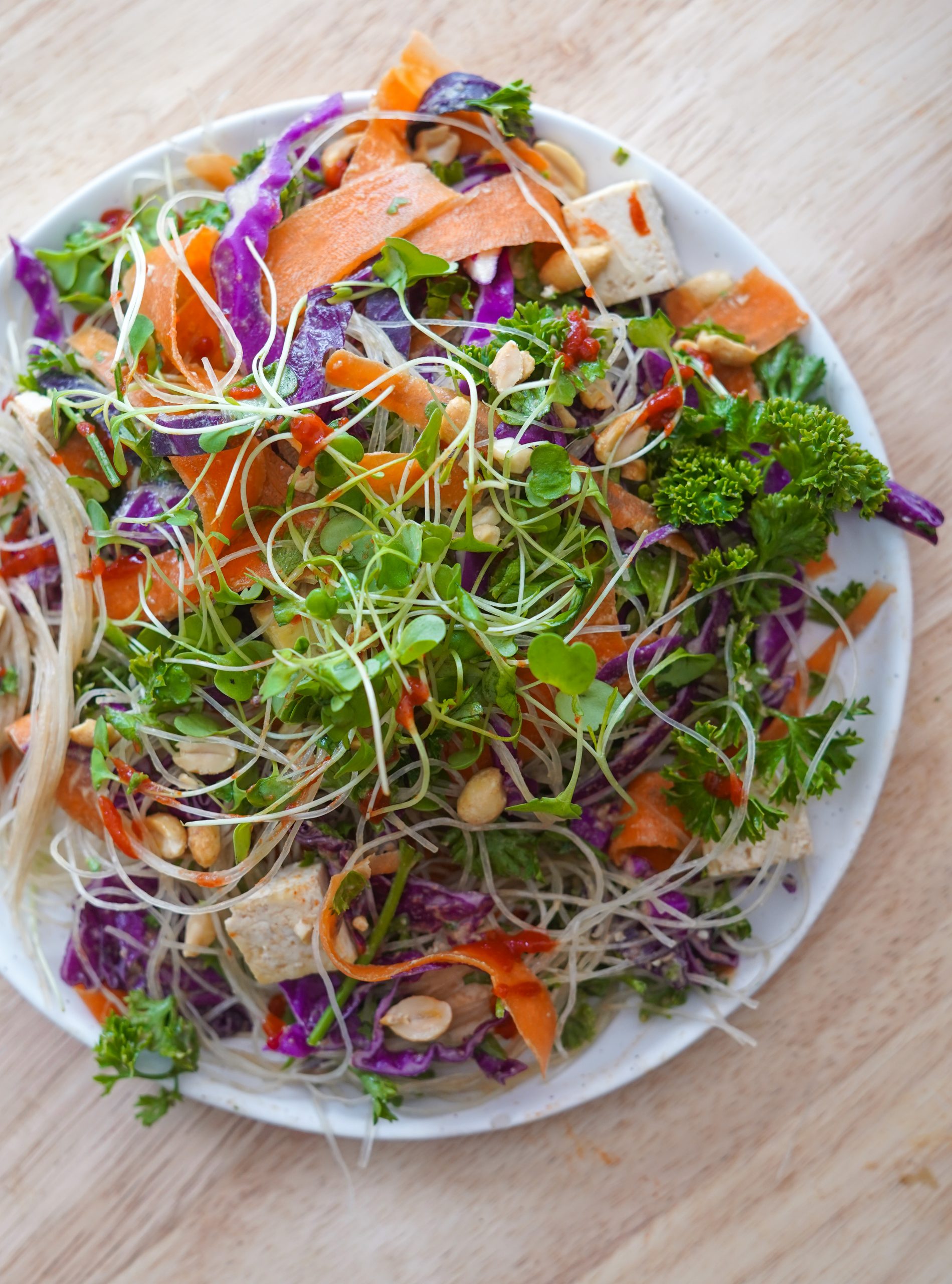 Hack It!
If you don't have access to rice noodles, or perhaps you simply don't like them, use a different kind! Udon, pad Thai, or glass noodles go great with this dish!
Can't have peanuts? No problem! You can make the dressing with any other nut butter, and top your salad with toasted nuts of your choice!
If you're allergic to all nuts, we've got you! Prepare the dressing using sunflower butter or tahini instead of peanut butter. Top your salad with sesame seeds and enjoy.
If you have some veggies in your fridge that are starting to look sad, feel free to add them to this spring roll salad. Bell pepper, broccolini, cucumbers, and scallions go especially well with this dish!
For a soy-free version of this dish, replace the hoisin sauce with coconut aminos and maple syrup. Add some garlic powder and a drop of red wine vinegar to taste. Instead of soybean tofu, use Burmese tofu, seitan, peas or chickpeas as the protein option.
Want something more exotic? Top your salad with vegan coconut shrimp!
If you don't have an air fryer, you can bake the tofu cubes on a lined baking tray until it's crispy.
Store This Recipe
If you're doing meal prep, mix the veggies, noodles, and tofu, but keep the dressing separate. Store his salad in the fridge for up to 4 days.
Other Recipes You'll Love
Like what you see? Check out the PlantYou meal planner! Featuring over 450 whole-food, plant-based recipes, our digital meal planner is fully customizable to meet your needs. To make things even easier, it generates a shopping list based on the dishes you've chosen for your weekly meal plan. Eating plants has never been easier!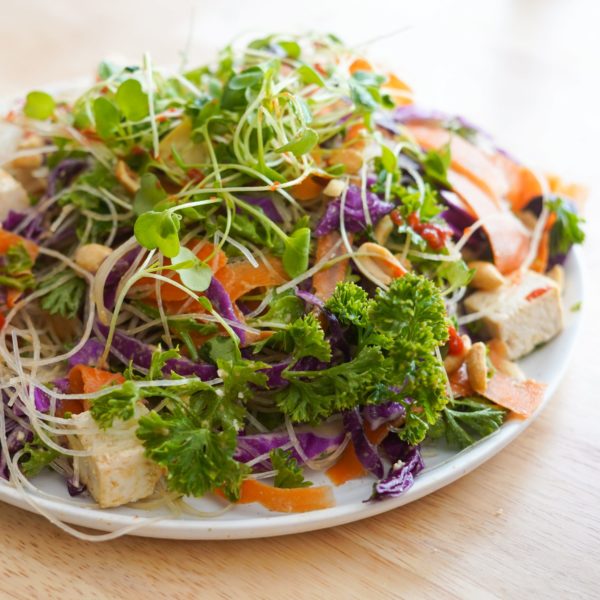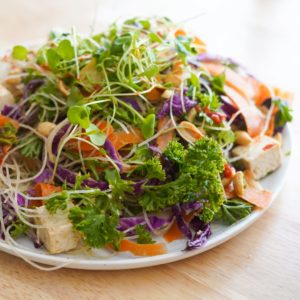 The Recipe: Deconstructed Spring Roll Salad
A fresh vegetable and rice noodle salad with peanut butter dressing
Ingredients
1 cup rice noodles, prepared in accordance with package instructions
1 cup red cabbage, shredded
1 carrot, shaved into ribbons
½ cup cilantro or parsley, chopped
100 g firm tofu, cut into cubes
For the dressing
2 tbsp peanut butter
1 tbsp hoisin sauce
¼ cup plant milk, or more for thinner consistency
Toppings
crushed peanuts
sriracha
sprouts or microgreens
Equipment
chopping board

knife

Vegetable peeler

Whisk

Air Fryer
Instructions
Spread tofu on the air fryer tray and let it cook at 375-400F until crispy (about 15 minutes).

Prepare rice noodles in accordance with package instructions. When it's ready, drain excess water and let the noodles cool down.

To make the dressing, combine peanut butter, hoisin sauce and plant milk. Whisk everything together. You can add more milk to thin the dressing if you like.

Add all the ingredients into a mixing bowl, drizzle the dressing over the top and mix everything together.

Top with crushed peanuts, sriracha and greens. Enjoy!
Calories: 624.8kcal, Carbohydrates: 113.6g, Protein: 14.7g, Fat: 11.9g, Saturated Fat: 2.2g, Polyunsaturated Fat: 4.3g, Monounsaturated Fat: 4.9g, Cholesterol: 0.2mg, Sodium: 469.6mg, Potassium: 417mg, Fiber: 5.5g, Sugar: 7.7g, Vitamin A: 5978.3IU, Vitamin C: 30.4mg, Calcium: 167.3mg, Iron: 2.5mg