Tofu Tacos
One of the best things about plant-based living is that you can recreate any of your favorite dishes without animal products, like these delicious crispy tofu tacos!
I love the convenience and satisfaction of Mexican foods, which is why I make a plant-based version of tacos, burritos, loaded nachos on a weekly basis. And once you try these flavorful tofu tacos, I'm pretty sure you'll be following my lead!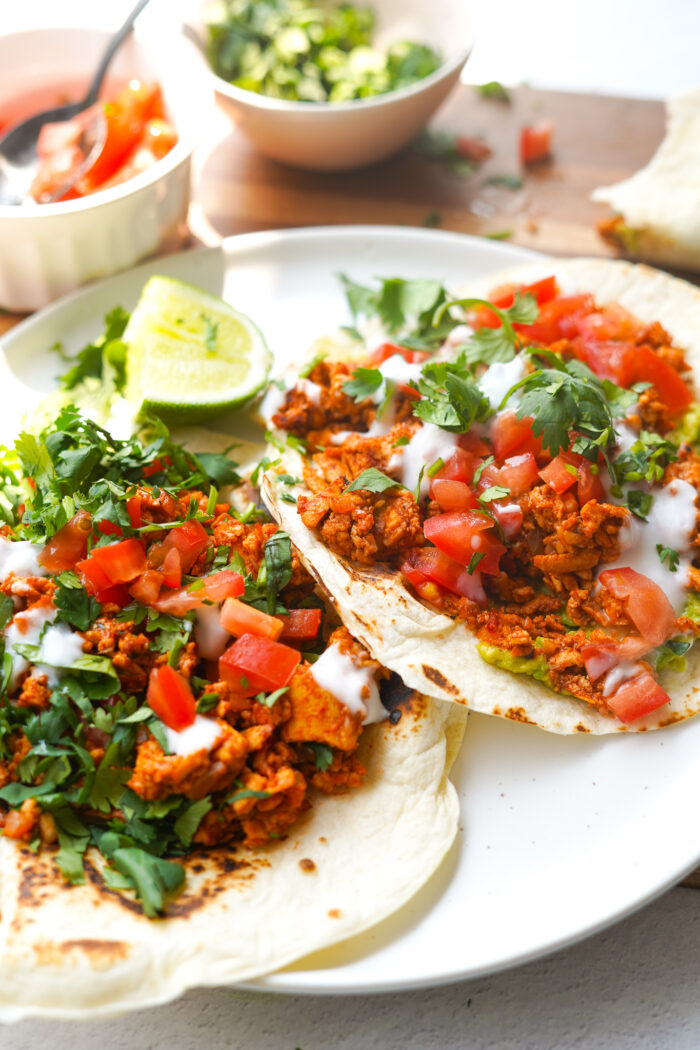 History of Plant-Based Foods in Mexican Cuisine
Mexican (and Mexican-adjacent) cuisine is among some of the easiest to adapt to a plant-based diet. As a matter of fact, the history of vegetarian dishes in Mexican cuisine dates back to pre-Columbian times when indigenous cultures relied heavily on plant-based foods.
The indigenous people of Mesoamerica, such as the Aztecs, Mayans, and Toltecs, had complex agricultural systems that cultivated crops like corn, beans, squash, amaranth, tomatoes, chilies, and various types of greens.
The arrival of the Spanish introduced new ingredients like rice, wheat, onions, garlic, and spices, expanding the culinary landscape. A combination of native crops and European influenced resulted in plant-based foods being an integral part of Mexican cuisine.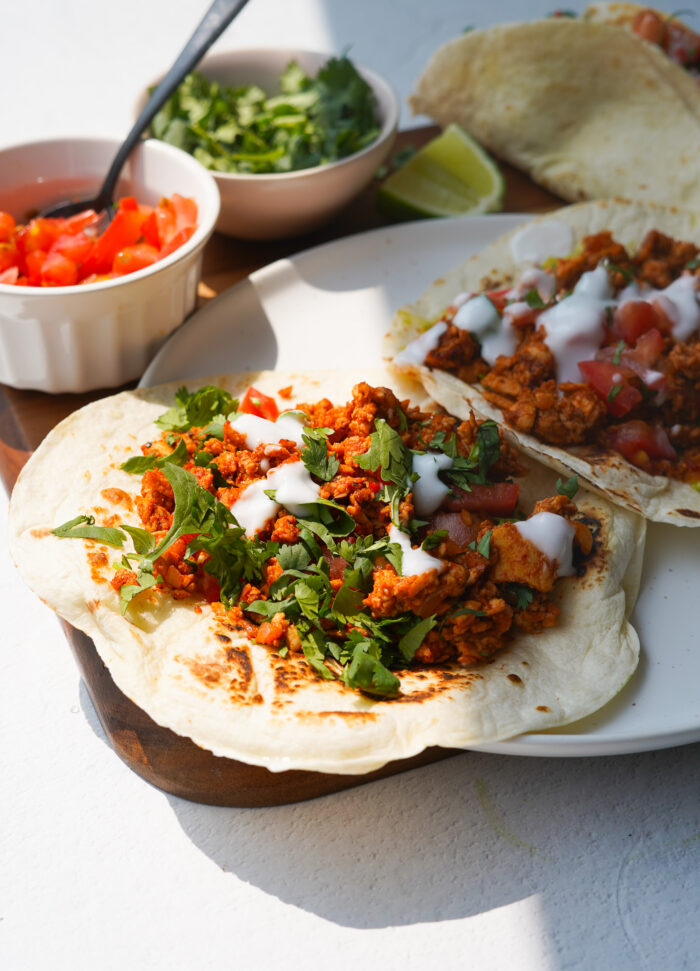 Why You'll Love This Recipe
It's so much easier to be vegan in this day and age with the abundance of plant-based substitutes for items like meat and cheese. However, these products are usually quite expensive! This tofu tacos recipe uses whole food ingredients to create a delicious, healthy, and affordable alternative to minced beef.
The beauty of tacos, any tacos, is that you can use whatever toppings you like! It's a perfect party food or family meal, where everyone can customize their own tacos.
This recipe is so quick, and SO EASY! The tofu filling takes about fifteen minutes to make, meanwhile you can chop up the toppings of your choice. It's the perfect lazy dinner.
The filling for these tofu tacos is a great recipe of its own. It can essentially serve as a protein-filled topping for salad or pizza. It also makes a delicious filling for a sandwich or burrito, or a meat replacement for a pasta dish like bolognese.
In addition to being fully plant-based, this recipe is nut-free and gluten-free. With the right swaps, you can even make it soy-free (see the Hack It! section for subs and modifications).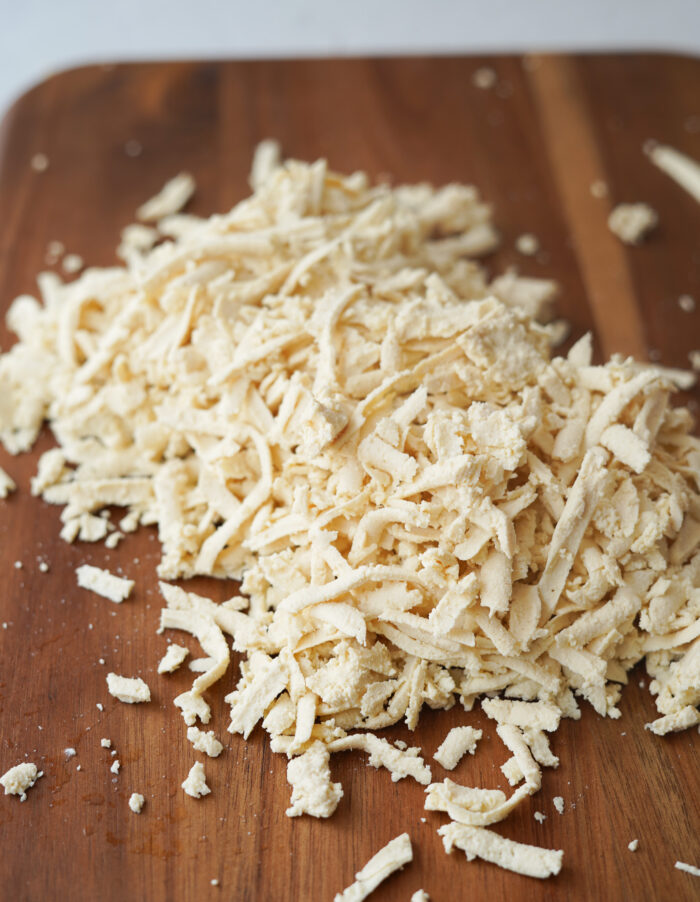 How to Make This Recipe
First, grate your tofu with a cheese grater. Alternatively, you can crumble it with a fork, but personally, I prefer the texture of grated tofu. My advice is to use the largest grater you have to do this.
Heat a pan over medium heat with a little bit of oil if using. Sauce the onion until it starts turning translucent, which should take 2-3 minutes. For an oil-free tofu filling, saute the onion with a splash of water of vegetable broth.
Next, add the garlic and tofu into your pan, and saute everything together until the tofu browns slightly. Once again, this should only take a few minutes.
The following step is to add the tomato paste, soy sauce, and spices. Keep cooking everything in the pan until the tofu is fully coated and browns even more, approximately 5 minutes.
Finally, add sweet chili sauce, balsamic vinegar, and tomato sauce. Stir everything together until the sauce mixes with the rest of the ingredients. If you like, you can cook for a bit longer until the tofu reaches a desired consistency.
Time to serve up your tacos! It is up to you of course, but I think this filling works amazingly in grilled corn tortillas, chopped cilantro and fresh tomatoes, fresh avocado or guacamole, and a drop of vegan sour cream.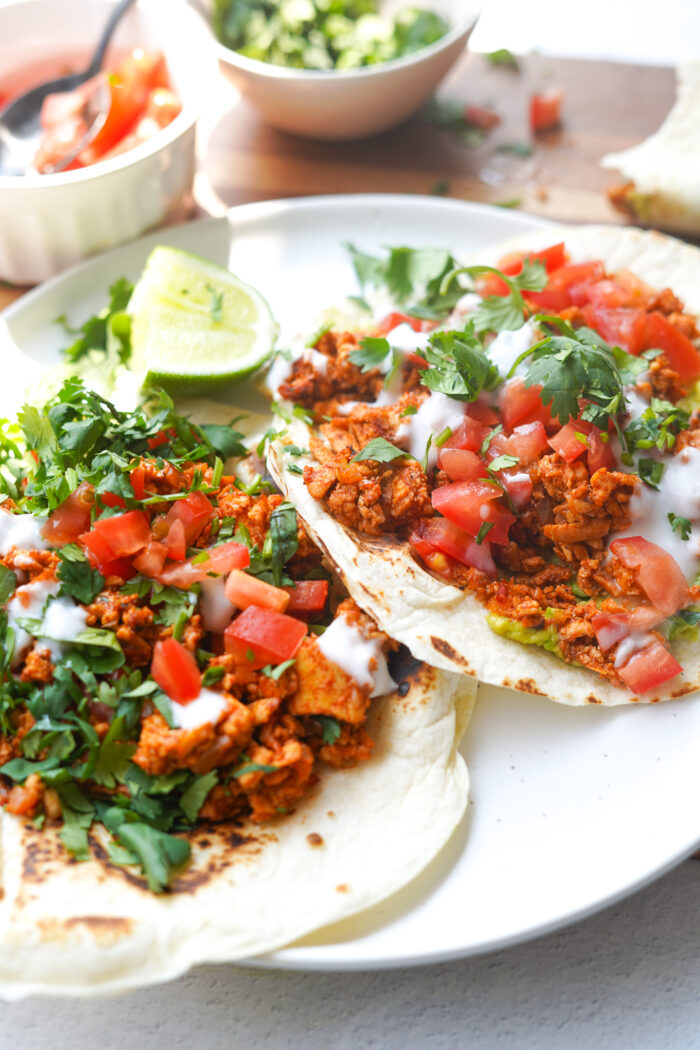 Hack It!
I am a big advocate for adjusting the recipe until your tastebuds are happy. The proportion of spices and sauce in this recipe is what generally works great. However, don't be afraid to tweak the proportions. For instance, you could use less chili powder for a milder flavor, or add some liquid hickory smoke for its signature smoky flavor.
I used corn flour tortillas for these tofu tacos, but you are welcome to use wheat tortillas, crispy taco shells, homemade oat tortillas, or even romaine lettuce leaves instead.
If you are allergic to soy, tofu is a no-go. However, you can still enjoy these spices on a different base. For instance, you could blend a mixture of mushrooms and walnuts in a food processor for a "minced beef" texture. Alternatively, you could use beans or lentils if you want more protein in your tacos.
Did you know that soy tofu is not the only type of tofu? If you can find it in the store or make it home, this recipe works great with lentil, chickpea, or pumpkin seed tofu.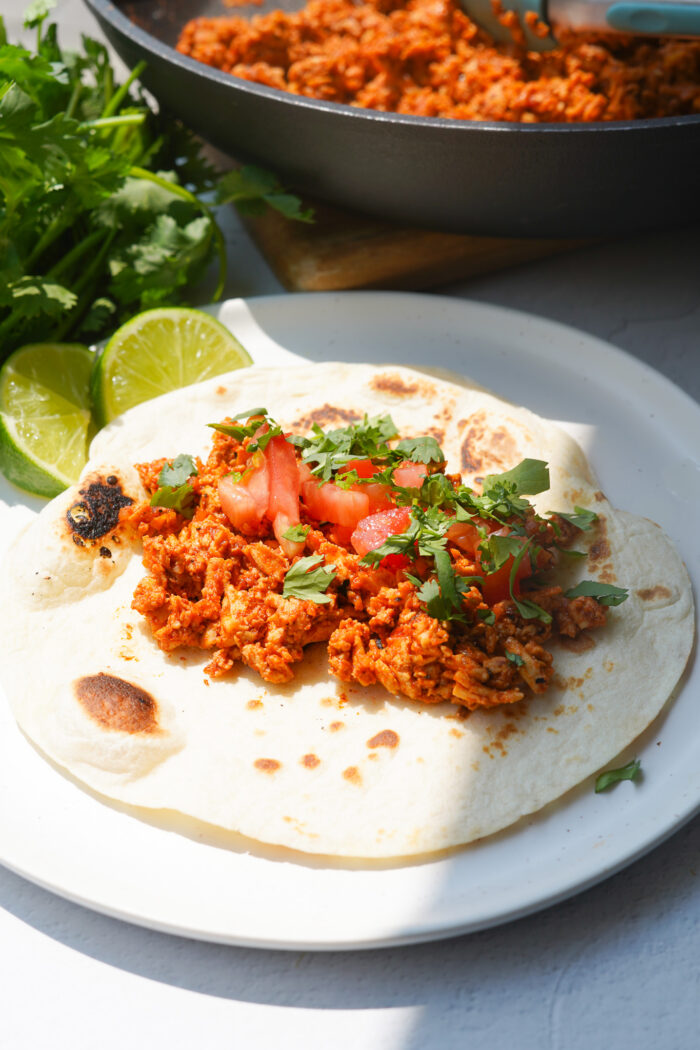 Best Toppings for Tofu Tacos
Salsa. Salsa is a classic and versatile taco topping. Choose from a variety of options like pico de gallo, salsa verde), or salsa roja. Salsas add freshness, acidity, and a burst of flavor to your tacos. If you're feeling adventurous, you could also try these with fruit salsa.
Guacamole. Creamy and rich guacamole made from mashed avocados, lime juice, onions, cilantro, and spices is a beloved taco topping. It adds a cool and refreshing element, along with a hint of tanginess. Tofu tacos also taste amazing with my everything green sauce!
Fresh herbs. Chopped fresh cilantro is a traditional topping for many Mexican dishes. However, you can use whatever herbs you have access to. Plus, not everyone likes cilantro! Try this taco recipe with parsley, green onions, basil, chives, or mint. Fresh herbs are a great way to add freshness, crunch, and a hint of light flavor to your dish.
Lime. Squeezing fresh lime juice over your tacos just before eating enhances the flavors and adds a bright citrusy element. It helps cut through the richness and adds a tangy kick.
Pickled jalapeños or radishes. For an extra spicy kick, you can add pickled jalapeños to your tacos. Pickled radishes, with their vibrant color and tangy flavor, provide a refreshing crunch.
Hot sauce. If you enjoy extra heat and flavor, hot sauce or hot pepper sauces like salsa picante or chipotle sauce can be drizzled on top. Adjust the amount according to your spice preference.
Tips and Tricks
If you want your tofu mixture to be extra "meaty", you should press it first. One of the easiest way to do it is to use a special tofu press, but you can also DIY it with the items you already have!
I don't think we've ever had any leftovers after a taco dinner in our household. However, if you're left with extra filling, you can refrigerate it for 3-4 days or freeze it for the future. I would recommend using durable and eco-friendly containers such as silicone ziplock bags or glass tupperware.
If you've ended up with a lot of extra toppings, don't worry! You can serve them all together as a delicious taco bowl salad!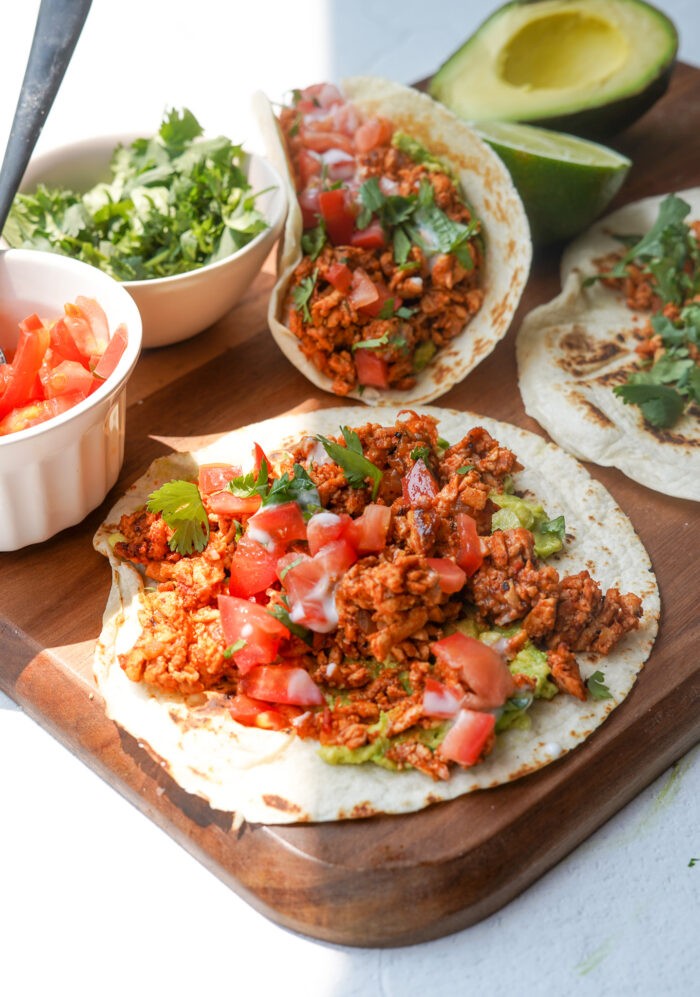 Other Recipes You'll Love
If you love simple, beginner-friendly recipes like this one, you should get a copy of the PlantYou Cookbook! It has a great collection of WFPB recipes for every occasion. I am a visual learner, so it was very important to me that the book is user-friendly. That's why each recipe is accompanied by a helpful infographic detailing the ingredients. I truly wish I had a book like this when I became plant-based!
And if you prefer a more dynamic way of cooking, check out the PlantYou Planner! It's a meal planner app with OVER 600 EASY VEGAN RECIPES. You can drag and drop the recipes into your custom weekly meal plan, or use one of the curated meal plans created by the PlantYou team. Additionally, the planner allows you to toggle the number of servings for each dish. Perfect for a household of any size!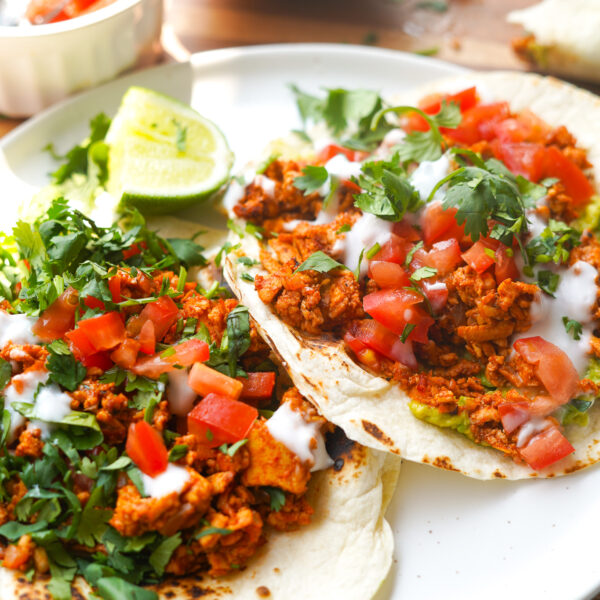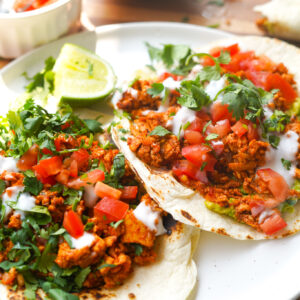 The Recipe: Tofu Tacos
These vegan and vegetarian-friendly tofu tacos are quick, easy, and so utterly delicious! Plus, they can be customized to the taste of every person in your houehold. Yum!
Ingredients
2 cloves garlic, minced
½ yellow onion, diced or minced
375 gram extra firm tofu, 1 block
3 tbsp tomato paste
3 tbsp soy sauce
2 tsp onion powder
1 tsp garlic powder
2 tsp chilli powder, adjust to taste if desired
1 tsp paprika
2 tbsp balsamic vinegar
¼ cup sweet chili sauce
¼ cup tomato sauce
Instructions
First, grate the tofu using a cheese grater. Use the largest grater possible to do this. Alternatively, crumble with your hands to make a "ground meat" consistency. 

In a pan over medium heat, add the onion and a drop of oil if using. Saute until translucent, approximately 3 minutes.

Add the garlic and tofu and saute until the tofu becomes a little bit browned, approximately 3 minutes.

Add the tomato paste, soy sauce and spices. Stir until the tofu is coated in the sauce and spices and begins to brown even more, approximately 5 minutes.

Add the sweet chili sauce, balsamic vinegar and tomato sauce. Stir until the tofu is coated, and continue to brown the mixture to your desired consistency.

Serve in the corn tortillas with your taco toppings of choice
Calories: 243.2kcal, Carbohydrates: 41.8g, Protein: 12.8g, Fat: 3.7g, Saturated Fat: 0.6g, Polyunsaturated Fat: 1.9g, Monounsaturated Fat: 0.7g, Sodium: 1183.6mg, Potassium: 512.8mg, Fiber: 5.2g, Sugar: 13.2g, Vitamin A: 585.8IU, Vitamin C: 7mg, Calcium: 96.2mg, Iron: 3mg